Every year brings a different set of challenges and causes to celebrate here in Cooper-Young, but one thing remains constant — our passionate neighbors, proud sense of community, and love of our neighborhood. Last year saw the formation of two new committees, changes to Cooper-Young Community Association staffing, the progress of the neighborhood's quest for Historic District status, and a host of great events. Here's a recap of some of what we accomplished together in 2017: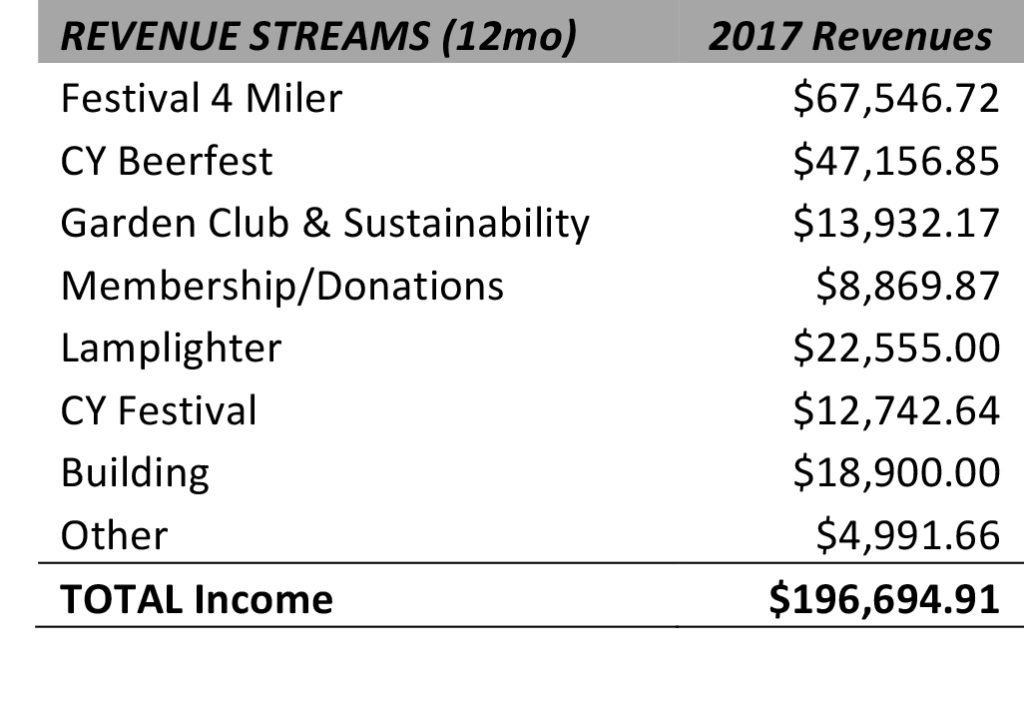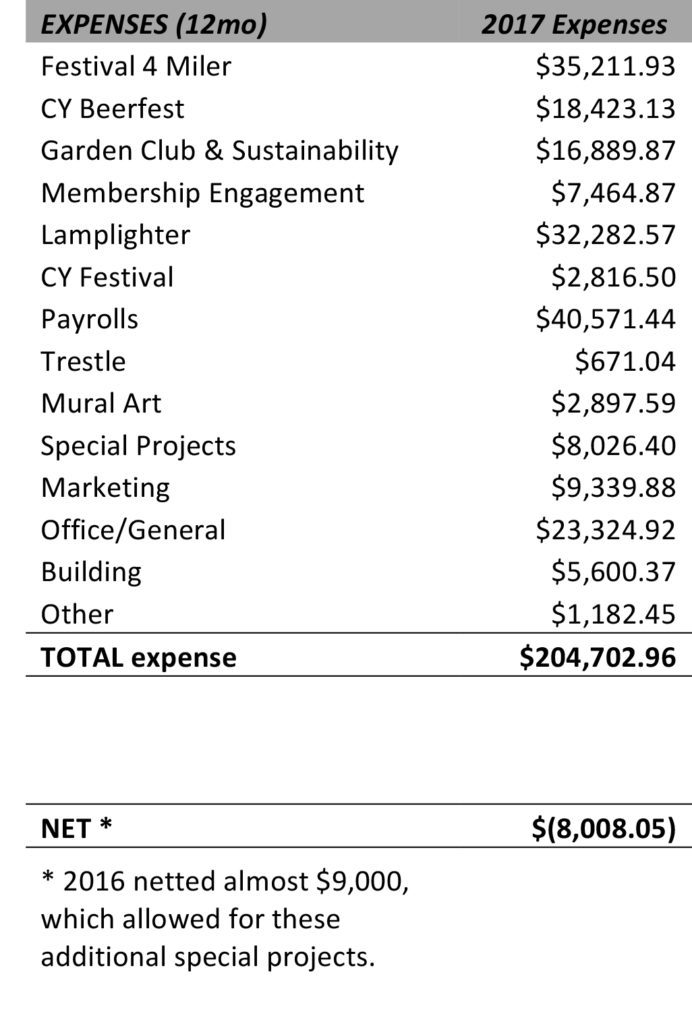 Christmas Eve First Responder Bags: In what's become a tradition for many Cooper-Young neighbors, we once again put together around 60 gift bags for the police officers and firefighters who worked on Christmas Eve. Thank you to everyone who volunteered their time or donated something for the bags.
Cooper-Young Festival Friday 4 Miler & Festival Booth: It was another fabulous year for the 4 Miler, which turned 27. This is the biggest fundraiser of the year for the CYCA, and we want to thank everyone who volunteered, ran, or hosted or attended a Light the Way party. Congratulations to Neely James on Nelson for winning the 2017 best Light the Way party! Our Festival booth again sold official posters, t-shirts, history books, maps and koozies. Thanks to everyone who volunteered throughout the day and those who stopped by!
Cooper-Young Beerfest: A favorite of both brewers and beer-lovers, the CY Beerfest celebrated its eighth year with more than 30 breweries and around a thousand attendees. A big thank you to the brewers who came from out of town to celebrate regional beer with us and to the dozens of volunteers who make this CYCA fundraiser possible every year.
General Meetings: In 2017, we mixed up our general meetings with events like community yoga, fairy garden making, beer tasting, leaf shredding, and more. Although these events were fun, we know some of y'all missed our regular meetings, so we're bringing more of those back in 2018. Plan to meet with us the second Tuesday of every month at 6 p.m. at the CYCA office.
Great Pumpkin Halloween Decorating Contest: Neighbors joined the Halloween festivities by decorating their yards in hopes of winning the coveted Great Pumpkin Award. Congratulations to this year's winner, Kathy Fisher on Evelyn!
Historic Overlay Application: After more than a year and a half of volunteer efforts, we are in the final stages of our application for Historic Overlay (or Landmarks) status. Last year saw tons of volunteer hours go into researching, drafting, and revising district guidelines, which were approved by both the Landmarks Commission and the Land Use Control Board. Now, the application will receive three readings at City Council; at the third, scheduled for Feb. 20 (date subject to change per City Council agenda), council members will vote to approve or deny the application.
July 4th Neighborhood Parade: The annual Cooper-Young July 4th neighborhood parade found residents, bicycles, wagons, dogs, walkers, wheelchairs, and people all decked out in red, white and blue. We enjoyed another wonderful year of popsicles, bubbles and entertainment for young and old alike.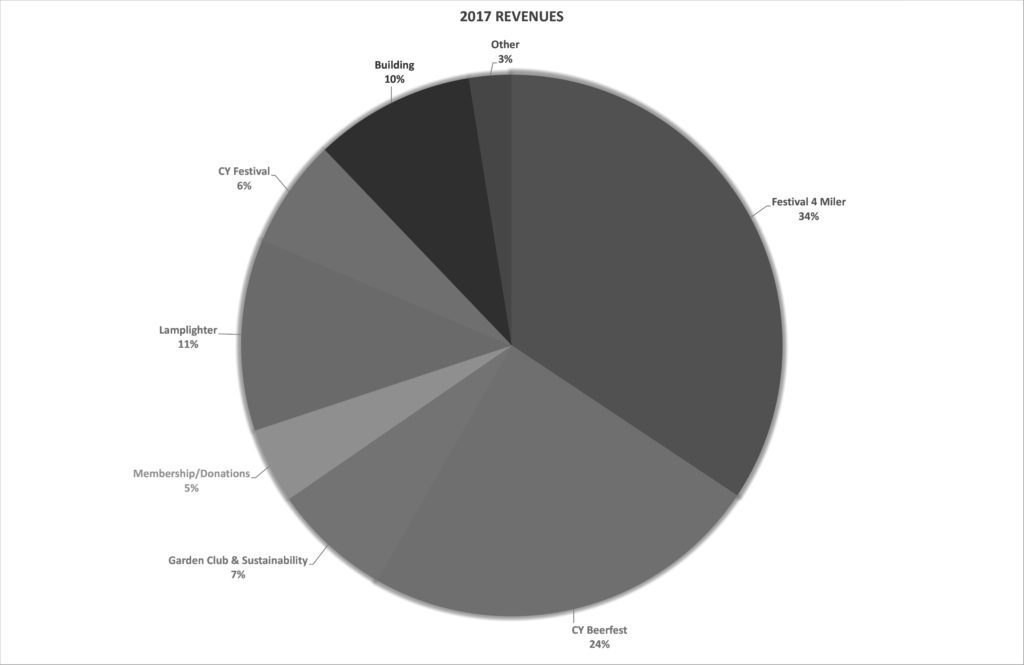 The LampLighter: Throughout the year, dedicated volunteers and a few key staff members, including editor Mark Jordan, put in numerous hours to bring The LampLighter to Cooper-Young residents. This vital neighborhood publication keeps those in the area abreast of local news through print and online versions. We're always looking for submissions, advertisers and writers. If you're interested in contributing, reach out to lamplightereditor@gmail.com.
Membership: A combination of great discounts to local businesses and support for neighborhood activism keep our memberships an important way for residents to make a difference in Cooper-Young. Thank you to all of our community partners, including our new partners for 2018 — Two Rivers Bookstore, 901 Home Inspection, and Memphis Animal Clinic — for offering discounts to our members. Not yet a member? Support all you've read about here and more by becoming one at cooperyoung.org.
New CYCA Website: We are proud to show off our new website, which was designed by our neighbors and friends, Ray Rico Freelance. The dynamic site works on desktops, tablets, and smartphones and allows community members to sign up for membership online and download a membership card, stay up to date through the most current LampLighter editions, and allows us to share more information quickly and easily. Check it out at cooperyoung.org.
Staffing Changes: We said goodbye to Kristen Schebler, who did a great job leading the CYCA for several years, including in the research, writing, and implementation of a five-year plan in 2016. We said welcome to Stephanie Gonzalez, the new executive director of the CYCA. Stephanie can be reached at 901-272-2922, info@cooperyoung.org, or in the CYCA office (2298 Young Ave.).
Suzzane Striker Memorial Thanksgiving Food Drive: This year, instead of collecting cans, the CYCA raised money for First Congo's rebuilding efforts following the fire that damaged the church in 2017. Through the efforts of our neighbors, we were able to raise more than $200 for First Congo.
Thirsty Thursdays: We started a new social gathering in 2017 with the introduction of Thirsty Thursdays. Once a month, we invite neighbors to get together at a local bar or restaurant for a friendly meet and greet. We hope to see you at one soon!
Transportation Committee: Last year saw the formation of a new CYCA committee under board member Patrick Jones. The Transportation Committee held meetings throughout the year, sponsored the St. Jude hydration station in Cooper-Young, and held a community bike ride in June. We're looking forward to even more work this year to make our community a more pleasant and safe place to walk, bike, and (slowly) drive. In other transportation news, the ioby-funded bicycle repair station planned for outside Memphis Made was installed in November.
Volunteer Appreciation Party: We once again celebrated our members and volunteers at Memphis Made. This year's party featured food from Stone Soup, music from Dave Cousar, and a scavenger hunt that got neighbors asking each other questions about their neighborhood. We also thanked Judi Shellabarger for her countless contributions to Cooper-Young with the Alexia Hampton Memorial Volunteer Appreciation Award.
Youth & Family Committee: We also saw the formation of the Youth & Family Committee in 2017, under board member Suzanne Abedi. Suzanne took on our 4th of July parade and also introduced a youth scholarship for high school students that we'll be bolstering in 2018.
The CYCA Board of Directors held their annual board retreat on Jan. 27. We'll continue all of the initiatives above this year and also plan to focus on more volunteer recruitment, including amping up the network of block captains. Want to get involved? Reach out to info@cooperyoung.org.