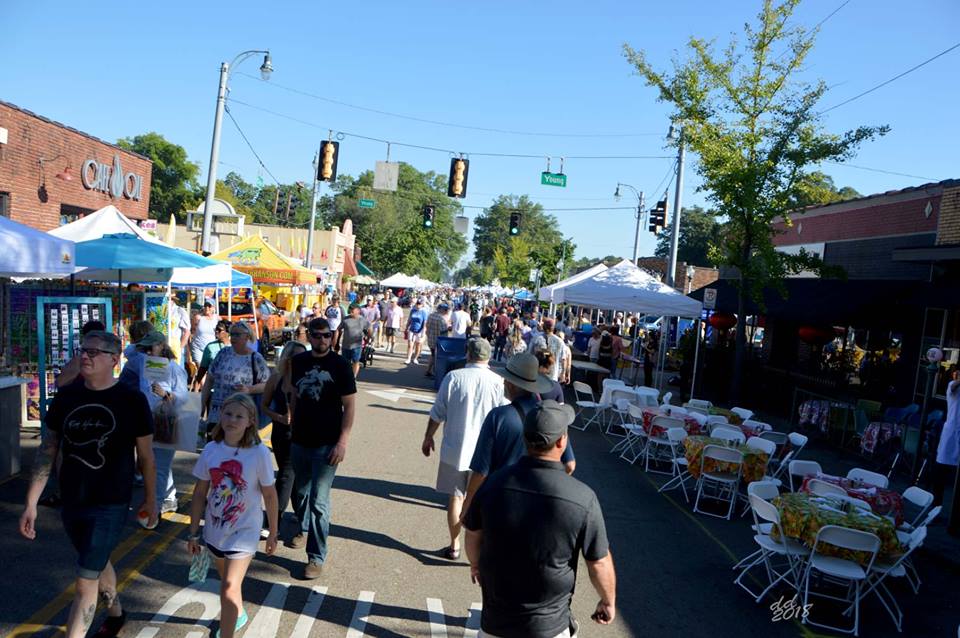 By Tamara Cook, Executive Director, Cooper-Young Business Association
Now that Cooper-Young Festival 2018 is in the books, I want to thank a ton of folks that help put it on. You all are what a community is made of. A special thank you to all the City of Memphis police officers and reserves, Shelby County sheriff's deputies and reserves, and our friends at the fire and code enforcement departments. I always feel very safe knowing you are here. Thank you.
Thank you to the following group of people who work year-round and some for 17 hours the day of the Cooper-Young Festival: Ray Rico, Danny Day, Steve Womack, Bill Stemmler, Stephen Crump, Paul Clarke, Charlie Ryan, Dr. Stephen Tower, Jon Anderson, and Ken Whitehead. These people have full-time jobs and commit hundreds of hours of volunteer time over the year. A special thank you to my right-hand, Chuck Parr, I don't know what I would do without you.
Thank you to the business owners in the neighborhood that just said ok when I asked for help. You are the bomb and you have no idea how much your "sure, glad to help" meant to me.
They are: David Adams (Bluff City Soap), Stilly McFadden (Toof Commercial Printing), David Nestler (Alchemy), Matt Kan and Monica Patrick (Mulan Bistro), D.J. Naylor (Celtic Crossing), Chris Ybos (Ybos Construction), Tonda Thomas and Taylor Sherbine (CoWork Memphis), Jay Etkin (Jay Etkin Gallery), Bill Malone (Crye-Leike Realtors), Ronald Kent and Chris Garrett (A. S. Barboro), Brent Barrett (Bluff City Sports), Adam Shellabarger, Casey Stafford (Hicks Convention Services), Glen Stovall, Dale Johnson (SignWorks), Nick Canterucci, Mark Jordan (The Lamplighter), Kendall Robertson (Café Ole), Nancy and Jim Pettit (Memphis Drum Shop), Cooper Young Community Association, Bobby Cook (Albert Cook Plumbing), Eric Babb and, Joey Price (Wilson-Babb Upholstery), Scott Lebowitz (Inbalance Fitness), Julia Hicks and First Congregational Church, David Ferguson (Memphis Fitness Kickboxing), Steve Womack (State Farm Insurance), Colonel Houston and his Crump Precinct Officers, Lt. Freed and the Memphis Police Reserve Officers, Captain Owens and Shelby County Police Reserve Officers, Julie Terry and Staff (Civitans), CeCe Palazola and students (Memphis College of Art), Paul Averwater, Innovate Memphis, Ham Smythe and Premier Transportation, Brian Summers and the CBU Baseball Team, Bumper Dunn, Jody Bear and ProShow Systems
A special thank you goes out to our title sponsor, Evolve Bank and Trust.
The 2018 Evolve Bank & Trust Cooper Young Festival sponsors were Commercial Appeal, A.S. Barboro, Memphis Grizzlies, Sprouts Farmers Market, Methodist University Hospital, Albert Cook Plumbing, Jim Keras Subaru, Summer Winds Resorts, Semmes Murphey Clinic, Hattie B's Hot Chicken, Southland Park Gaming and Racing, Lasik Vision Institute, ProShow Systems, Memphis Animal Clinic, AT&T, Choate's HVAC, Lowe's, Focal Point, MetroPCS, Mold Terminator, Direct Auto and Life Insurance, Rock 102.7, 101.9 KISS FM, 600 WREC, CW 30, Local 24, and Toof American Digital Printing.
Please mark your calendar, September 14, 2019, for our 32nd festival! It's the second Saturday after Labor Day every year. Artist vendor booths go on sale on-line at cooperyoungfestival.com on June 15, 2019 at 12 a.m. See you then!