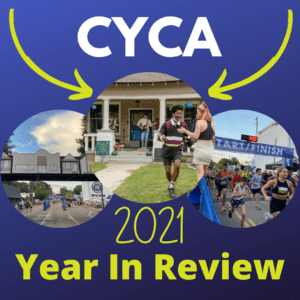 By Stephanie Gonzalez
In 2021, we saw some degree of return to normalcy, as far as the Cooper-Young Community Association goes. We were able to hold some of our fundraisers and neighborhood gatherings, and we even started a new event in the spring. Here's a rundown of how last year went.
New in 2021
Thanks to our executive director, Amanda Yarbro-Dill, we launched a new event called Porchfest in Cooper-Young. This event follows a template laid out by other cities around the country where musicians play outdoors on homes' porches, yards, driveways, and balconies. Attendees roam the neighborhood to catch the live music. 2021 was the first year we held Porchfest, and the overwhelmingly positive response from everyone involved ensures we'll do it again this year. Planning is currently underway. Stay tuned to the CYCA Facebook page for more details. Fundraising for this event wasn't a major priority, but we still managed to clear expenses and raise a couple grand on top.
We also made some major improvements to the trestle art that lives on the railroad overpass on Cooper at York. This artwork — now a well-known landmark in the city — was a CYCA-led initiative way back in 2001. Your donations and membership fees contribute to the upkeep of the artwork, which the CYCA takes on. This year, we contracted with a company to repair, paint, and replace lights in the trestle. Work began before the end of 2021 and is finishing up now. Because work is not yet complete, the expenses table does not reflect the full expense of the repairs.
Back to business: our major fundraisers
After missing them in 2020, we were able to hold our two main fundraisers in 2021. Cooper-Young Beerfest took place in October, and although we capped admission in order to stay safe, the event was a success, raising just over $20,000. We heard from brewers, attendees, and volunteers how much they missed the festival the previous year. And all signs point to being able to hold 2022's festival as well.
We also held a pared down Cooper-Young Festival Friday 4-Miler. Although we capped admission and skipped the after party this year, the race itself was a blast and raised just over $7,000. In 2020, we took the event fully virtual and kept running virtually as an option in 2021 as well.
The other stuff
Our building at 2298 Young Avenue, in addition to being a meeting place for the neighborhood, also serves as a source of income for the CYCA non-profit. We rent out space in the building that brought in just shy of $4,000 for the year.
Thanks to Amanda's work, we were also able to secure quite a bit of forgivable Paycheck Protection Program (PPP) loans from the Small Business Association. This allowed us to keep Amanda employed part time for the first half of the year. Once we were able to have our fundraisers, we were able to move her back up to full time.
We went back to more regular gatherings in 2021, meeting up for Thirsty Thursday a couple of items, as well as trash pickups, our Christmas Eve first responders bag stuffing volunteer event, the annual yard sale, a community meeting on making our streets safer for pedestrians, and a few other fun things along the way. We hope to be able to meet more of you more often in 2022.
We ended the year at 292 members and raised over $7,000 in membership for the year. Are you a member? If you enjoy the events we put on for the neighborhood or use the CYCA's newsletter and accounts as sources of info, please consider joining for the very low household fee of $20.