The CYCA is the neighborhood association for the Cooper-Young community located in Memphis, Tennessee. In the heart of Memphis- 'Midtown', the Cooper-Young community surrounds the intersections of Cooper St., and Young Avenue. Development started here in 1881, making Cooper-Young one of Memphis's older neighborhoods. The community and the association have a long, vibrant history and are a vital part of the city of Memphis.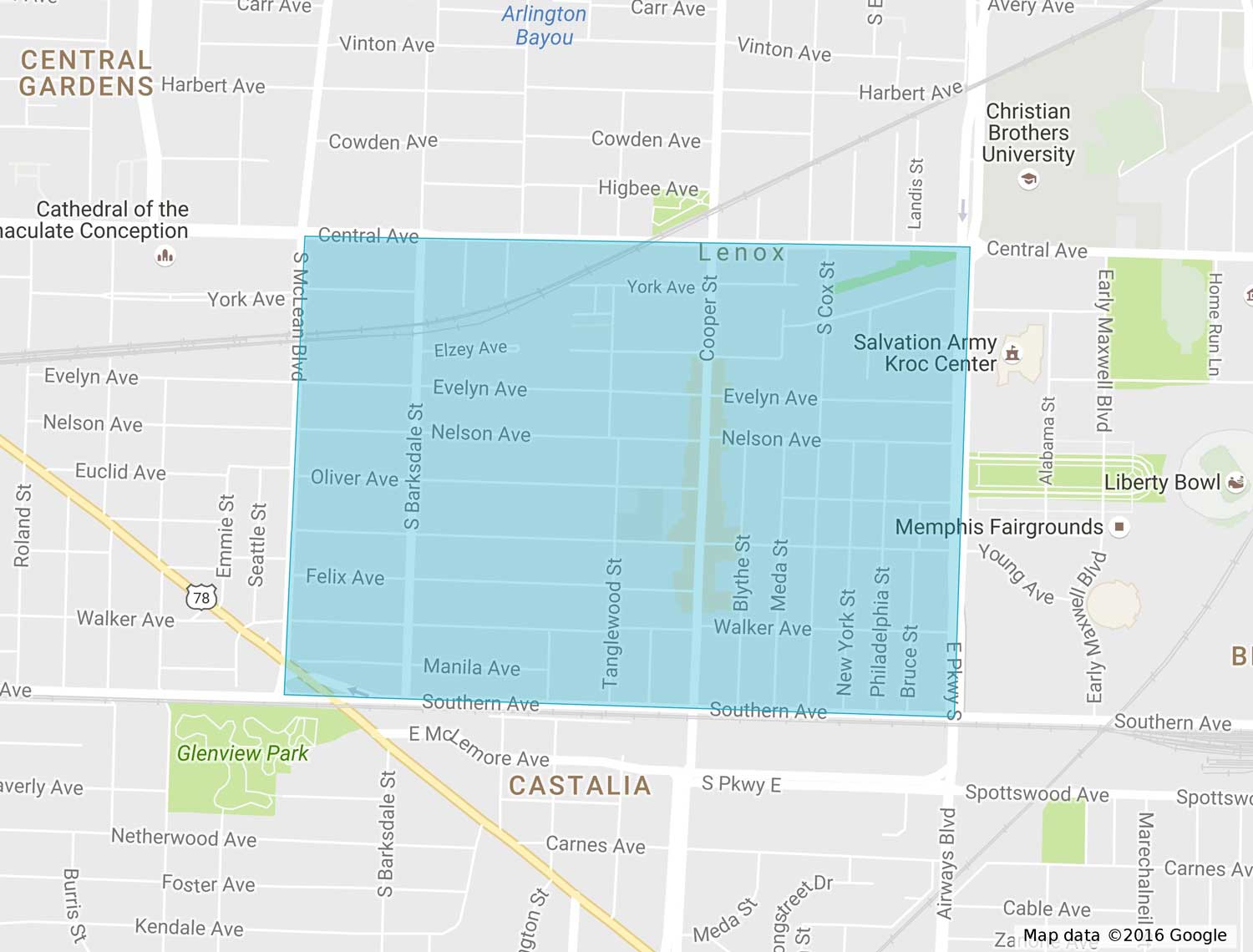 Meet our Staff
Amanda Yarbro-Dill, Executive Director
Amanda was born and raised in rural West Tennessee and has lived in Memphis since 2007. She lives in her Cooper-Young home with her husband, Brandon, two daughters, and two dogs. She enjoys walking her kids to school daily, hiking, cooking, attending shows at the Levitt Shell, and travel. She hopes to bring more opportunities for her favorite combo of activities to the neighborhood — free family fun, as well as community building experiences, and enabling members to use the association as a resource to develop projects and events.
The CYCA Board of Directors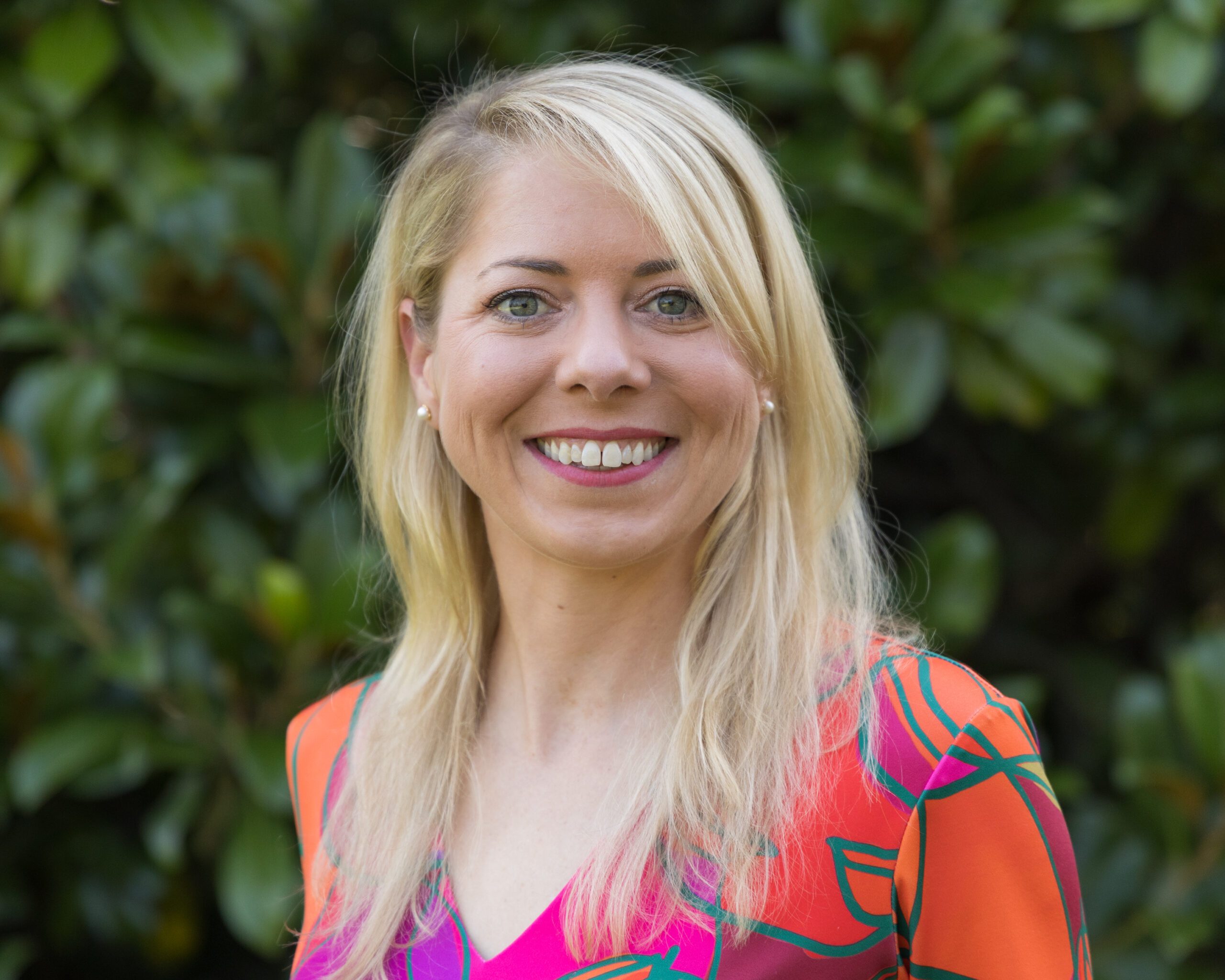 Olivia Wall
President
Olivia grew up in southern Nevada and moved to Memphis for graduate school in January 2014. Her passion for the preservation of historic integrity in Cooper-Young sparked her involvement in the CYCA. She has been a Development (Landmarks) Committee member since 2017 and the Chair of the committee since 2020. She has previously served as the CYCA Secretary & Vice President. Her partner, Patrick, is a Block Captain, and they love living in their 1910 southern bungalow with their cat Bling Bling. Her favorite things about CY include porch life, the historic streetscapes, riding her bike in the neighborhood, and volunteering for the CYCA. She enjoys epic road trips, crosswords, audiobooks, plant-based cooking, and photography. Professionally, she works in marketing and holds degrees from Smith College, Memphis College of Art, and the University of Memphis. She is looking forward to continuing to serve the CYCA.
Rachel Trevor
Vice President
Originally from California, Rachel moved to Memphis in 2006 and immediately fell in love with the Midtown area and its good vibes. Together with her husband Ben, they have recently become first time homeowners in Cooper-Young. Rachel enjoys sipping drinks on her front porch swing, listening to live music, and walking her dog Shiloh around the neighborhood.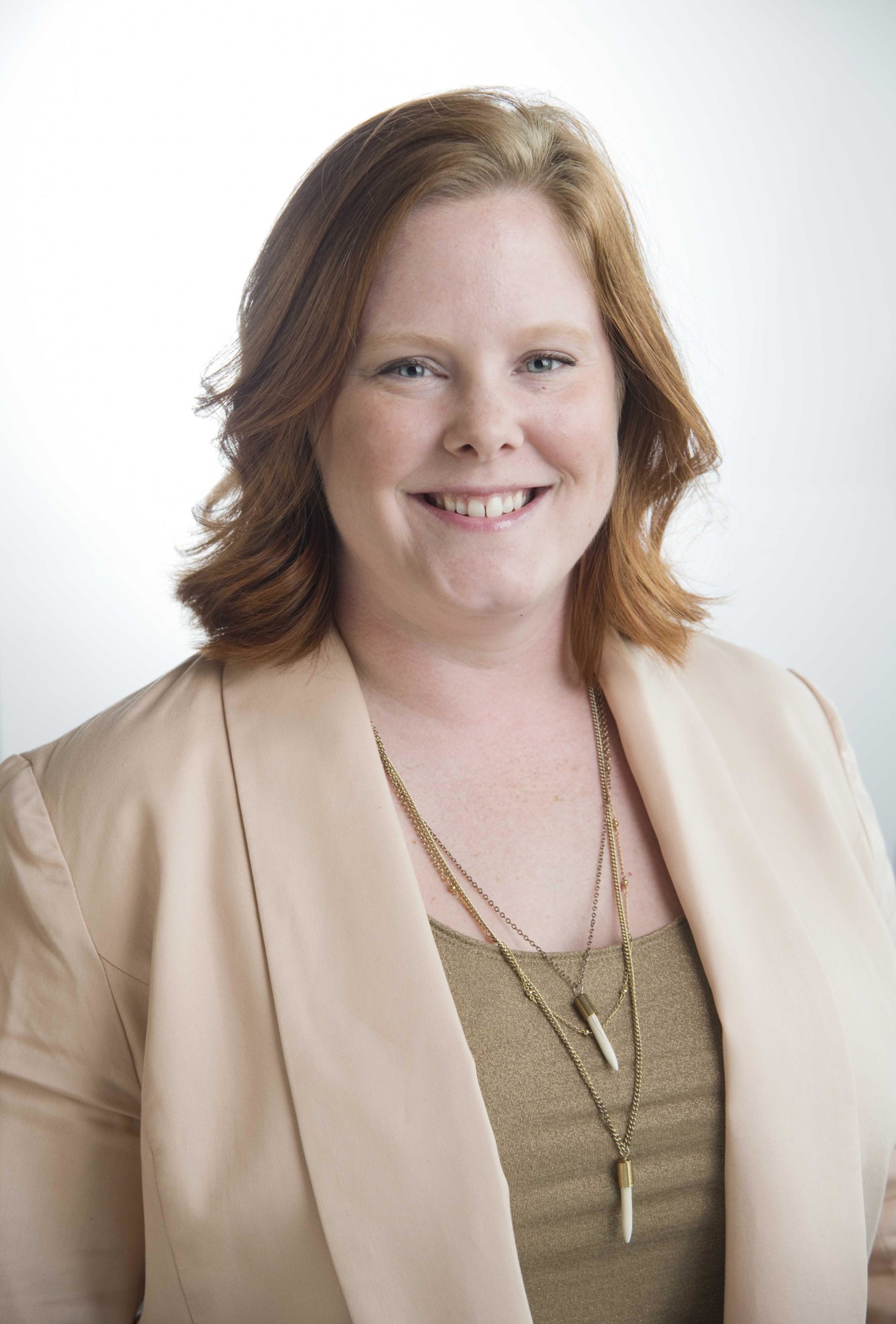 Vanessa West
Secretary
Vanessa moved to Memphis in 2020 with her husband and two-year-old son. She has 15+ years experience working with nonprofits and believes in being part of a community. Looking to jump right in and support her neighborhood, she started volunteering and participating in neighborhood events within Cooper-Young. Vanessa enjoys being creative and has been wrapping gifts for neighbors and some pop-ups. She and her husband renovated their Cooper-Young home on Walker Avenue to expose some of the original features so she's often keeping busy with house projects or taking walks with her son meeting her neighbors.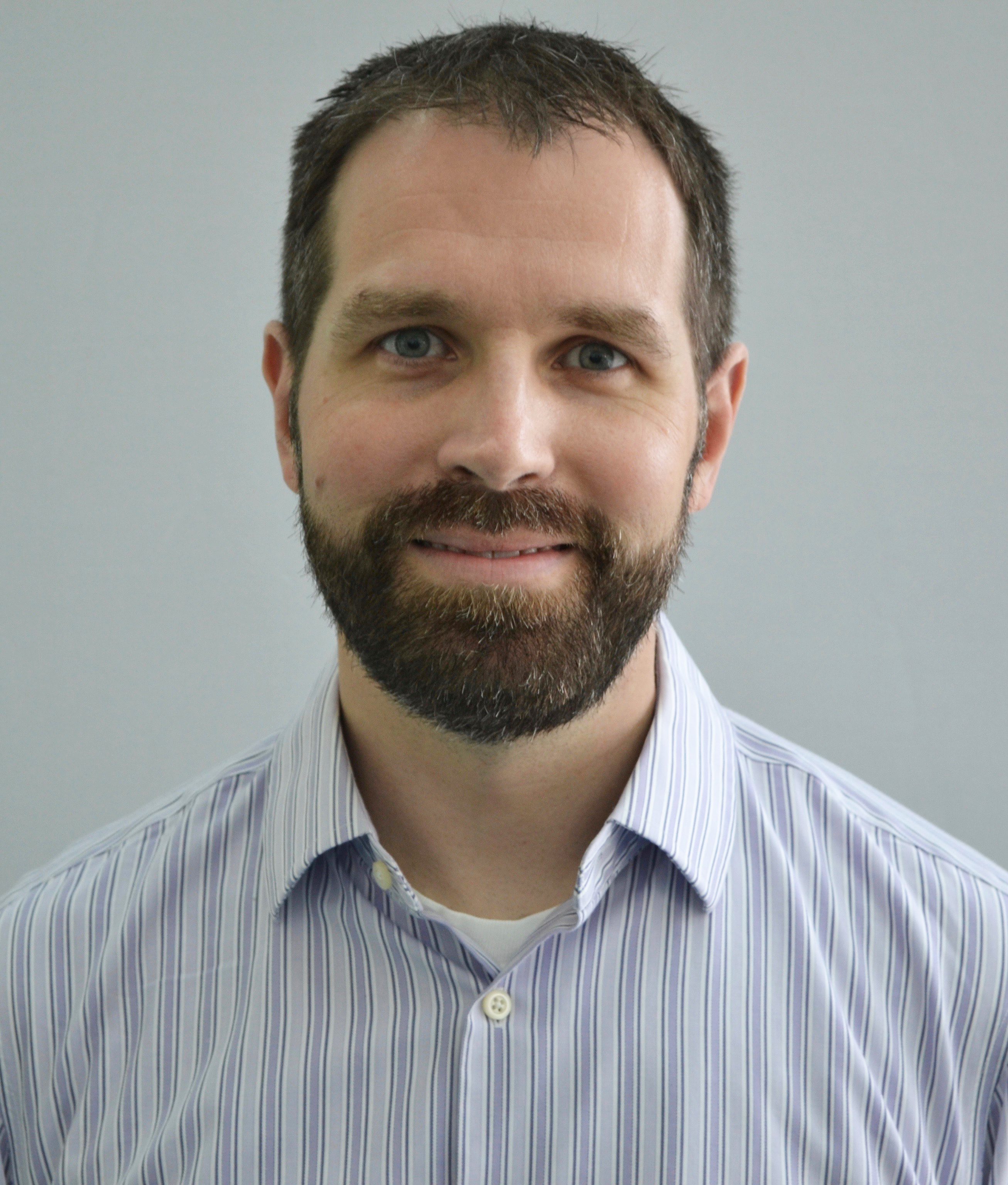 Mark Morrison
Beerfest Committee Chair
Mark is a native Memphian who left Memphis for about 10 years before returning for a job opportunity 12 years ago. Upon moving back to Memphis, the historic houses and active commercial district led him to buy a house in Cooper-Young. Mark started volunteering for the CYCA about 10 years ago and has been a board member for the past 6 years. In addition to serving as Beerfest committee chair for the past 5 years, he also previously served as the CYCA president for four years. Mark works at Smith & Nephew and enjoys travel, photography, hiking and kayaking in his free time.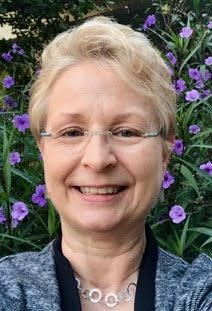 Tyrina Browning
Treasurer
Growing up in Midtown Memphis, Tyrina could never see herself moving past Highland.  She holds a BBA Finance degree from the Memphis State (U of M) while working full time in the financial industry from which she recently retired after 37 years. Tyrina moved from the Overton Square area to Elzey with her husband back in the 70's and currently lives on Nelson in a home they had remodeled. She enjoys animals and her family consists of three indoor cats, Raylan, Shaymus and Smokey and one outdoor cat named Callie.
On any Spring night, Tyrina enjoys sitting on the back deck watching her Koi fish swim slowly around the pond. Tyrina loves to bake, piddle around the garden, and travel.  She considers herself a traveler, not a tourist, something her husband helped her discover.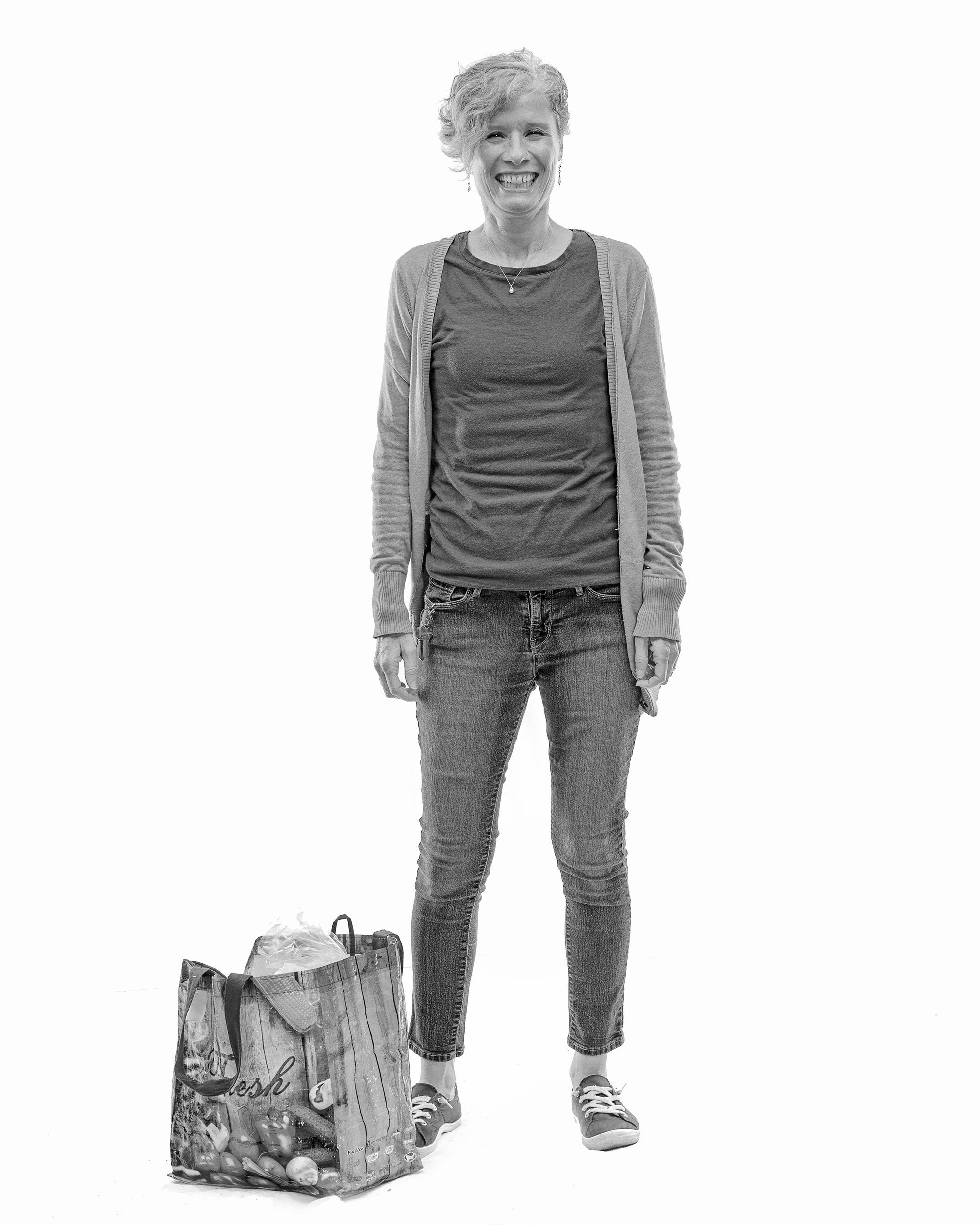 Linley Schmidt
Board Member At Large
Linley Schmidt is a proud, native Memphian and has lived her whole life, except for a couple of years here and there, in different parts of Midtown. She currently works as the Public Programs Coordinator at the Dixon Gallery and Gardens but has also worked at Elmwood Cemetery and the Mallory Neely and Magevney Houses. Linley has been a member of the Our Own Voice Theatre Troupe since 2002 and enjoys walking through forests. She also enjoys taking walks through Midtown neighborhoods looking at the beautiful old houses and waving to the people sitting on their porches. Linley also enjoys game nights with her adult kids, Grayson and Alden and loving on her dogs, Rufus and Capra and cats, Obbie and Siam.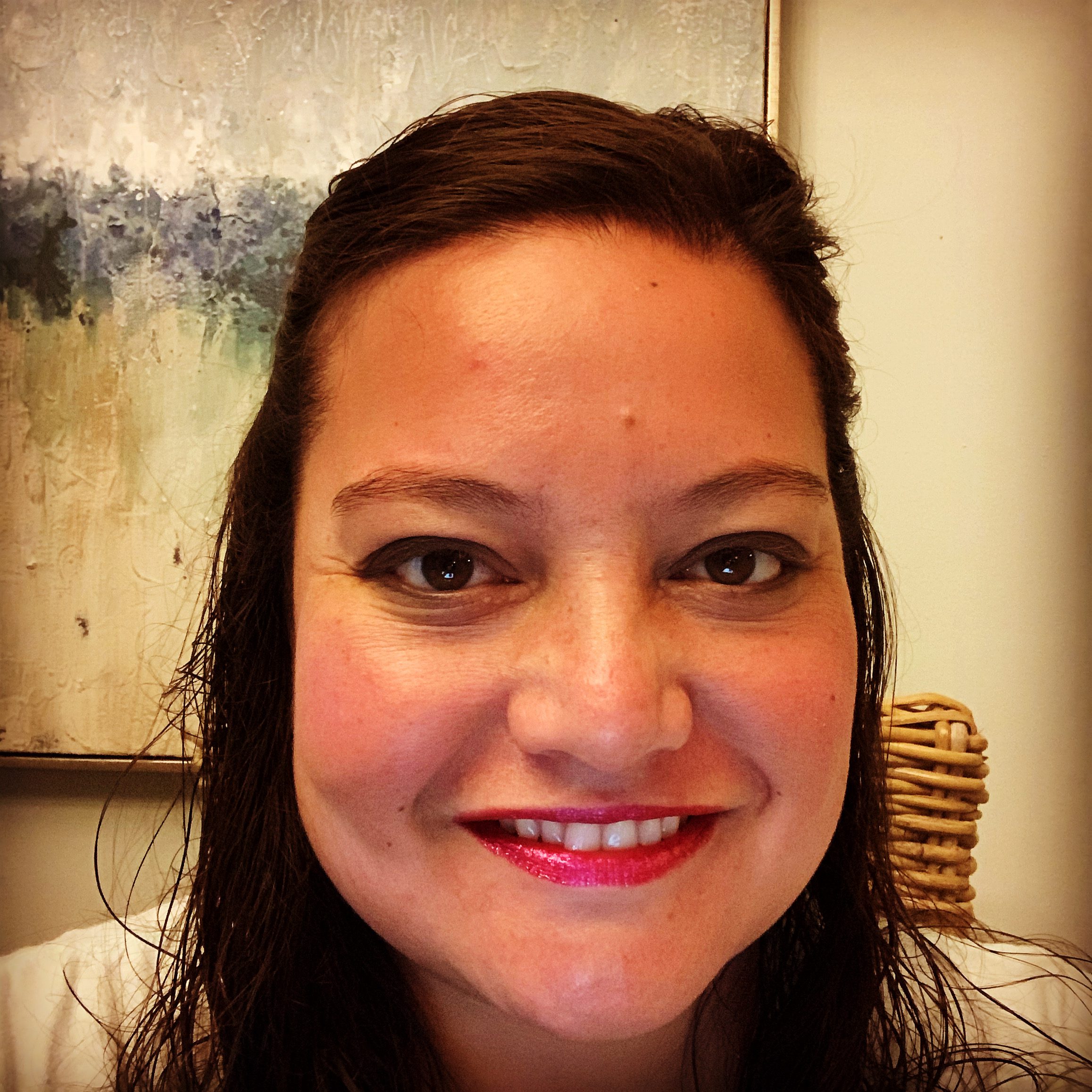 Courtney Ratts
Board Member
Courtney, her husband Andrew, daughter Leilani, and dog Clarence moved back to Cooper-Young in Oct 2020. She is originally from Livermore, CA, a Mississippi State alumni, and works in the transportation/logistics field as a director of operations. You may recognize Courtney and her signature pigtails from her years on the track with the Memphis Roller Derby or from her exceptional t-shirt throwing abilities  as part of the Memphis Grizzlies Claw Crew! As a member of the CY board, she looks forward to creating excitement in the community by combining her love of all things local with her enthusiasm for being back in the best neighborhood in Memphis!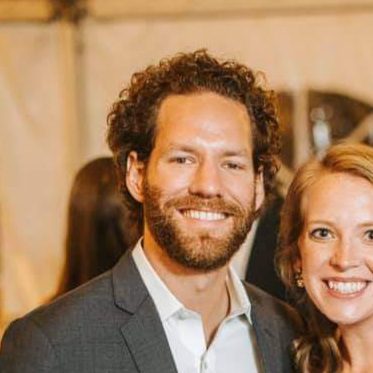 Cameron Cooper
Board Member
Cameron moved to Memphis in 2012 to pursue a graduate degree at the University of Memphis and has been enamored with the City of Memphis ever since. Having spent years in various parts of midtown and downtown, Cameron has always felt a deeper connection with the eclectic charm and unique pride that seemed to be present in Cooper Young. Cameron, his wife Libby and son Van, made Nelson Ave their home in June of 2020. As a landscape architect and urban planner, what drew Cameron to Cooper Young was the active walkable streets, proximity to shops and restaurants, and genuine authenticity of the neighborhood and community that people from all over Memphis identify with. Cameron enjoys local beers, getting outside, patio time of any sort, and all things urban design. Cameron joined the board of directors to contribute to the sense of community and place that make Cooper Young a great place to live, work, and play.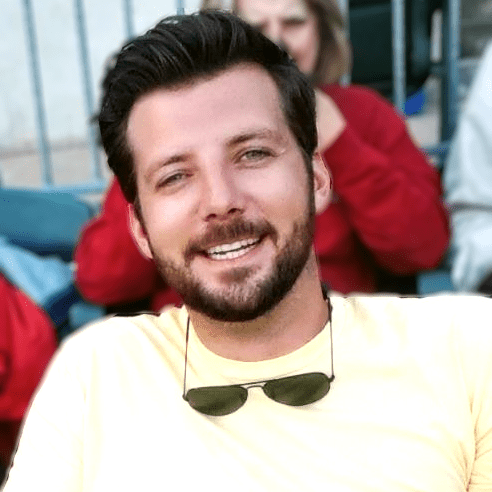 Evan Brown
Board Member At Large
Evan and his fiancé Bridgette moved to Cooper-Young in August of 2022, where Bridgette attends the Cecil B. Humphreys School of Law and Evan joined Mid-America Apartment Communities. Acting in the role of Director of Corporate Sustainability, Evan oversees and coordinates the environmental, social and governance (ESG) programs for MAA.
Evan's prior experience includes over 10 years in domestic and international development capacities to move communities toward a more sustainable and prosperous future. Evan most recently led the Proposal Design Hub at Heifer International, supporting the creation of programmatic strategy to win external funding that acted as a catalyst for community progress across Heifer's 20 country footprint. Among other past professional experience, Evan was a United States Peace Volunteer in Lesotho, Africa and has a dual degree from the University of Arkansas in Financial Investments and Small Business Management/ Entrepreneurship. He also holds a master's degree from the Clinton School of Public Service specializing in monitoring and evaluation of development programs and initiatives. Evan is thrilled to be a part of the CYCA board to progress exciting efforts to support this historic community.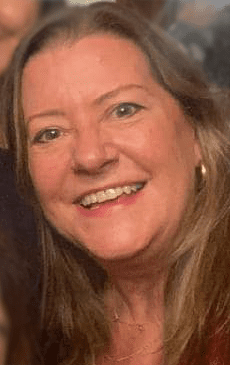 Cheryl Bledsoe
Board Member At Large
Hi! I am Cheryl Bledsoe and I have been a resident of Cooper Young for 18 years! I am a lifelong Memphian and grew up in East Memphis. I knew Midtown was where I needed to be when I went to the zoo and to Brooks as a child. I fell in love with this neighborhood when I was in college and this was home because of the vibe and the festival. Volunteering, gardening and doing my artwork keep me busy. I am Community oriented, so being involved with the CYCA is a perfect fit. I have served on the Board on and off for the last 10 years. I work for Smith and Nephew in Technical Communications and Labeling. My hobbies are gardening, painting, traveling and hanging out in the neighborhood. I would not want to live anywhere else!
The mission of the Cooper-Young Community Association is to form an association of residents and interested parties to work together to make our diverse and historic community a more desirable and safer place to live, worship, work, and play.
The History of the Cooper-Young Community Association
The Cooper-Young Community Association (CYCA) was formed in 1976 around the following mission: to make our neighborhood a safer and more desirable place to live, worship, work,and play. Encompassing an area of Memphis, Tennessee, where homebuilding flourished from 1881 through the early 1930s, the association was born when residents became activists to stem the tide of decay that so many urban areas experienced with the rise of suburban-ism and the phenomenon known as white flight.
At that time, home owner occupancy within the community had dropped to less than 47%; industries which had supplied jobs to this working-class neighborhood had relocated, leaving deserted commercial properties throughout the area along with the abandoned railway tracks that once served them; banks were refusing mortgage loans; tax codes made it more profitable to level historic homes and build multi-family units; establishments serving the community, such as restaurants, grocery stores, and other retailers folded (A History of Cooper-Young, (c) 1977, Metropolitan Interfaith Association). In the absence of these stabilizing factors, crime and poverty moved in.
But the volunteers who established the CYCA saw the need to revitalize this unique, urban landscape and sought out solutions. Working with local law enforcement, they created neighbor support groups for crime prevention, eventually winning a number of citywide awards for their efforts. They surveyed the housing stock and other contributing structures within the neighborhood and gained placement on the National Register of Historic Places. Publication of the LampLighter Community Newspaper and volunteer distribution to every household and business in the neighborhood allowed the CYCA to reach diverse stakeholders. This monthly communication helped strengthen relationships, develop dialogue among many different points of view, and keep the community apprised of the challenges and opportunities available.
By 1989, businesses had begun to move back into the area, and a sister organization, the Cooper-Young Business Association, was born. In partnership, a small neighborhood childrens festival grew to become the annual Cooper-Young Fall Festival, which attracts over 45,000 visitors to the area on the second Saturday of each September for art, music, food, and entertainment. Proceeds from this event, the largest one-day festival in the Southeast, were used to establish the Cooper-Young Development Corporation (CYDC). The CYDC, through rehabilitation and new construction, has returned 34 single-housing units to the neighborhood to date.
By gaining not-for-profit 501(c)(3) status, the CYCA was able to enhance its role as a community facilitator. In 1991, it received a comprehensive, three-year community planning grant to help establish short-term and long-range goals (known as the Eagle Plan). Having gathered community consensus on priorities during the Eagle process, the Gateways 2000 program was initiated in 1997. This multi-year project focused on safety and beautification, culminating with projects completed in time for the turn of another century in this neighborhood. One of the most notable accomplishments is the Trestle Art Gateway over Cooper Street, which turned an abandoned, dilapidated, dangerous, lead paint and rust encrusted railway overpass into a permanent, lighted gateway welcoming residents and visitors alike to the neighborhood. It was the recipient of the 1999 Urban Art Vision Award for all of Memphis and Shelby County.
In lessons learned through the Gateway projects and the Eagle planning process, the Members Count campaign was born. This multi-year program, funded in part by the Community Foundation of Greater Memphis, increased membership donations to the CYCA by 98% over the previous five-year average in its first year. Currently in its second year, the campaign is poised to exceed the goals set by the steering committee for 2003, increasing not only fiscal capacity but also grassroots strength of the organization to effect change.
Today, the Cooper-Young community includes over 1,600 households, with an owner occupancy rate of 61% (US Census data, 2000). There are more than two hundred flourishing businesses with thriving retail, restaurant, arts, and antiques districts as well as industries that employ local residents. Two schools and twelve worship communities are located within its boundaries. The CYCA maintains community office space within a redeveloping commercial area in the most challenging quadrant of our neighborhood (highest percentage of remaining abandoned properties and vacant lots, with the lowest average property value). Volunteers, including board members, neighborhood block captains, gardeners, artists, fundraisers, event organizers, and others give over 4,000 hours annually in projects which meet the mission of the association: making our neighborhood a more desirable place to live, worship, work, and play.
Over the centuries, the boundaries of CY have changed in small ways. This rectangle represents what most folks consider to be the CY neighborhood.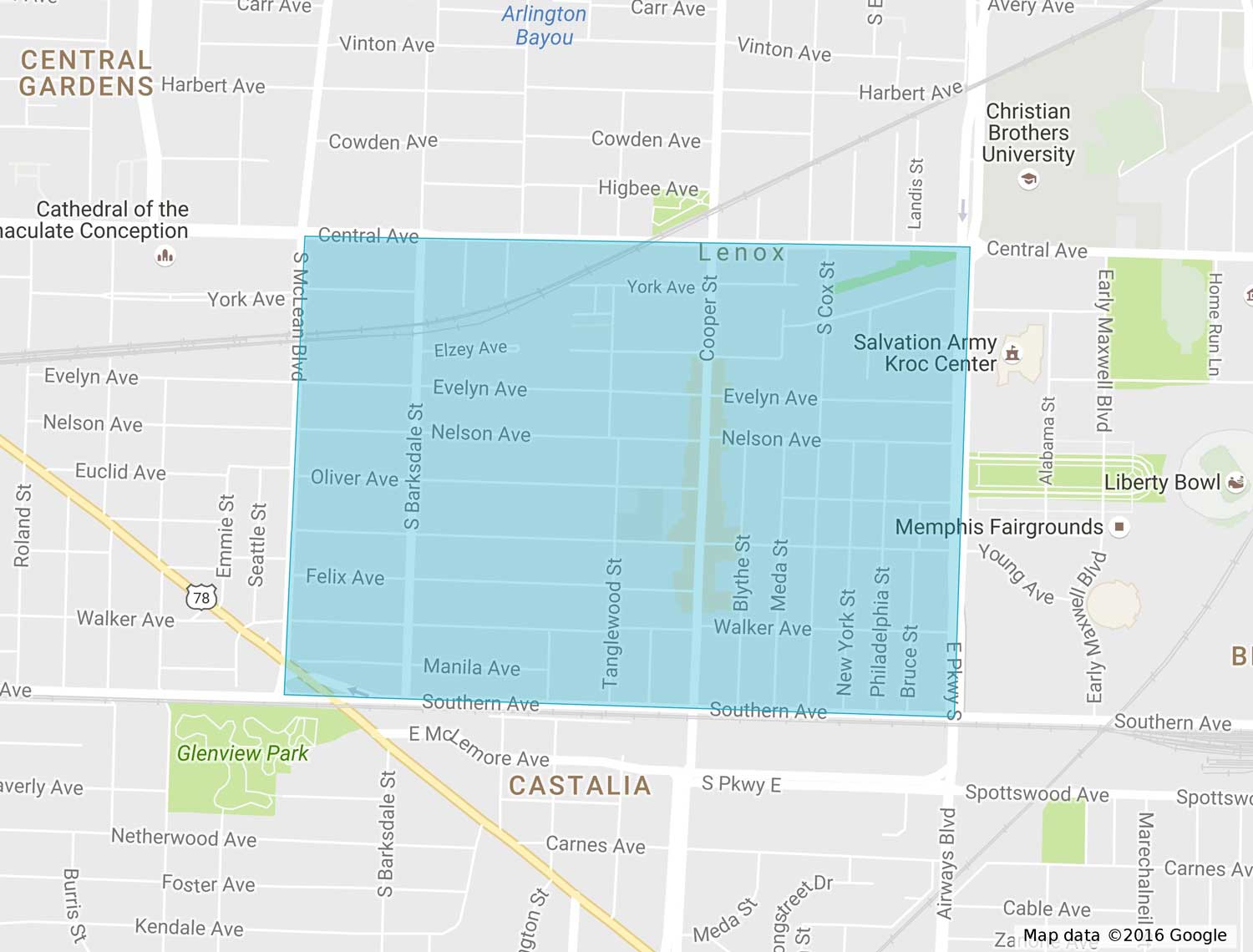 A quite delighted and energetic group of employees at Atkins Beauty Salon (966 Cooper) pose for a welcoming picture in the 50s. Courtesy of Sharon Atkins Andreini
Built in the late 1800s, the home of Captain C. L. Harris (2106 Young) was the largest in the neighborhood. When first built, it faced Cooper Street. The house was turned in 1925, using logs and horses, to face Young Avenue and allow the business district along Cooper to develop. Courtesy of Jean McCarley Stevenson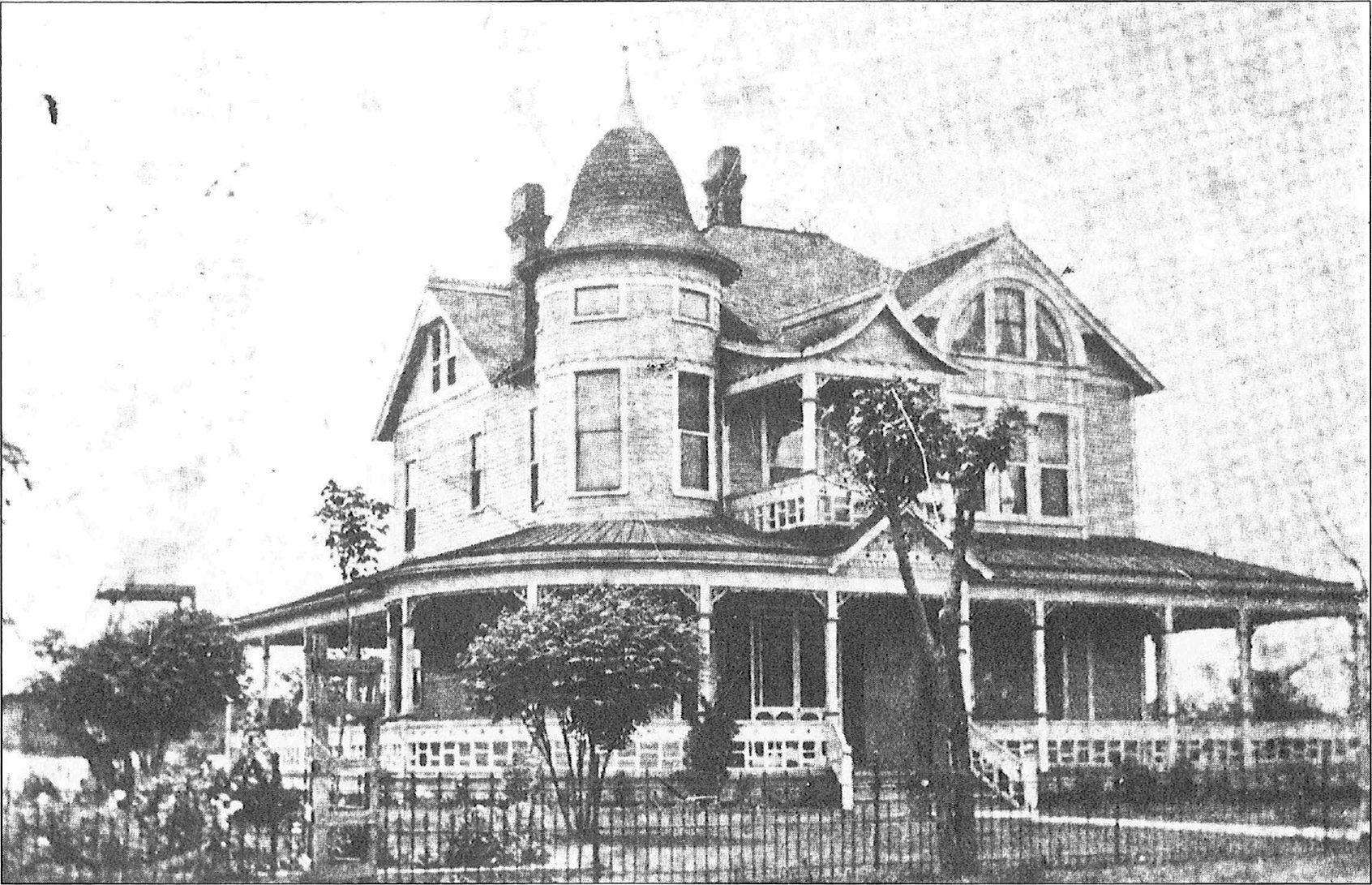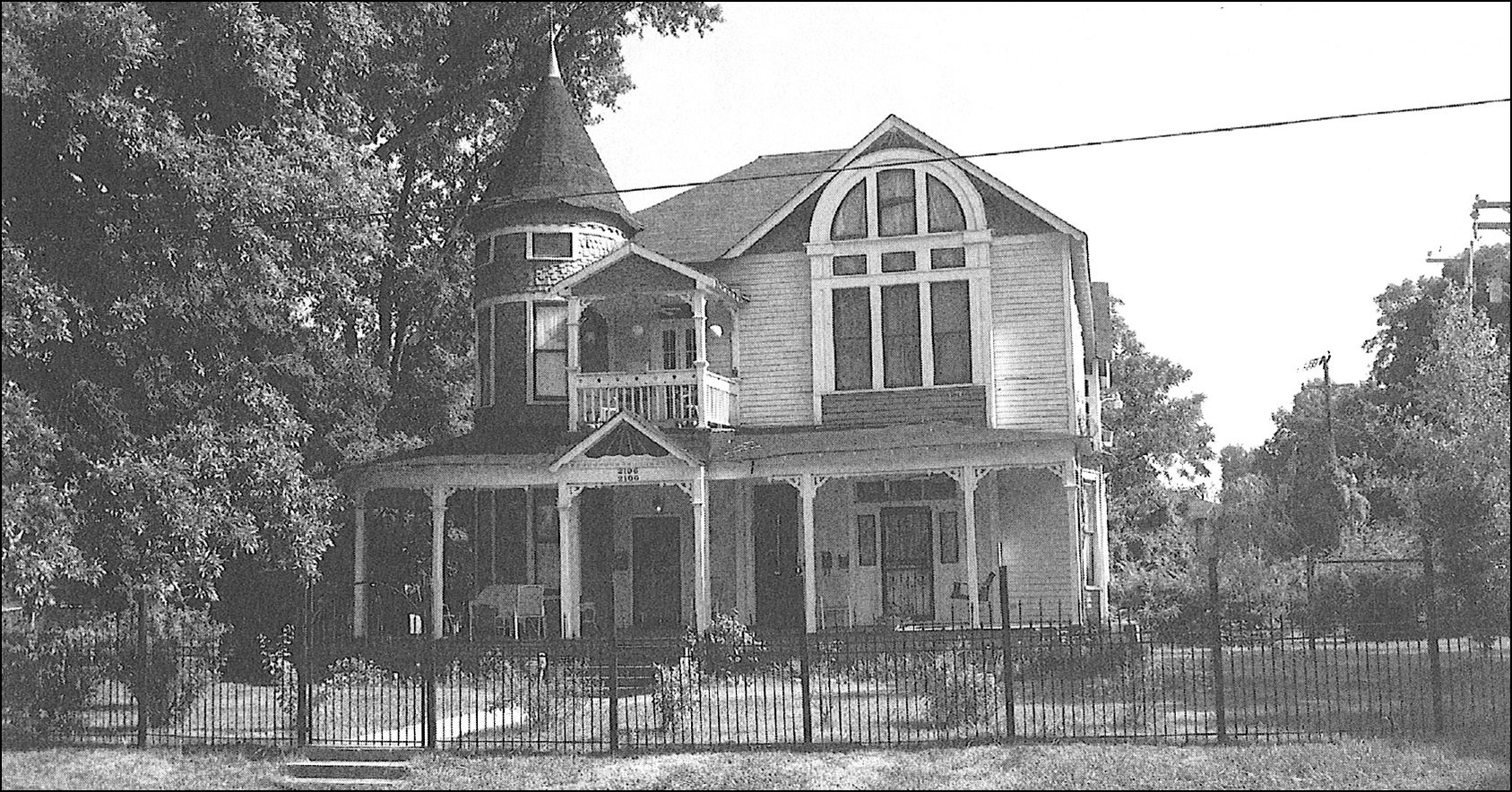 The Captain Harris House still stands proud on Young Avenue just east of Peabody School in 2010. Although it is now divided into separate rental apartments, fine architectural details remain. Courtesy of Emily Bishop
The Peabody/Fleece School in 1910. The brand new neighborhood school was originally named the Fleece Station School (Fleece Station was an earlier name for the area). It was renamed soon after in honor of a donation from philanthropist George Peabody. Courtesy of Memphis and Shelby County Room, Memphis Public Library and Information Center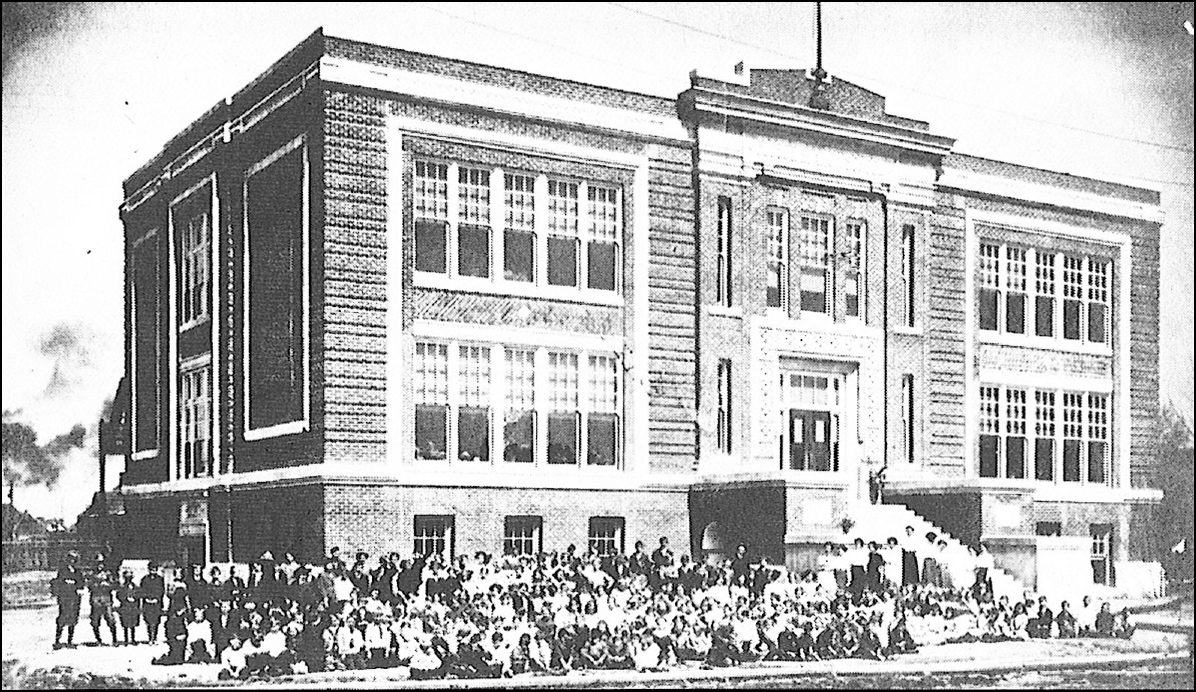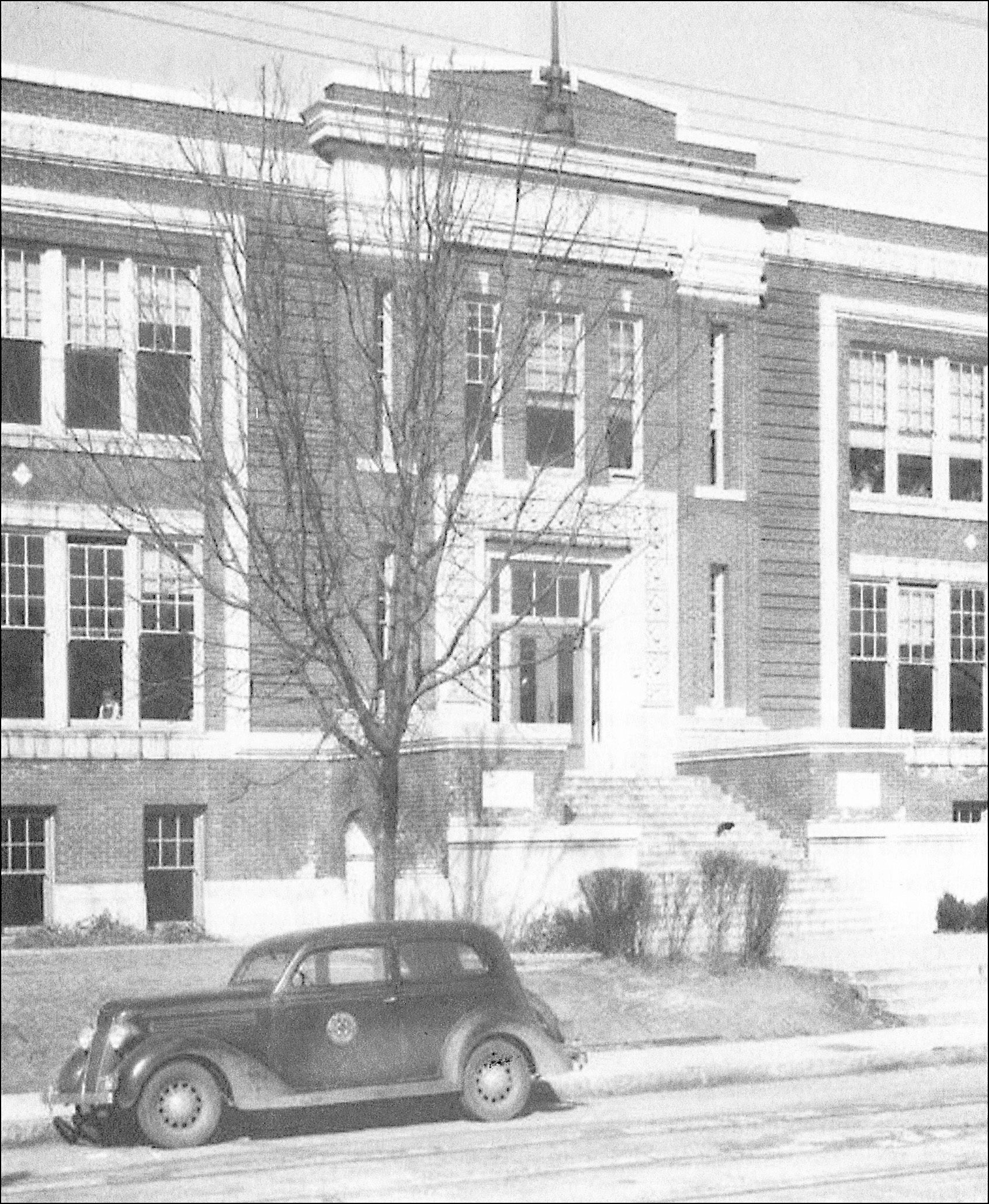 In the 1930's, Peabody School gained a reputation as a versatile school. During the Great Flood of 1937, the Red Cross arrives to coordinate the housing of flood refugees. Courtesy of Memphis and Shelby County Room, Memphis Public Library and and Information Center
One of the city's Easy Way markets opened in Cooper-Young in the 1950s. Courtesy of the CYBA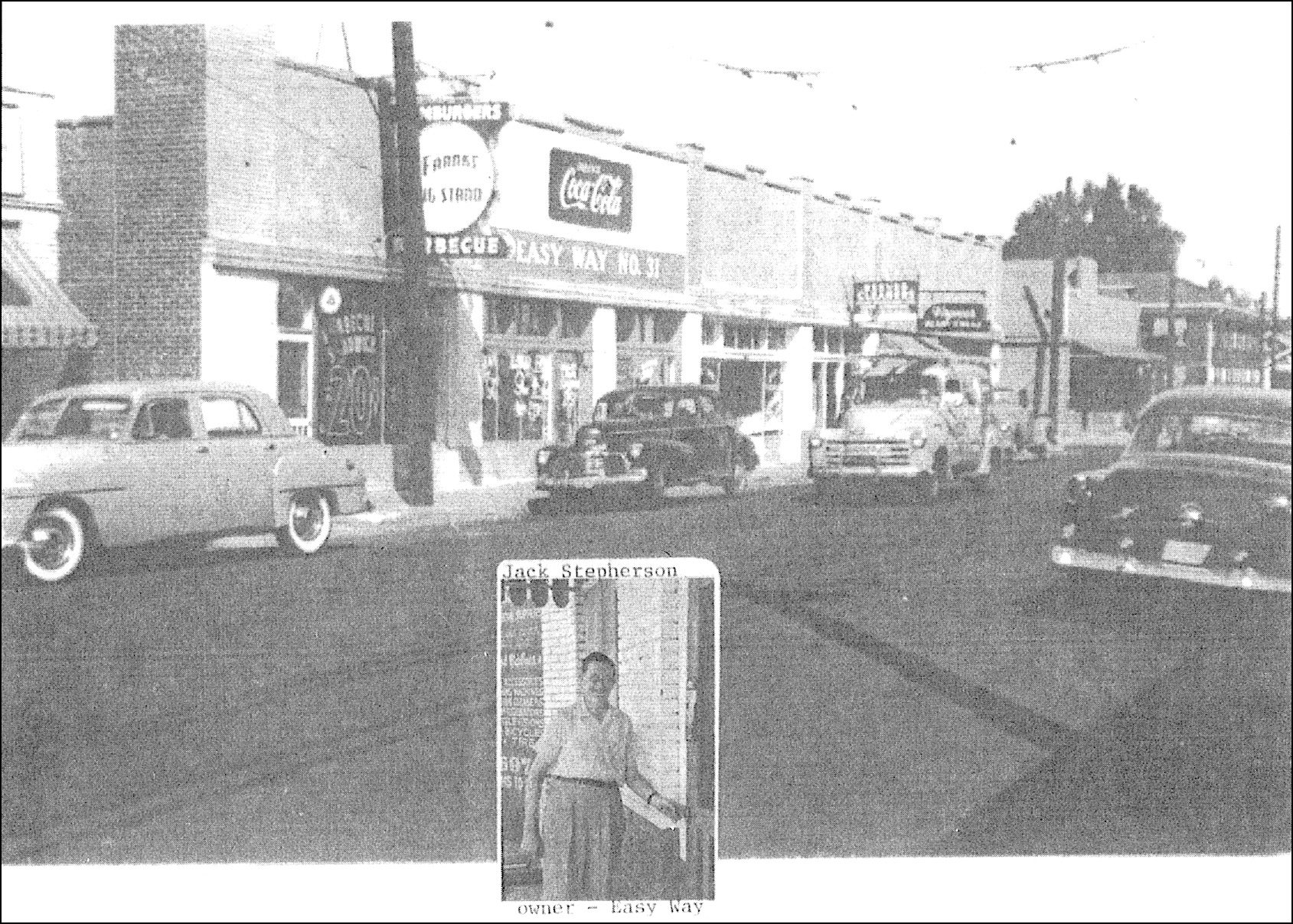 The northwest corner of Cooper and Young during the first Festival (the Cooper-Young Street Fair) in 1988. Notice the Affordable Boat Sales business that still owned and operated from the corner, just prior to becoming a neighborhood bank. Courtesy of Lizi Beard Ward
A sampling of flags, logos, and looks of the LampLighter, now over 20 years old. Courtesy of the LampLighter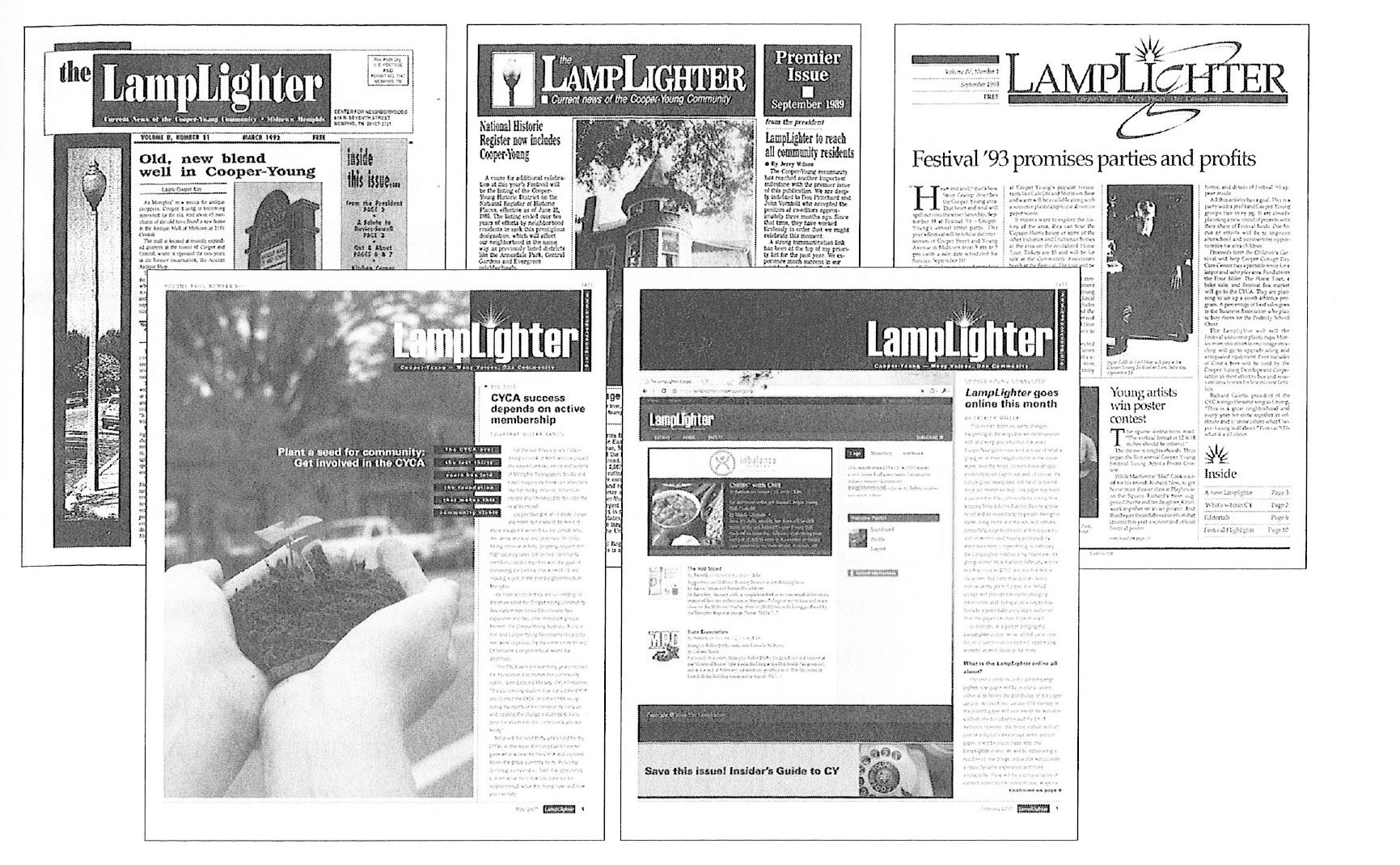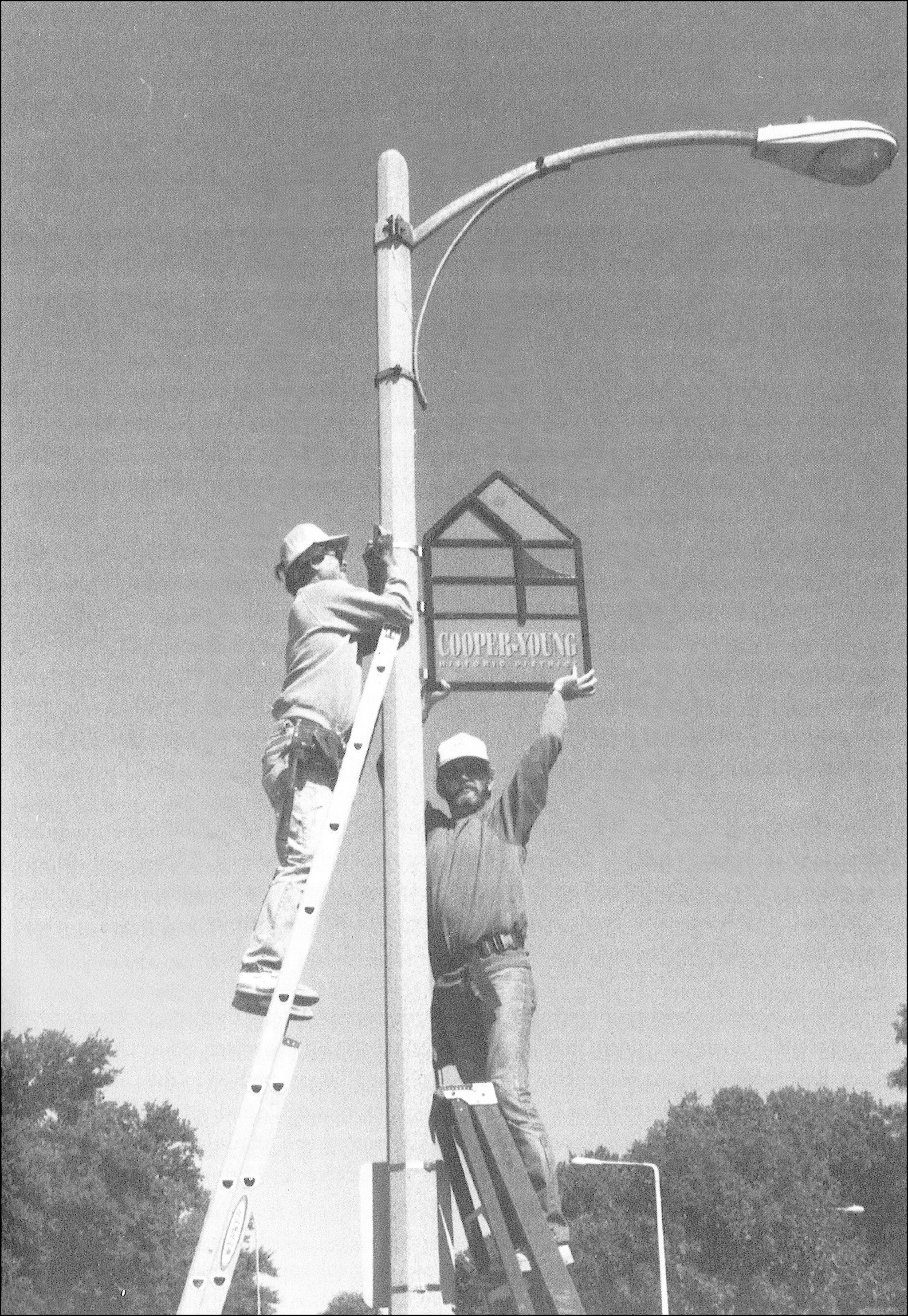 The first of four Cooper-Young Historic District signs were installed in 1991 with funds raised by the CYCA Horne Tour. Courtesy of the LampLighter
As the Festival has grown with vendors and community partners, it has expanded in all directions. Here's the scene in front of First Congo in 2009. Courtesy of Andy Ashby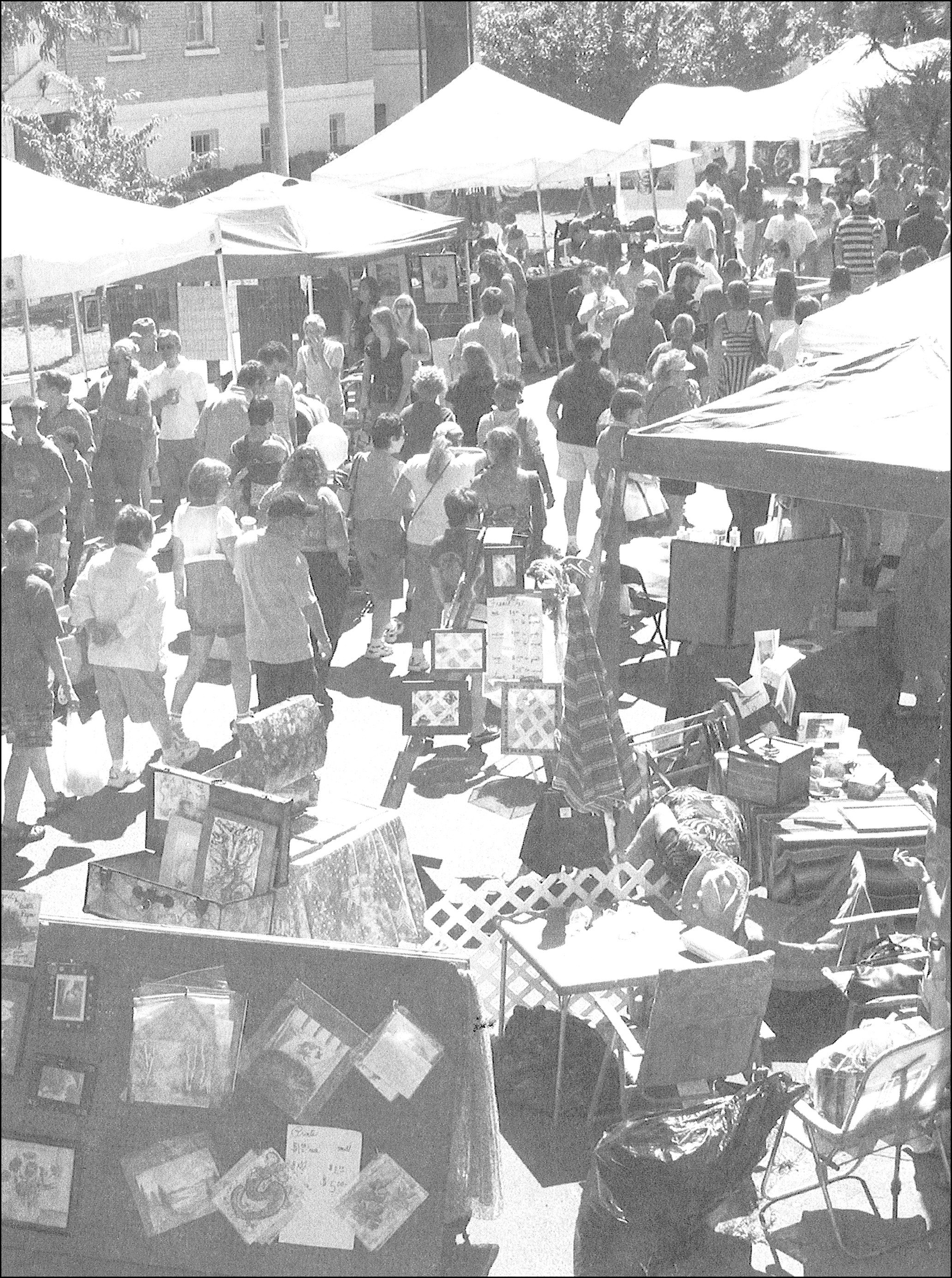 Hundreds of runners start the Festival Friday 4 Miler under the new Trestle Art in 2008. Four miles later they returned for pizza, beer and music. Courtesy of the LampLighter
Bearing witness to peace, women in black shout in silence on the steps of First Congo every Wednesday since the start of the war in Iraq. Area artist Karen Bottle Capps captures their weekly vigil. Courtesy of the LampLighter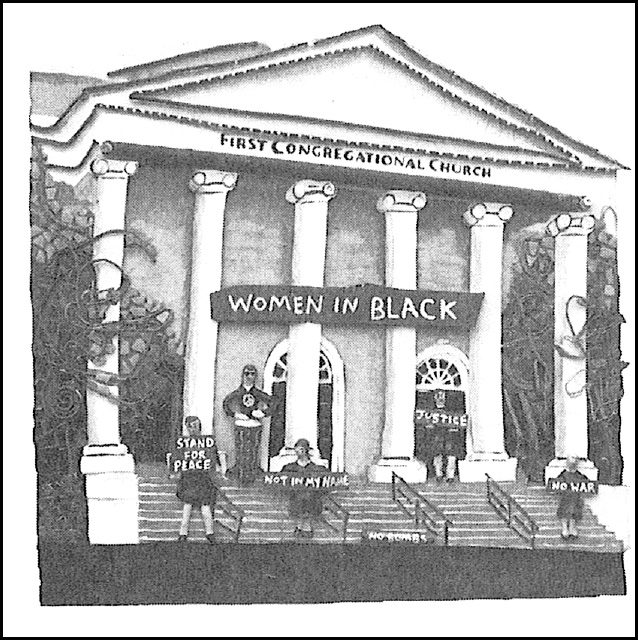 Beth Pulliam may be pointing out the obvious, but she has just bid on a piece of local art – the result of lifting your arm at the Art for Arts' Sake Auction. Held annually here at Young Avenue Deli – the proceeds pay for maintenance of the Trestle Art. Courtesy of the LampLighter
Parked cars for the protection of pedestrians, umbrellas for the sun, fans for a breeze, and beer for sale. It's a walk around the block in Cooper-Young. Courtesy of Emily Bishop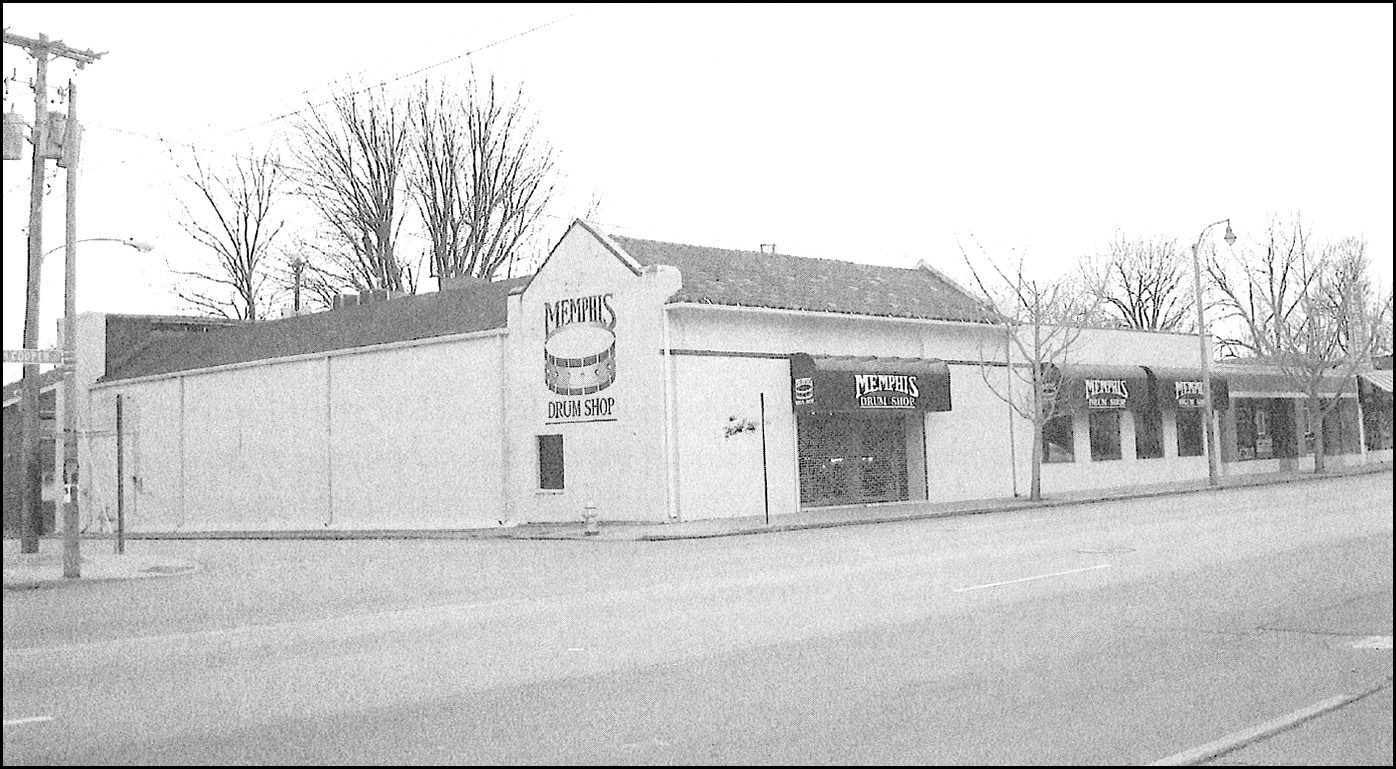 The Peabody Theatre at the corner of Cooper and Nelson opened in 1925 to rave reviews and the relief of neighborhood kids. Courtesy of the MPLIC
The former Peabody Theatre is now home to the world famous Memphis Drum Shop that continues to attract musicians from around the world to sample its vast collection of instruments. Courtesy of Emily Bishop