As the temperatures continue to drop and we trade the spooky and goofy for all things holly and jolly, consider making your holidays merrier with creative wares by Memphis artists, makers, movers, and shakers.
Shopping local supports our community and the local economy by keeping more money in the pockets of Memphis artists, makers, and shop owners. According to the Andersonville Study of Retail Economics, for every $100 you spend at a locally owned business, $68 will stay in the community; that number drops to only $43 when shopping at a national chain. Beyond financial benefit, it also helps the environment, cutting down on fuel usage and packaging materials. Want even more bang for your buck? Shopping small supports the creative and entrepreneurial scenes in the city by saying YES to unique wares, independent places, and creative minds–all of which creates a stronger community that stands out from the pack. 
The holiday season is a perfect time to branch out and explore local options with the multitude of pop-up opportunities, extended hours at your favorite shops, and Shop Small Saturday on November 30. One of the best ways to explore and find artists and makers that speak to your taste is to shop pop-up markets, which bring together a variety of artists in one place. Two I'm looking forward to this season are:
Memphis College of Art's 69th and Final Holiday Bazaar
Ticketed Preview & Purchase Party: November 22, 5-10pm
Open Marketplace: November 23, 10am-5pm
For more information, visit mca.edu.
Memphis Maker Market at Muddy's Bake Shop Midtown
December 7, 11am-4pm
For more information visit memphismakermarket.com
Feeling overwhelmed by options? Check out my gift guide below for a few of my favorite gifts.
For Folks Far Away:
Every year (and by popular demand), I stuff my suitcase with Memphis BBQ sauce to bring home to family members far away. They can't get enough of it, and when they finally crack open a bottle well into the new year, we are both reminded that food brings people together no matter the distance. Regardless of which 'que is your holy grail, it is sure to be a crowd pleaser. 
For Fellow Cooper-Youngers:
Did you know you can gift a membership to the Cooper-Young Community Association? It is a great way to turn the folks next door into your new best friends while supporting your neighborhood. Gift memberships are only $20; throw in a koozie, a shopper tote, or a carabiner mug to really transform this gesture into a gift of goodwill. Email info@cooperyoung.org for more information.
For Green Thumbs, Home Decorators, and/or Your Best Friend:
Clippings from your favorite potted plant make great gifts when planted in local ceramic wares. One of my favorites, and a mainstay in the Memphis arts scene, is Nikkila Carroll's babycreep, which offers offbeat pieces, including a Ziggy Stardust inspired planter. For more information and places to find her work check out babycreep.com. Looking for something a tad more conventional, try Paper & Clay, with wares inspired by Scandinavian modernism. Find out more at shoppaperandclay.com.
No clippings to share? You can't go wrong with gifting a schlumbergera; also known as a Christmas cactus. With blooms in December, they are a wonderful alternative to poinsettia and brighten even the coldest winter day.
For the Style Maven:
Textstyle Bags, run by Samilia Colar, offers handcrafted bags and other wearables. The "United" Crossbody is my ultimate go-to for a day (or evening) out. It has a long strap that can be worn as a crossbody or knotted to vary the length–my favorite way to wear it is slung across my chest. It is the perfect size to hold the essentials while keeping me hands free. Textstyle products are available at a number of local shops. Check out her Facebook for more information: facebook.com/texstylebags.
For unique bow ties, neckties, and scarves check out Grace Siler Designs. Grace's fabrics, satin for the ties and chiffon for the scarves, are printed with Grace's illustrations and handcrafted to order. The illustrations are whimsical yet elegant and are sure to be conversation starters. For more information check her out online at gracesilerdesigns.onlineweb.shop.
For Scent Lovers (or Really Anyone Who Bathes):
Buff City Soap, from Bartlett, TN, offers handcrafted bath and body products in a variety of scents to suit every taste, including your four-legged furry friends. I'm a huge fan of the 2-Piece Gift Set for gifting, which includes a bar of soap and a bath bomb for only $12. Their lip balms also make great stocking stuffers. Visit them in the neighborhood at 944 South Cooper Street or online at buffcitysoap.com.
For Shiny Things:
There are countless skilled jewelers and makers in Memphis crafting all things shiny and sparkly. The names are endless but head to a local pop-up market to experience first-hand the variety available and find what suits your taste. Pro tip: most jewelers will make custom pieces, so if you don't see exactly what you want, just ask. A few of my favorites include: Funlola Coker, for enameled pieces in fun shapes and colors, funlolacoker.com; Pretty Useful Co., for enamel pins with catchy phrases and cocktails, pretty-useful.co; Question the Answer, for elegant, minimalist pieces with personality, questiontheanswer.com. 
One Stop Shopping for Everyone on Your List:
My two go-to local shops that offer a variety of wares to suit every taste are Five in One Social Club and Cooper-Young Gallery and Gifts. Five in One Social Club recently relocated from Broad Avenue to a fabulous new home at 2575 Summer Avenue. They have everything from shirts and drinkware to fine art prints and jewelry. On top of that, they also offer countless fun and offbeat workshops that they call "kindergarten for grown ups." Sign yourself up or purchase a punch card as a gift. Find more information here: www.fiveinone.org. Cooper-Young Gallery and Gifts, located in the neighborhood at 889 Cooper Street, offers a wide variety of gifts in every price range, plus they host gallery shows. Be sure not to miss the wall of greetings cards and prints or the backroom featuring a wide range of fabric and books. For more information, head to their website: cooperyoung.gallery.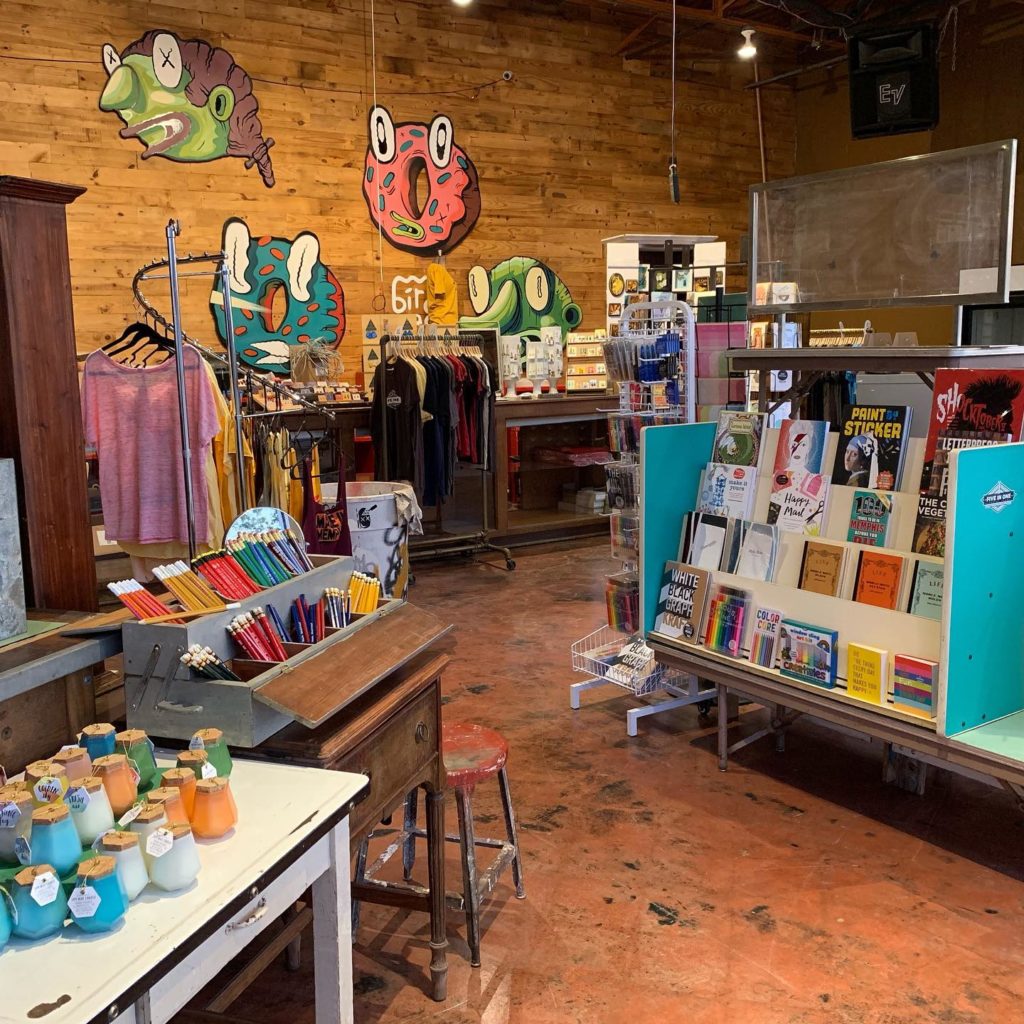 Still Stumped? Head to Burke's Book Store, at 936 South Cooper Street. Established in 1875, it moved to Cooper-Young in 2000, and offers new, used, and rare selections. Books are great gifts for every person; they come in every subject and offer unfamiliar worlds to explore at the fingertips. History Buff? Try a history of Memphis or rock and roll. Adventurer?: Try a travelogue or a photo essay on a place far flung. Hostess with the Most-ess?: Try a vintage guide to manners or a home decor catalog. Student? Try a biography of someone inspiring. If in doubt, check out the Staff Picks Shelf, which curates a selection of the extensive titles available in one place. For more information, visit burkesbooks.com.
Be sure to mark your calendar for Cooper-Young Shop Small Saturday on November 30, and happy shopping.