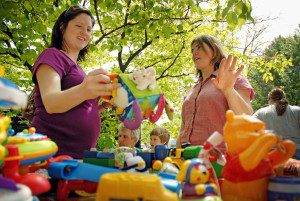 The annual Cooper-Young Community Yard Sale will return Saturday, April 27 just in time for spring cleaning.
If you've got a few extra items lying around the house, this is the perfect time to clear the clutter and make a few extra dollars while you're at it. To host your own yard sale contact debbie@debbiesowell.com. The cost for registering your sale with the wider community event is $5 to assist with advertising. Participating sales will also be featured on printable online map of stops.
In connection with the community yard sale, the CYCA is also hosting a clothing swap from noon to 3 p.m. at its offices at 2298 Young.
The first swap in October was such a success that it seemed natural to bring it back as part of the yard sale. Residents are encouraged to bring their used and unwanted clothes to the office on April 27 and where they can also swap for others clothes. Clothes donors don't have to attend to participate. The CYCA will begin accepting clothes donations on April 22 and any leftover clothing will be given to a charitable organization.
For more information, contact the CYCA office by email (info@cooperyoung.org), phone (901-272-2922), or come by our offices 2298 Young. — Sheree Stubblefield