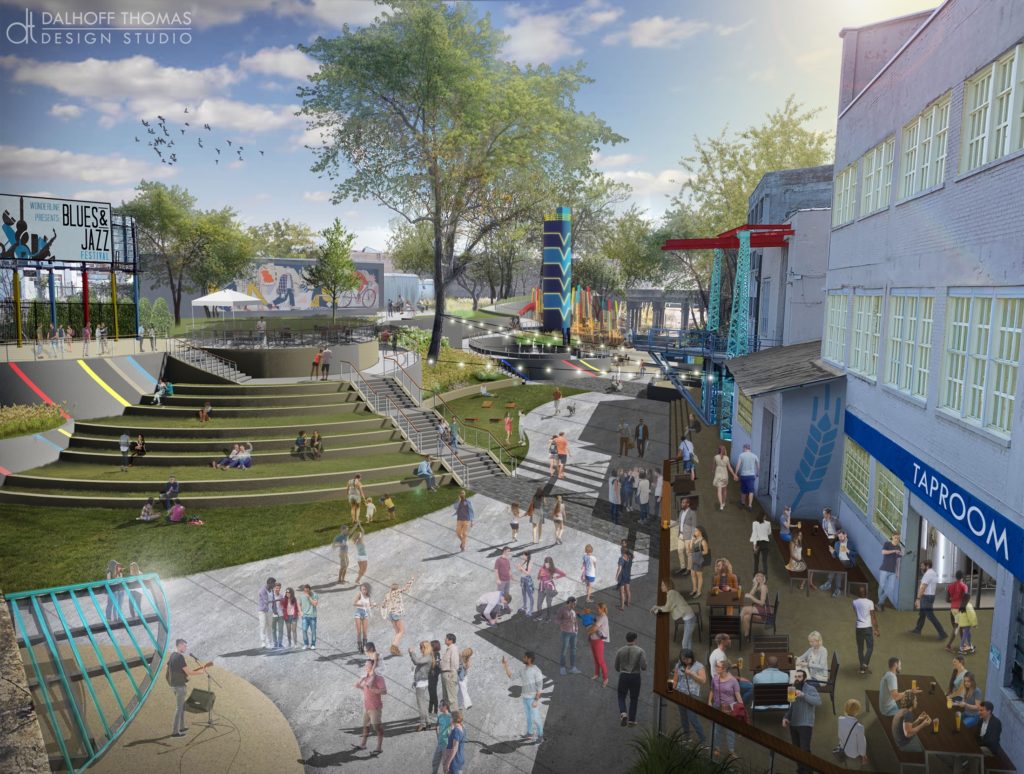 Memphis Made Brewing Co. is establishing a second location in the Edge District, giving the company room to grow.
The craft brewery, owned by Drew Barton and Andy Ashby, signed a long-term lease with PGK Properties LLC.
"If you'd asked me about a second location six years ago, I would have looked at you like you had six arms," Barton said. Now opening day can't come soon enough. This location will allow us to grow and provide more fans with a larger selection."
Development Services Group, the developer for PGK, is developing offices, apartments and retail throughout the Edge District.
"We are thrilled to welcome Memphis Made Brewing Company to the Edge District," Ethan Knight, vice president of development with DSG, said. "They will prove to be a pivotal player in the creation of a walkable, thriving, mixed-use neighborhood. We have been focused on cultivating an authentic Live-Work-Play community within the Edge, and Memphis Made is a top tier asset to welcome to the mix."
The new space will allow Memphis Made to expand its distribution and offerings. The brewery currently has beers in more than 300 bars, restaurants, and retailers throughout Shelby County.
The company, which recently signed with Ajax Distributing Company of Memphis, produces cans and kegs of Cat Nap, Fireside, and Junt year-round while also brewing several limited release beers.
The almost 17,000-square-foot space at 435 Madison Ave. will have space for production, offices, and a taproom spread across multiple levels.
The new production space will feature a 30-barrel brewhouse in 7,500 square feet with an entrance on Lauderdale Street.
"This move will increase our production ceiling," Ashby said. "Drew and our brewers have been pushing our current space to its limits. This gives us more than just the chance to brew more beer; it also will let our brewers experiment more and try different styles and techniques. I'm really looking forward to seeing what they come up with."
The 7,750-square-foot taproom will be below the production space. It will have an entrance off Lauderdale and a patio deck overlooking the Ravine, a $5 million public greenspace concept being developed by DSG and the Downtown Memphis Commission. The Ravine will run between Union and Madison Avenues. Dalhoff Thomas Design Studio designed the Ravine while Looney Ricks Kiss did the conceptual master plan. A2H is creating the architectural and engineering for Memphis Made's space.
Memphis Made's own Becky Clark will head up the design of the taproom space.
"We've always been very DIY, from building our own canning machine to hauling our new-to-us equipment across the highways," Barton said. "Having a team member lead the design of this much larger space puts us at ease that it will extend the spirit of our original space."
First Alliance Bank, recently acquired by Guaranty Bank & Trust, is providing financing. Andy Cates and Ben Ricketts with Colliers International represented Memphis Made in lease negotiations.
Memphis Made's space also includes 1,750 of office and additional storage space.
Barton and Ashby started Memphis Made in Cooper-Young in October 2013. They began with production out of a 5,000-square-foot space at 768 S. Cooper St., adding a taproom in November 2014. The company now has 10 full time employees and several part time employees.
Memphis Made's original location will remain open. Once the new space opens, the Cooper-Young location will focus on new and experimental beers. That taproom, currently open Thursday through Sunday, will have expanded hours.
"We worked hard to make our first location part of the neighborhood," Ashby said. "We can't wait to get to know our new neighbors and be a real part of the Edge District in the same way."
Business Briefs
• On October 23, Karen Carrier, the Memphis restaurant legend behind Cooper-Young hot spots the Beauty Shop and Bar DKDC, opened her latest concept.
Back Dō at Mi Yard occupies the outdoor space behind those two restaurants, but it is not just a patio for its big sisters. The name is a mash up of Memphis and Jamaican slang, and Carrier, who vacations in Jamaica annually, has given what is essentially a Midtown alley the vibe of beach side watering hole with palm trees, string lights, and a tiki-style bar.
The menu also has a Latin flair, with a large rotisserie serving up meats and fish as the centerpiece. Rotating salads, French fries, and crudo are also on the menu and each table has a selection of salsas and nut dusts for condiments.
For entertainment, Back Dō will show movies, cult fair like Harold & Maude and The Royal Tenenbaums, in tribute to her recently departed friend Ron Shapiro who was going to curate the films.
Back Dō will be open 5-10 p.m. Wednesday and Thursday; 5-11 p.m. Friday and Saturday but check social media fpr closures due to inclement weather.
• Jay Etkin Gallery will have an opening reception for "unexpected/juXtapositions" a new show featuring the works Juan Rojo and Kenneth Wayne Alexander on November 8 from 6-9 p.m. The gallery is located at 942 S. Cooper. For more information, call 901-550-0064 or visit jayetkingallery.com.
• Maciel's Taco Shop is coming to Cooper-Young. Maciel's has been a favorite of downtown diners for years and has regularly appeared on local best of lists. Owner Manuel Martinez also briefly operated a Maciel's on the Highland Strip with partners, but it closed in August amid disagreements between the parties. Now Martinez is bringing the original Maciel's concept to the site of the former Tart at 820 Cooper. The restaurant is expected to be open by the end of the year. 
• The patio at Elwood's Shell is expected to open any day. The patio seemed done awhile back, but the owners failed to get the proper permits and had to make changes. When it does open, customers will be able to enjoy new menu items there, including corned beef sandwiches and Cajun fried turkey.
• Renovations at Ryan Trimm's Sweet Grass/Next Door have combined the two restaurants into one giant room with the removal of a wall separating them. In its place is a giant horseshoe bar. Also gone is the vestibule that separated the two entrances. Trimm is also in the process fo combining the two menus.