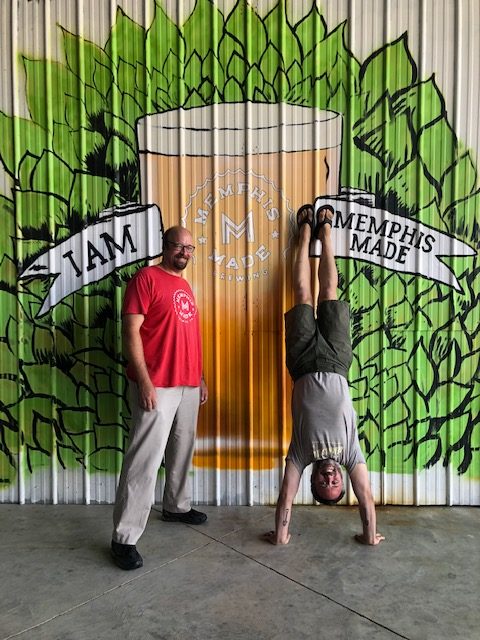 Cooper-Young Community Association wouldn't be what it is without our neighbors. They volunteer. They own businesses. They contribute their ideas and their passion to the Cooper-Young community. Each month, we will highlight a Member of the Month who gives back and embodies the spirit of our hip, historic community.
Our Members of the Month for October are Memphis Made business partners Drew Barton and Andy Ashby. They both live and work in Cooper-Young. They talk to The Lamplighter about what's it's like owning a business in Cooper-Young, why they love the annual beer festival, and how craft beer has made an impact on their lives.
If you would like to be involved in what makes CYCA great or recommend a Member of the Month, email info@cooperyoung.org. — Sheree Stubblefield
How long have you lived in CY?
Drew Barton: Since 2010.
Andy Ashby: I've been here 15 years.
How long has you business been in CY?
AA: Drew and I started Memphis Made Brewing Co. in October 2013.
Why do you like owning a CY business?
DB: I love our space in Cooper-Young because it has allowed us to produce a beer that we send all over the Memphis area and allows us to have a taproom in the neighborhood.
AA: I like how we're able to be more involved in our community. Before Memphis Made, I volunteered with the Cooper-Young Community Association whenever I could. But with a business, you can just give back more. We've been able to provide beer for the Cooper-Young 4-Miler and sponsor the Cooper-Young Beerfest. We've hosted fundraisers for Peabody Elementary School and Idlewild Elementary School, among many other things. It's very rewarding.
What is your favorite CY event of the year and why?
DB: That's an easy one, Cooper-Young Beerfest. Andy and I started the beer fest with a group of friends as a way to promote good beer in the region and provide a fundraiser for the neighborhood.
AA: I'd also have to say the Cooper-Young Beerfest. Drew and I were part of the group who founded the event 10 years ago. It was fun to build it from the ground up because we could make it a beer festival that we would attend. It's an exhausting and crazy weekend, but it's so much fun hanging out with brewers from around the region.
What is your favorite thing about CY?
DB: The walkability is definitely on top for me. Being so close to so many amazing restaurants is hard to find anywhere else.
AA: The people. Cooper-Young residents are active in making their neighborhood and city better. I'm a big believer in "live where you live," and I'm tired of people who complain about Memphis. Cooper-Young residents seem to be working to improve things rather than just complain.
Where can we find you on a Friday or Saturday night in CY?
DB: You will almost always find us at the taproom on Friday nights. It's one of the benefits of owning a business that's production during the day and transitions to a bar at night.
AA: I usually start the weekend at the Memphis Made Brewing taproom. I'm kind of a homebody, but when I do get out, it's usually for beers at the Young Avenue Deli, Hammer and Ale, Sweet Grass Next Door, or Celtic Crossing. For dinner, Mulan or Tsunami are favorites, although our family tries to hit as many restaurants as possible when we go out.
Tell us a good CY story
DB: My older sister, Anna, brought me to the Deli for my first legal beer. We sat at a booth, far away from the bar, I needed glasses but didn't know that at the time. She asked me what I wanted. I squinted and saw some green labeled bottle. "I'll take the green one," I told her. Little did I know I was about to have one of my first craft beers, but I'd also someday open a craft brewery in the neighborhood.
AA: One year at the Cooper-Young Beerfest, Ghost River Brewing Co. opened its first bottles of Ghost River Golden. Chuck Skypeck, one of their founders and their brew master, was giving a talk in the beer education tent when one of their people showed up with some bottles of Ghost River Golden right off the bottling line. Chuck ran with it and turned it into an "alter call." People lined up along the middle of the tent, and Chuck poured them samples. It was spontaneous and everyone had a great time enjoying a bit of Memphis brewing history, as this was one of the first times local beer had been bottled in a long time.
What do you want to see happen in CY in the future?
DB: I'd love to see more organic growth of local businesses. There are a lot of great shops and restaurants in the neighborhood, but there is plenty of room for more.
AA: I'd like to see the neighborhood grow and improve while remembering what makes the neighborhood so desirable to live in the first place. This is a walkable neighborhood with a lot of history. It's a place where people can sit on their porch and meet their neighbors. It's a place where residents are involved. I'd like to see that continue as new people move in.
CY Beerfest is October 19 from 1:00 – 5:00 pm. Get your ticket by visiting cybeerfest.org. CYCA members can receive their discount code by emailing info@cooperyoung.org