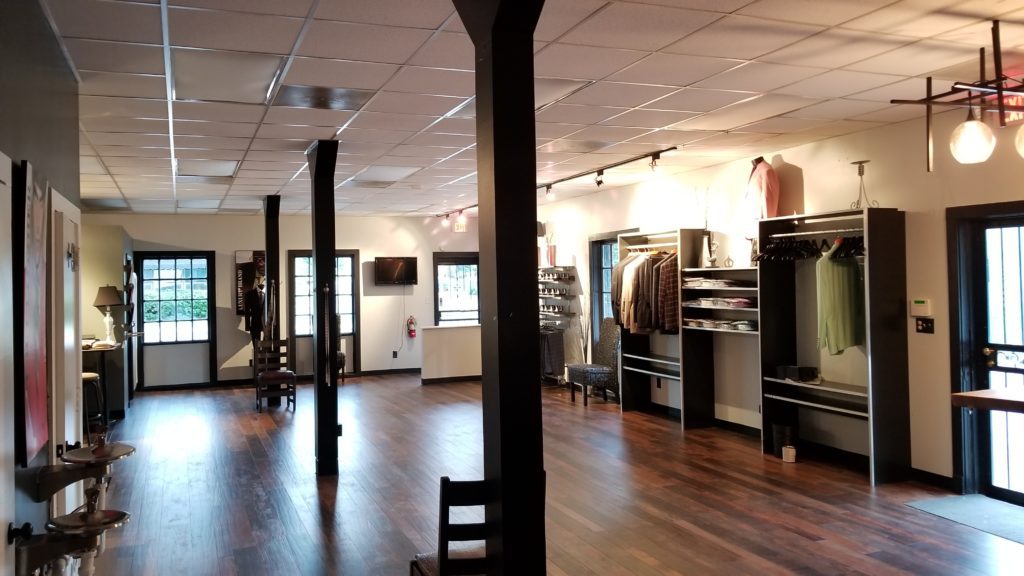 Cooper-Young has the pleasure of welcoming a new business to the neighborhood. This time, for the men of CY! LR Clothier offers custom tailored shirts, suits, shoes and accessories. The "L.R." stands for the initials of his daughter, Lunden Renee. Owner James Davis, a Memphis native, opened the store in July by.
Davis graduated from both White Station High School and the University of Memphis. After college, he found himself in the clothing business accidentally when he applied to work in retail for the discount. Due to his personality and ability to connect with people, he performed very well. He was then recruited by J. Riggings, a now closed men's clothing store, to be an assistant manager. He then went on to become District Manager and buyer. Davis then left the company and began selling neckties directly to customers through vendor booths, tie parties and direct-to-client sales. Then came ready-to-wear shirts and accessories. Over the years, Davis has traveled to fashion industry conventions all over the country.  "Through the years, I grew to not only learn the business and the industry, I genuinely love it. It provides creativity, an expression of style and the opportunity to meet a lot of interesting people – men and women both," Davis said. Over the years, he has dressed and styled CEOs, NFL and NBA players, music entertainers, lawyers to name a few. "Now I'm considered to me a master clothier in the industry," Davis said.
There are many options for men's clothing, so why go the luxury route? Davis cleared up a common myth surrounding this question. "Most people think having a custom made garment is more expensive than off-the-rack. Yes, the initial price tag will be more significant, but over time it'll prove to be a better value. In addition to the longevity, the client also gets exactly what he or she desires in the style, fit, color and design. It's not just about sales, it's also about being a positive difference.," he said. Clients have the opportunity to design their own shoes and find unique neckties that aren't available anywhere else.
Davis wants to get involved in the community. "We're not just a luxury retailer, We also want to be a neighbor," Davis said. He plans to have live music events and movie nights in the court area. Two or three times a year, they connect to causes such as MIFA or Mid-South Food Bank. They will offer Tie-A-Knot in hu8nger campaign, in which a donation will be made to Mid-South Food Bank for every tie purchased.
He chose to move into Cooper-Young because as he puts it, "I simply love the energy, diversity and social appeal of Cooper-Young. Even while we were working on getting the store opened, we received a lot of support from people that would walk by, stop by or just knock on the door welcoming us to the neighborhood. The community, the restaurants, the music venues all fits who we are as a business. Being in Cooper-Young, I just feel a good warmth of people. The community is very progressive and also breathes a good sense of style and uniqueness. I would not want to be anywhere else."
Clients can schedule an appointment or feel free to just stop in. They are located at 629 S. Cooper. The hours are Tuesday – Saturday from 10am – 6pm. The phone number is 901-296-4003. — Sheree Stubblefield