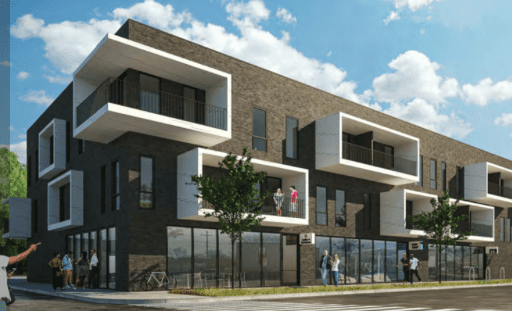 Another development has made its way to Cooper-Young.
The latest is at 871 Cooper St., an abandoned machinery shop that developers plan to will be demolished and build a new mixed-use building with apartments, offices, and businesses. The developers — Matt Crow, Elizabeth Petipas and Terry Kerr of CPK — took their project to the Downtown Commission and filed an application to be approved for the PILOT (payment-in-lieu-of-taxes) program, "a tax incentive designed to restructure the tax burden for companies who are interested in relocating or expanding in Memphis or Shelby County." CPK were subsequently approved and designs for the building were made the rounds in October.
Following an online uproar over the project, the Cooper-Young Community Association hosted a public meeting for residents and the developers to discuss the design and the development overall. The developers were not required to attend a public meeting of any kind but did so at the request of the CYCA.
Approximately 40 residents attended the meeting at the CYCA office. Echoing online comments, the residents were not impressed with architect Todd Walker's design and felt it was too modern to the neighborhood's historic aesthetic.
"I am going to pass this two or three times a day until I die," said Andy Ashby, a Cooper-Young resident and co-owner of the neighborhood's Memphis Made Brewing Co. "This is the Cooper-Young Historic District. The Cooper-Young Business Association describes the neighborhood as 'historically hip.' I'm very pro-business, but I would encourage you as someone who lives in the neighborhood to consider something else."
Meeting attendees also expressed concerns about parking for the 34-unit building. In particular, they felt that the planned 66 on-site parking spots were not enough and that the ensuing overflow onto the already cramped side streets would negatively impact the neighborhood.
CY resident Kristine Keith informed the crowd that a traffic study had not been done on the project due to it being zoned as a commercial district but that in recent years parking spots had been removed for better access for transit, sidewalks, and bicycles.
"It has to be downsized," she said. "I live on a street that's 20 feet wide one block away and all those cars are going to come flowing into our corner and that's a big problem. It's too big for that size parking lot." she said.
Kerr and Crow represented the developers. Crow started off by informing the crowd that his background is in finance, not real estate. He emphasized that the building, although not net zero, will be LEED-certified. The developers also acknowledged they are still in the design process.
Brett Roler from the Downtown Commission was in attendance, and he informed the crowd that they could email him (roler@downtownmemphis.com) with more comments on the design of the building. Many stayed after the meeting to continue the conversation with the developers, Roler, and each other.
The next step in the PILOT process is for the developers to present their design to the Downtown Commission Design Review Board, which will be open to the public. The CYCA will inform the community through social media when the date for that meeting is announced. — Sheree Stubblefield