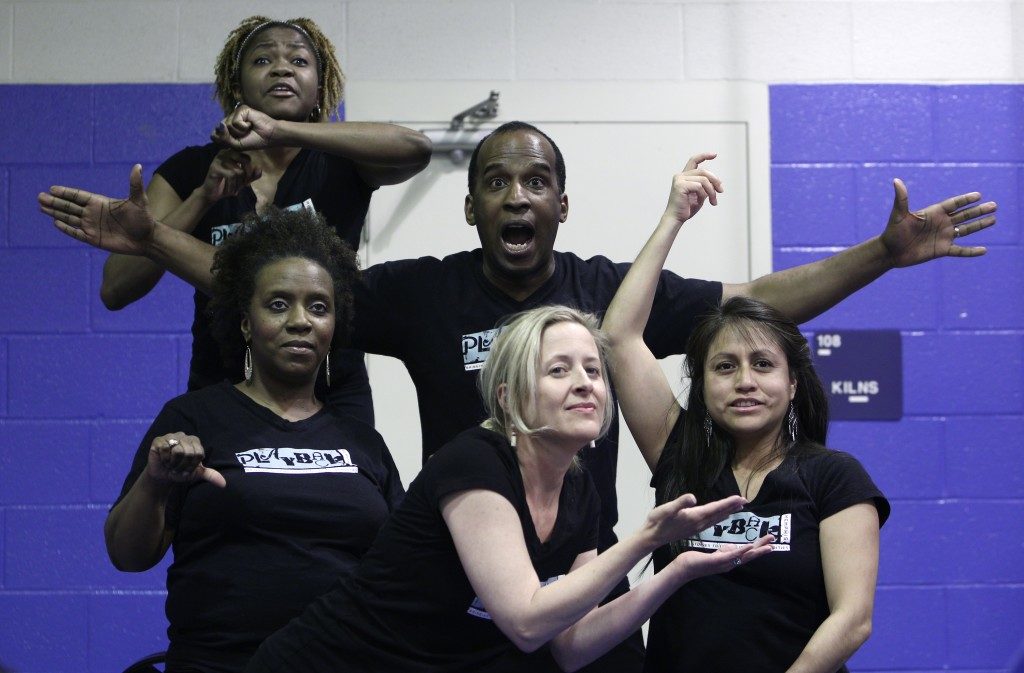 Among the many, disparate organizations that find shelter inside of Cooper-Young's First Congo Church is a unique theater group that is preparing to celebrate its 10th anniversary of not just entertaining audiences but bringing people together.
Playback Memphis is part of the international Playback Theater, which has companies in over 60 countries around the world. Founded in 1975, the theater practices an original form of improvisational theater in which audience or group members tell stories from their lives and watch them enacted on the spot. Because of its unique communicative nature, Playback Theatre is used in educational, therapeutic, social change, and arts settings, either as a performance, with a company of trained actors and a defined audience; or as a group event led by an individual, in which participants become actors as well as tellers for each other. Whether in theaters, workshops, educational or clinical settings, Playback Theatre draws people closer as they see their common humanity.
Memphis native Virginia Reed Murphy first discovered Playback Theater in San Francisco and for a decade she studied and performed with the group there and in New York City. Then in 2006, she returned home to Memphis to teach Playback theatre and build a professional company.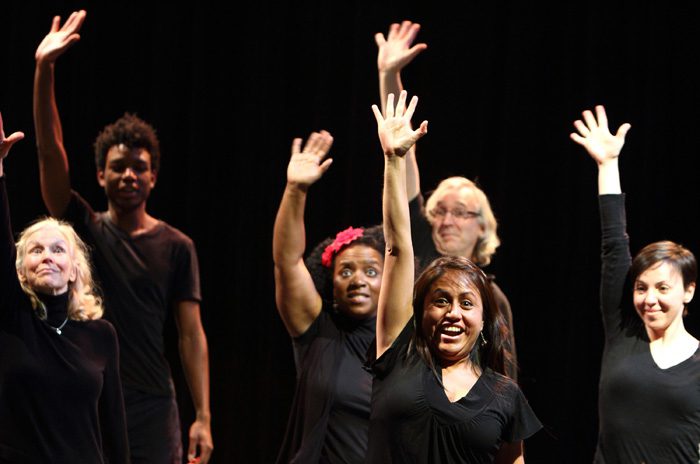 After three years of training and development, the first Memphis Matters performance debuted at Theatre South in 2009. Be the Peace!, Playback Memphis' anti-bullying program for schools, was launched in 2011. In 2012 Playback Memphis was one of six companies selected to perform at the North American Playback Theatre Festival in Washington DC, selected from a field of more than 75 companies. Virginia regularly attends trainings at the Playback Centre in New York City. Playback Memphis is recognized nationally as a leading model in Playback theatre. In 2011, Playback Memphis' work in the community was highlighted on SIRIUS Radio's nationally syndicated Bob Edwards show in a piece featuring Jonathon Fox, creator and founder of the Playback model.
As Playback Memphis kicks off its 10th anniversary with a special performance of Memphis Matters June 2, founder Murphy reflects on the program and its place in the community:
Cooper-Young gives so much life and love to Playback Memphis, and as we celebrate 10 years I am feeling especially grateful for our home in First Congo!
To work alongside so many who are striving to make our city more just and well inspires and lifts me up everyday. Not to mention the beautiful trees that grace our space here. The grounds are always welcoming, clean and attractive. We couldn't be happier with our home base here in the Cooper-Young Historic District.
As a resident of Cooper-Young for more than 10 years, one of my great delights is walking to work. It's not only Playback Memphis staff and ensemble who treasure our digs; it's our friends who come from all walks and zip codes to Memphis Matters, our public performance series, who also feel welcomed here. And on days when you need to just lay it all down and enjoy a delicious elixir of one kind or another, a "Please Please Please" at the Beauty Shop is just the ticket. Thank you Cooper-Young and First Congo for being our home. We look forward to the next ten years!
Regarding our work, as I reflect on the past year, and all that we quested after, accomplished, and enhanced, I couldn't be more proud and grateful. Now, we are poised for an even bigger year with our tenth anniversary on the horizon. The promise of our future is bright.
Our programs, Be the Peace, Memphis Matters and Performing the Peace, to name a few, are profoundly impacting our community and those who call Memphis home. With the help from our supporters, many of whom call Cooper-Young home, we are unlocking healing transformation and joy in our city on a regular basis.
Together, through Playback we are building beloved community in spaces where this has been unimaginable. We are growing together in awareness and compassion, building a legacy of safety, kinship, and hope for future generations.
Our upcoming Memphis Matters performances are June 2 and August 18 at Theatre South right inside First Congo. And for our big ten-year anniversary celebration, we already have big plans for events in both Midtown and Frayser. Please stay tuned for more details.
For more on our work please see these helpful program descriptors: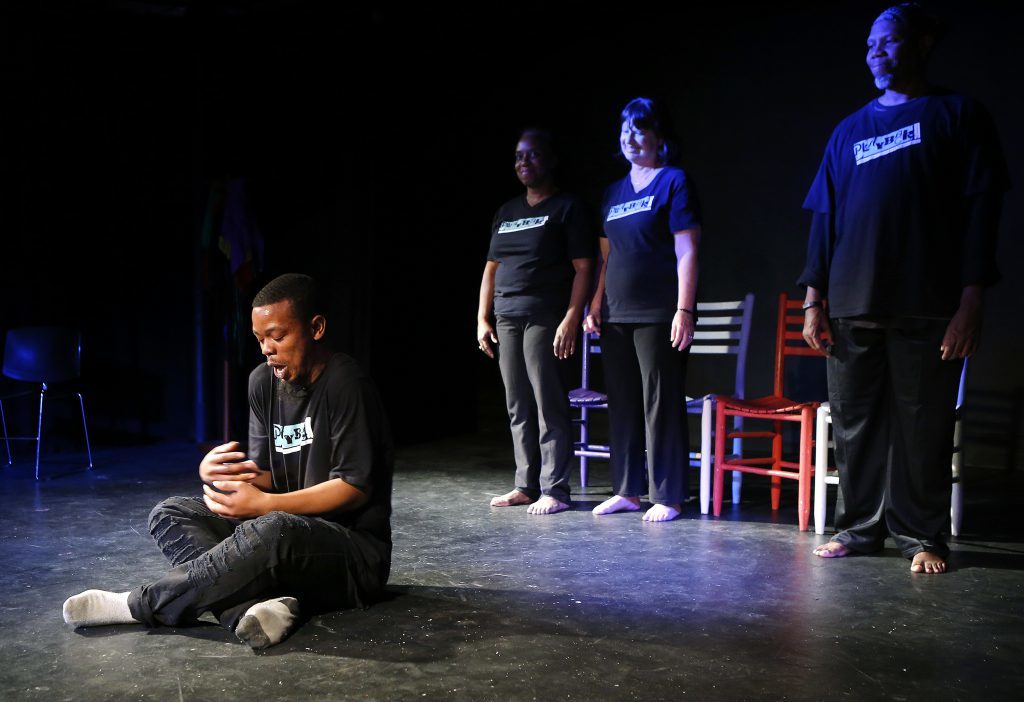 Memphis Matters. Through a unique combination of improvisational theatre, personal narrative, and community dialogue, Memphis Matters provides audiences a wonderful opportunity to connect with the "heart" of Memphis. These quarterly events are open to the public and a great way for anyone to experience Playback.
Community Matters. Each year, Playback Memphis chooses six non-profit organizations from a pool of applicants for a Playback performance or workshop at a deeply discounted price. These experiences can integrate key public health messaging and focus on vital community concerns such as bullying, domestic violence, substance abuse, suicide awareness, and teenage pregnancy.
Be the Peace. While Playback Memphis has facilitated the Be the Peace anti-bullying workshops in schools for several years, this year was the inaugural launch of their comprehensive Be the Peace work in the Frayser community.
Performing the Peace (PTP). Playback Memphis seeks to create social change through Performing the Peace, a train the trainer model that brings police and individuals who have been incarcerated together in a safe and open setting. Participants examine and explore the barriers and the solutions to positive community-police relations.
Cultural Awareness Training for MPD New Recruits. Developed by Performing the Peace officers and Playback Memphis staff in alignment with a national movement to provide support for officers, while making them more effective protectors of the community, this program continues to inspire and break down barriers of racism, poverty, and injustice. — Virginia Murphy
Virginia Murphy is founder and executive director of Playback Memphis, whose programs bring stories to life and life to communities. For more info, visit www.playbackmemphis.org.