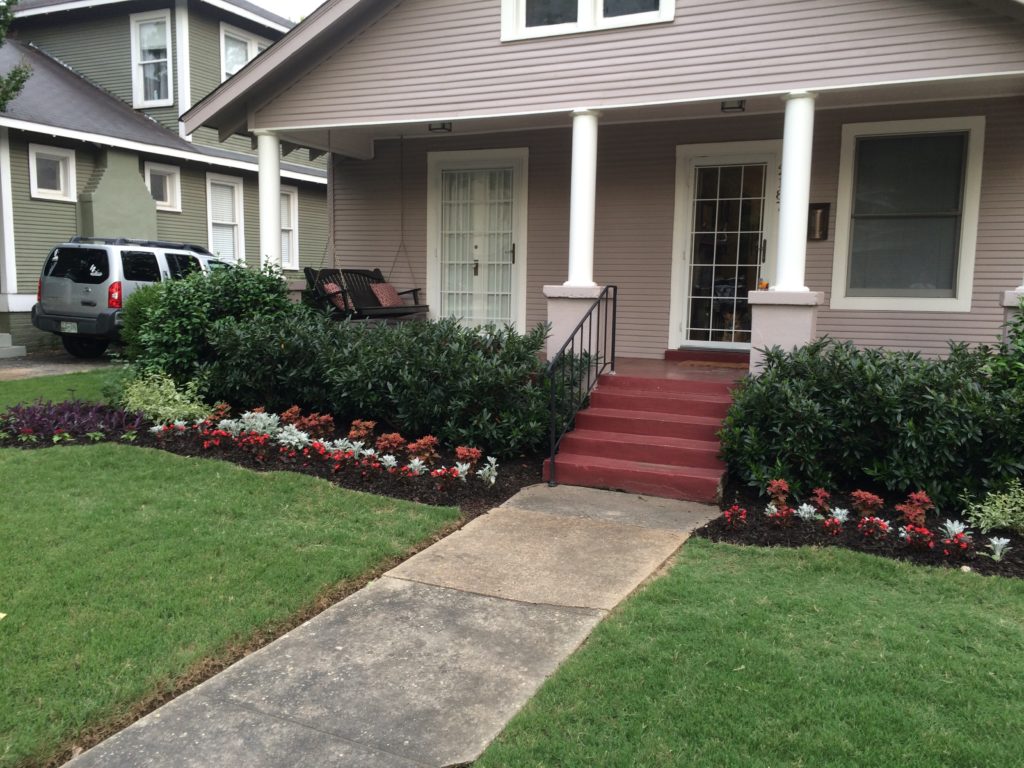 By Sharron Johnson
Art permeates the human experience. How well can we humans, world wide, attest to this, especially now? No social gathering to attend a sporting event, a play or even an art opening, only to name three. Social distancing, an old catch phrase to describe a new phenomenon. Actually, social distancing has been implemented since the advent of popular social media sites. No need to even say the name of the epidemic which is the reason for the loss of the art of physical social mingling . We are left in the wake to weather the "C" word and not enjoy all forms of the arts albeit public entertainment and decompressing from the riggers of whatever ones daily grind happens to be Leisure. Imagine, a time to live life without confines of space and fear of repercussions from human interactions. Hopefully soon we will be saying, "AH, glad those days are over… ". Fortunately, gardening is a another form of socializing that is understated and still can be enjoyed by many, weather permitting. Although, I am very guilty of pulling weeds in the rain. I'm dubbing it, Mother Earth! Ha! I know, I know. That's a term that has been use since forever. One of my favorite references for everything nature and earth is the Farmer's Almanac. They say "Long before modern science began to understand the processes that create our weather, people made up their own explanations. Many of these accounts were fantastic in nature, with evil or benevolent gods, monsters, and spirits controlling the elements. In this series, we'll explore some of these ancient myths and share the science behind them. Weather + mythology = weather-ology!
Throughout history, people have had all kinds of theories about the Earth. Our home planet was once believed to be flat and fixed in place, while the Sun and other heavenly bodies floated around it. Leading from that, it was also once thought possible to fall off the edge of the Earth.
As with other natural phenomena, the Earth has also been personified as a deity, most often in the form of a mother goddess. In fact, the English word "earth" actually comes from the name of the Norse earth goddess, Jord (pronounced "yurdth").
Another prominent earth mother figure was the Greek goddess Gaia, who bore the titans and giants from her union with Uranus, god of the sky. She eventually bore Cronus, god of time, who fathered the chief god Zeus with his titan sister Rhea.
Gaia herself was said to have formed spontaneously out of the formless void, and to have formed Uranus out of the primordial mists to cover herself and to appease her loneliness. She also fashioned other deities on her own, including Aphrodite, goddess of love. According to the classic myths, Cronus eventually broke Gaia's heart by castrating and attempting to slay Uranus. Gaia then told Cronus that, because of his wicked deed, his own son would someday do the same to him. To prevent that fate from coming to pass, Cronus ate every child Rhea bore to him.
Eventually, though, Rhea was able to deceive Cronus and protect one of her children. She gave the her son Zeus to Gaia to raise, hiding him from his terrible father. When Zeus finally grew up, he cut open his father's stomach, freeing his heavenly brothers and sisters. This is how Zeus came to be king of the gods of Mount Olympus.
Though Gaia didn't feature prominently in the myths of the other gods and goddesses, she remained a sacred figure to the ancient Greeks. She was believed to have been the original oracle at Delphi, eventually passing the role on to her great-grandson Apollo. In addition, oaths sworn in her name were seen as the most serious.
With all of the richness an beauty brought forth by the Earth — food to feed us, water to drink, and the air we breathe — its easy to see why ancient people imagined our planet as a nurturing mother figure.
In reality, though, the Earth is a ball of rock hurtling through space at a distance of about 92 million miles from the Sun. This distance, called the habitable zone, coupled with the Earth's thick nitrogen, oxygen, and carbon-dioxide rich atmosphere, create the conditions that make life on Earth possible. These simple scientific facts may sound reductive to some, but this unique combination of factors is remarkable all on its own. Perhaps that's why, even today, people still refer to our planetary home as "Mother Earth."
I say, "Mother Earth, she tends to my needs and I tend to hers."
At 2187 Evelyn there is a taupe-colored wood clapboard cottage that is more than an average yard. April's Yard of the month. Art educators Kathy and Jerry Dumlao have lovingly crated a meticulous, well-devised garden, itself a work of art.
From the street, the home beckons with a full sun exposed yard optimal for growing the lush Bermuda lawn. There is a brand-new sidewalk and entrance that leads you to a porch painted brick red. The generous porch is as long as the house is wide and defined by four round posts atop brick bases. The spacing of the posts reveal the layout of the windows and the doors. One door is an entrance and the other a small French door. The lawn is perfectly edged with a sweeping garden bed populated with cherry laurels and camellias and front dressed with colorful annuals.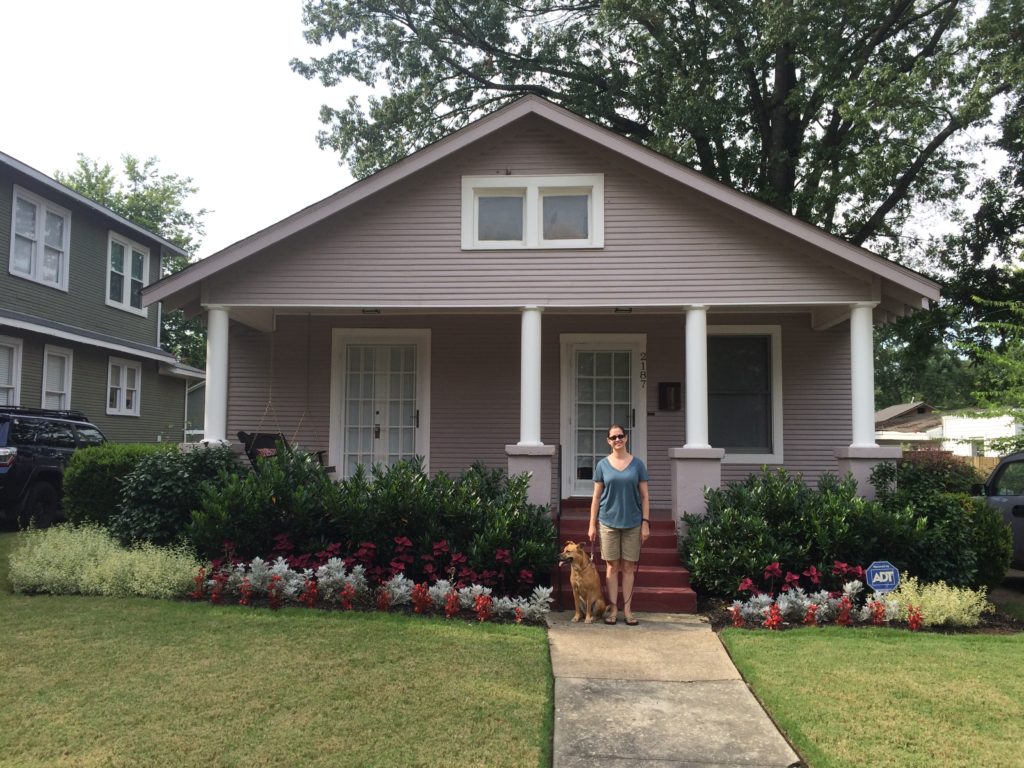 Down the driveway to the west of the property are a pair of well-tended loropetalum that have mondo grass at the bases. A brick threshold leads you to a smart looking wood gate in a natural tone. A wood fence, stained almost milk chocolate brown with a wood cap, encloses the back garden. Passing through the gate, visitors experience a serene, well intended design. A wooden boardwalk runs the length of the entrance. The Mondo grass follows down both sides, giving the illusion of a wider swath. A planting bed on the west is a home for a Japanese yew, hosta, azalea, spirea, bugleweed, barberry, and a leopard plant. A huge oak tree acts overlooks the property. A split-level provides plenty of space for entertaining. More planting beds edge the garden and back up to the house. Variegated monkey grass adds a punch to the back garden. Heading to the east side of the house there are elephant ears, lilies and nandina. I'm certain this work of art is one to be very proud of.
Kathy, tell our readers where you are from?
My husband Jerry and I are both from Virginia; I grew up in the mountains and he grew up at the beach. We met at Radford University and moved to Memphis for me to go to graduate school in art history at the University of Memphis in 1998. We were only supposed to be here for two years, but it's been almost 22! Clearly, Memphis has become our home.
Are you married? Children?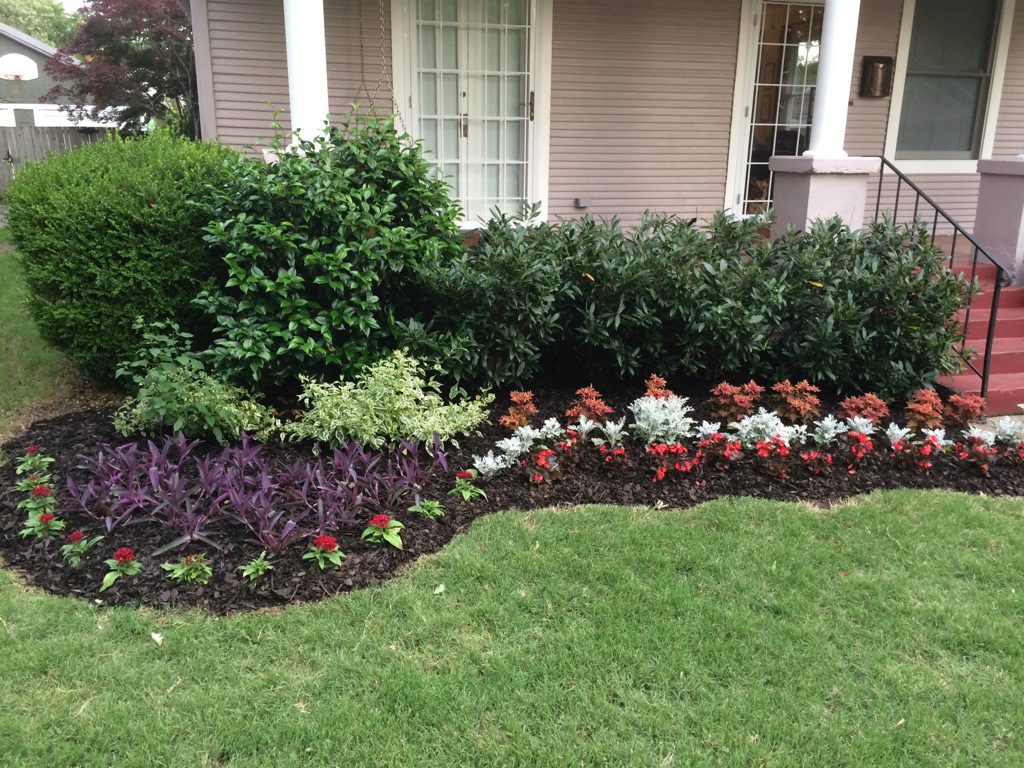 We will celebrate our 20th wedding anniversary this year, and we have a beautiful, 9-year-old rescue dog, Josie. She is our first dog, and she is truly a member of our family. She loves going to daycare at Dogs Rule and taking walks around Cooper Young. She also loves spending time in our backyard.
What are all of your passions and hobbies?
We both work in art education and have a passion for the impact that both the arts and education can have on individuals and communities. Providing opportunities for people to use their creativity and express themselves through art-making and discussing artwork is important to both of us. I've volunteered as a member of the board of the Tennessee Art Education Association for almost 10 years. Jerry really enjoys seeing live music, and he's a great cook. He'd love to have an herb garden in our backyard, but we have a lot of shade, which makes it difficult to grow things like herbs and vegetables. We both enjoy working in our yard and using our creativity to make it look beautiful each season.
Why did you choose CY to be your landing spot and when did this take place?
When we moved to Memphis, we lived in an apartment in Midtown for 4 years. When we were ready to buy a house, we knew we wanted to stay in Midtown. We actually looked at nearly 75 houses before we finally settled on this one. And we knew it was the right house the minute we walked in the front door. We bought the house in 2002, and have done a lot of work to improve the outside. The inside had been completely renovated when we bought it, but the outside still needed a good amount of work. We put up a fence, built a shed and a deck, and have landscaped the entire yard, back to front.
Have you always been a gardener?
No. As a matter of fact, when we started landscaping, we had no idea what we were doing. What we realized is that gardening is a lot of trial and error and learning from your mistakes. In the beginning, we planned to just buy shrubs and perennials, and we foolishly thought we could just plant those things and then sit back and watch them grow! We've since learned that it takes a good amount of nurturing and attention to keep the landscape looking good. And it's so rewarding to plant new things each season and see how they enhance the space.
Any pass along plants from friends or family?
We have a few things in the garden that were given to us by friends and family. When we first started landscaping, some friends gave us some elephant ears, and we've had them close to 15 years. We moved them to a sunnier place in the yard last year and watched them take off! We also have a leopard plant that was a clipping from a friend that has also quadrupled in size. It dies back in the cold weather, but it's starting to peek its head out and look more alive. We also have a couple of shrubs — an azalea and a hydrangea — that were memorial gifts to me when my mom passed away a couple years ago. I can't help but think of her when I see them.
Tell us what your yard was like when you arrived and some of the changes you've made.
When we bought the house, the front yard had been landscaped with azaleas and nandinas and a beautiful lawn of Bermuda grass. But there was nothing else. In the backyard, there was a giant 16-foot-long, 6-foot-wide, 3-foot-deep hole. We have no idea why that was there, but we promptly filled it in. There was nowhere to store our lawn equipment or bicycles, so we had a small shed built. I'm sure the house would have originally had a garage, but it was torn down before we moved in. There was chain link fencing around 2 sides of the backyard, and no fence on the 3rd side, so we had a 6-foot wooden privacy fence built, with the expectation of someday having a dog. And we built a raised board walk that leads from the driveway to a large deck that we enjoy in the warmer months of the year. Once all of that hard-scaping was done, we started filling in with landscaping and have added shrubs, perennials, and occasional annuals around the entire backyard and perimeter of the house.
What are your future plans for your garden?
There's actually no space to add anything else to our landscaping. But we'd like to try to have a container herb garden this summer. We add a few new things each year or replace things that have died. Last fall, we lost two large loropetalums that we'll need to replace this spring. And it's always fun to add new pops of color or texture into the garden.
How would you describe your garden style to a stranger?
Eclectic for sure. My husband has an eye for unusual plants — unusual shapes, patterns, or textures. And I tend to like things that are more traditional. Jerry does most of the gardening in our yard, and he takes so much pride in making it look nice. We love going to Dabney Nursery to buy our plants and enjoy picking out new things together as we plan the different spaces in the yard. We have a variety of eclectic garden ornaments that also enhance the landscaping.
What is your favorite part of your garden; favorite plants and why?
There is a corner of the garden in the back where we have a fairly large hydrangea that blooms beautifully each year. Just over the fence nearby is our Japanese maple, which hangs over the fence, creating a lovely canopy over the hydrangea. Next to that is the azalea that we were gifted in memory of my mom, and nearby are astilbes, heucheras, and bugleweed that create a beautiful little shade garden. We have so much shade in our backyard, I really love heucheras because they come in so many beautiful colors which add a lot to a shade garden.
If you could give advice to an up and coming gardener, what would it be?
Don't be afraid to experiment with your landscaping. I always read the tag that comes with the plants to help determine placement and watering/feeding. But not everything we have planted has worked. We are not afraid to dig something up and move it to another place in the garden. And I'd suggest thinking about planting things that bloom at different times of the year. Each new season, we have something to look forward to, whether it's camelias and hellebores that bloom in the winter, azaleas and peonies that bloom in the spring, or irises and hydrangeas that bloom in the summer. It's fun to watch the garden grow.