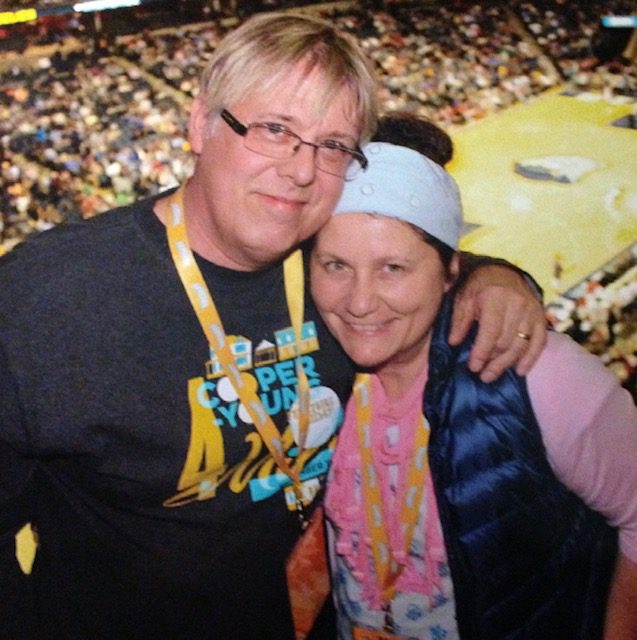 By Sheree Stubblefield
Cooper-Young Community Association wouldn't be what it is without our neighbors. They volunteer. They own businesses. They contribute their ideas and their passion to the Cooper-Young community. Each month, we will highlight a Member of the Month who gives back and embodies the spirit of our hip, historic community. 
The Members of the Month for June is Sharron and Rex Johnson. Sharron and Rex Johnson. Sharron has become almost synonymous with Cooper-Young due to sheer longevity, her volunteerism and her much beloved restaurant, Stone Soup Cafe. She tells about the old while also showing us how to embrace the new. If you would like to be involved in what makes CYCA great or recommend a Member of the Month, email info@cooperyoung.org.
How long have you lived in Cooper-Young?
Well, Rex and I moved onto Meda Street in the winter of 1980. There's a math problem for the youngins. Cooper-Young was mostly boarded up in the southeast quadrant and rents were cheap. Exactly what a new couple needs — low rent and a problem area in need of a champion to turn it around. We moved to our forever home at the beginning of 1981, and we are still here. 1031 Philadelphia. "You can't miss it," according to a sweet friend, "you can see it as you fly into Memphis!" True, we may have the only standing seam red metal roof in Midtown.
What is your favorite thing about CY?
It's home! We've been here our entire adult lives. CY has made a complete metamorphosis into this highly desired place to live with the help of thousands of volunteers and what seems like millions of man hours to get to this point. We love community. I love that I know so many neighbors by name, and we've seen many children grow into adults along the way. We raised our one daughter, Tamela, here. Tami for short. She attended Peabody School. She has given us two beautiful grandchildren. We have a little ole place (Stone Soup) at 993 S Cooper St that opened in 2011. Tami also co-operates Stone Soup Cafe and Market with us. Couldn't do it without her.
Tell us about Stone Soup.
The name is based on the old told tale. Stone Soup is still a widely known book for children. It's still in print. The moral of the story is it takes a village to feed everyone. This is a community restaurant with community values and goals. We are a green restaurant. What I mean by the term green is, all our take out containers are either reusable or compostable, down to our beverage containers. They are made from starch not plastic. There is no Styrofoam here. We recycle all the trash that can be recycled. We compost everything that can be composted. When we have any surpluses food, we give it to the First Congo free lunch service. We sell locally produced art on nearly every wall, and we give a gift card to every featured Yard of the Month. There is too much to list. There are meetings of all kinds held there on weeknights when we are generally closed. In house made and baked breads, pies, and cakes line the market case daily. Special order bakery items are also available. We don't use a deep fryer. It's not healthy for you or the environment. There is free live music on Saturday and Sunday brunch and a free live song circle every Saturday night. There is a plate lunch daily with veggies that are vegetarian/ vegan friendly. What a concept! Veggies with no meat! We serve breakfast during all hours we are open. Check out all our social media sites for the daily menu. Or check us out on the web, stonesoupcafememphis.com.
Why do you like volunteering in CY?
It yields results. I know if I dedicate time and passion to a project, I'll see it through fruition. I started volunteering for CY when I was 18, working with the CYCA as board member/ VP upwards of 10 years, then with the Cooper-Young Development Corporation as an AmeriCorps/VISTA for a couple of years, then onto their board. It was during this time the CYBA was established and the best street festival in the city commenced in 1988. We worked on the first planning committee in its infancy, and it's still going. We had trouble on our street in the early '90s with juveniles and care homes. Then came a group of citizens in Midtown with food security concerns. So, I sat on the founding board of the new Cooper-Young Farmers Market, and it's still going. Oh, we have delivered the Lamplighter on our two blocks the entire time we've lived on Philadelphia. It was a one-page mimeograph copy when we started. Oooh, that smell! (Old timers' humor). Oh, one more. Kim Halyak made a plea on Nextdoor nearly five years ago looking for like-minded gardeners to start a club. Thus, the Cooper-Young Garden Club was conceived. I'm the current president. The Cooper-Young Garden Walk is a project of the garden club. Thanks Kim!
What is your favorite CY event of the year and why?
There are two new favorites now: The St. Patrick's Day Parade and The Cooper-Young Garden Walk.
Where can we find you on a Friday or Saturday night in CY?
Rex sings in two bands, Groove Method and The Average Joes so he plays many weekend nights and he also hosts a song circle every other Saturday at Stone Soup. As for myself, home resting or volunteering.
Tell us a good CY story.
To pick one is hard. The first CY street festival had roughly 2,000 people all day stop by. We set up in front of Peabody School, and it continued to the corner in front of what is now Cafe Olé. Then it was a cabinet shop owned by Stephen Crump. There was a bake sale and contest, kid activities, and face painting. I remember talking with another volunteer about how cool the event was, and their response was, "do you think it will last?" We all know how that turned out.
What do you want to see happen in CY in the future?
To have the residents embrace change. For the neighborhood to grow the residents need to grow, too. All the things that we enjoy now had a beginning. We weren't afraid of change, of trying something new. Everything is new once. Cooper-Young still has pages that are waiting to be written.