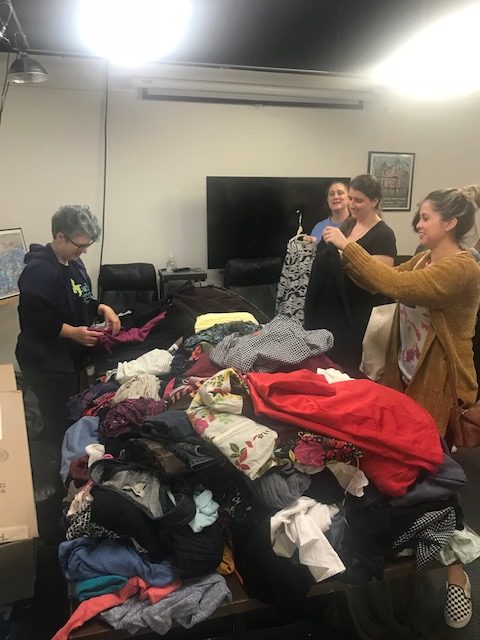 CYCA spiced things up at their general meeting October 18 and hosted their first ever clothing swap. Clothing swaps are a great way to encourage sustainability and create less waste by trading clothes that you don't wear anymore. It provides a fun, social environment where people can share the stories behind their clothes. It also offers comfort to the person donating their clothes because they know they going to a good home. And best of all, everything you take home is free!
Cooper-Young Community Association office manager Amanda Yarbro-Dill proposed the idea.
"I would really love to see the CYCA office become a community hub with a variety of different events being held there," says Yarbro-Dill. "The clothing swap was an easy first step in that direction because it was low cost and simple. As it turns out, people were enthusiastic to come by and see what they could find. It was exciting to see familiar faces from the neighborhood as well as new folks mingling and digging through the huge piles of clothes that we ended up with."
Clothes began arriving the week of the swap. People dropped off bags of women's, kids, and men's clothing as well as shoes and accessories. The night of the event over 30 people showed up to support the swap. They donated bags of their unwanted clothes and brought in clothes from their friends and family. People tried on different outfits and encouraged others to take items home. There was also a pop-up tarot card reading for guests as well as an array of hors d'oeuvres and beverages. Clothes will be donated to a variety of organizations including Manna House and Room at the Inn. Another clothing swap is already being planned for the Spring due to the success of the swap. — S.S.