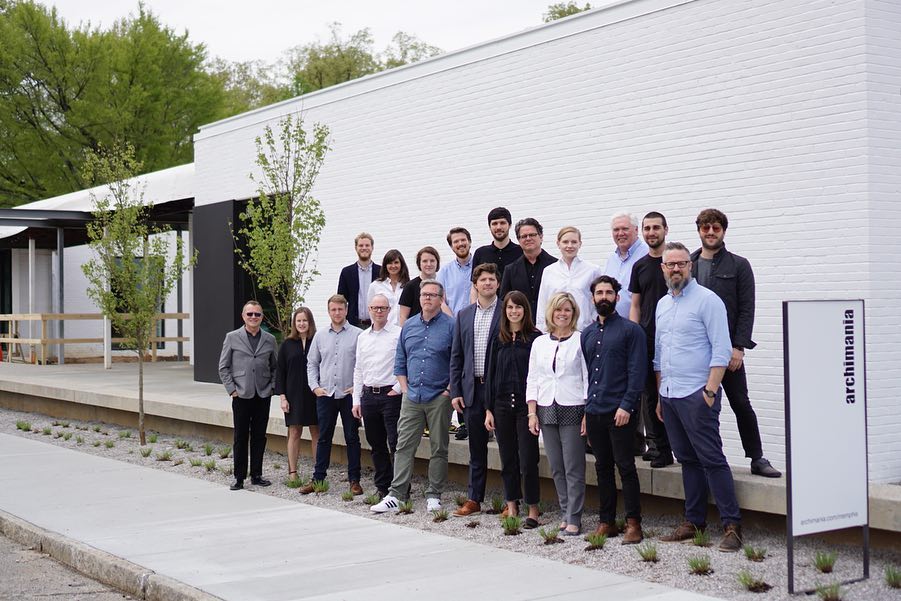 By Sheree Stubblefield
Another business has decided to open its doors a stone's throw from Cooper-Young, and that is design firm, archimania. Archimania is a collective of architects and designers that was founded in 1995. The firm's 24 employees make up a concentrated studio of designers who contribute a unique range of knowledge, talents, and skill sets that form a creative, collaborative environment. archimania is linked together with a passion for architecture, design excellence, and a commitment to improving the built environment.
Their services range from designing single-family homes, cultural facilities, schools, offices, and multi-family housing to master planning university campuses and outdoor performance venues. Some of their projects in Midtown are Ballet Memphis, Hattiloo Theatre, Loaded for Bear, Redeemer Presbyterian Church, Eclectic Eye, Central Animal Hospital, and recent work at Christian Brothers University.
The new office is located at 663 South Cooper between Redeemer Presbyterian Church and Loaded for Bear.
They have been working out of their office on S Main for 24 years, so why the change?
"We had an opportunity to purchase the building on South Cooper and jumped on it! When we opened our doors for business in 1995, we were pioneers on South Main with a few others. We liked the idea of being involved in a district that showed potential in developing into a more urban and active district. We see a similar potential in the connector between Overton Square and Cooper-Young as a more walkable and urban environment. Additionally, we saw great potential in sharing with others how a vintage 1950s strip building could be reinvented as a modern office. We also liked the potential for a great courtyard on the ground floor in lieu of the parking lot that existed between the two buildings," said Todd Walker, founding partner of archimania.
These "archimaniacs" are looking forward to being in the neighborhood:
"I'm excited to be in an area that is so central to everything in Memphis. I think it will let us be more connected to the city overall. It's also great that CY is becoming increasingly more bike friendly, opening up different commute options for a lot of us. Cooper-Young is a neighborhood full of creative and energetic people, so I'm glad we will soon be a part of and contributing to that energy. And of course, being to so close to Muddy's is a perk!" – Chloe Lane
"I'm looking forward to taking our group outings to Railgarten. Lunchtime strolls through Palladio and Market Central will be a regular activity for me. The proximity to Muddy's both excites me and worries me. I'm their BIGGEST fan." – Cynthia Shaw
"I'm looking forward to Happy Hour at Alchemy and coffee & a bagel in the mornings from Otherlands. I'm also looking forward to being an active member of an eclectic & innovative community as well as being able to walk to several of my favorite Memphis restaurants for lunch. South Cooper is such a great location and we're fortunate to have found a spot here for our office. There is so much energy here, thoughtful community action, and curated experiences and spaces by local artisans. I think archimania will be able to learn a lot from these experiences while adding our own creative input to one of Memphis' greatest communities." – John Halford
"Working on Cooper will really cement Midtown as my place. I'm looking forward to a safe bike-to-work route through tree-lined neighborhood streets, to being so close to Idlewild Elementary that I can visit my kids during lunch and volunteer more, and to joining a community of creative, entrepreneurial, and cooperative-minded Memphians. Oh, and the fried chicken and oreo pudding…that will be good, too." – Kayce Williford
"I'm looking forward to being within a few minutes walk of both Cooper-Young and Overton Square as well as having great neighbors like Loaded for Bear, Redeemer Church, Otherlands, the Builders Exchange, Lehman Roberts and more." – Matt Seltzer
"I look forward to being involved in helping create a more landscaped and more walkable urban connector between Overton Square and Cooper-Young. I'll also enjoy friends walking that connector and stopping by to say hi or to enjoy our courtyard with us on a pleasant day". – Todd Walker
Walker says, "Choose Archimania because we love what we do, and we do it with passion and that shows in our completed projects. We were recently named 8th in design, nationally, by ARCHITECT magazine. We've done a lot of work in the area, and we love the energy and growth we're seeing from Cooper-Young to Overton square. We're looking forward to joining in!"