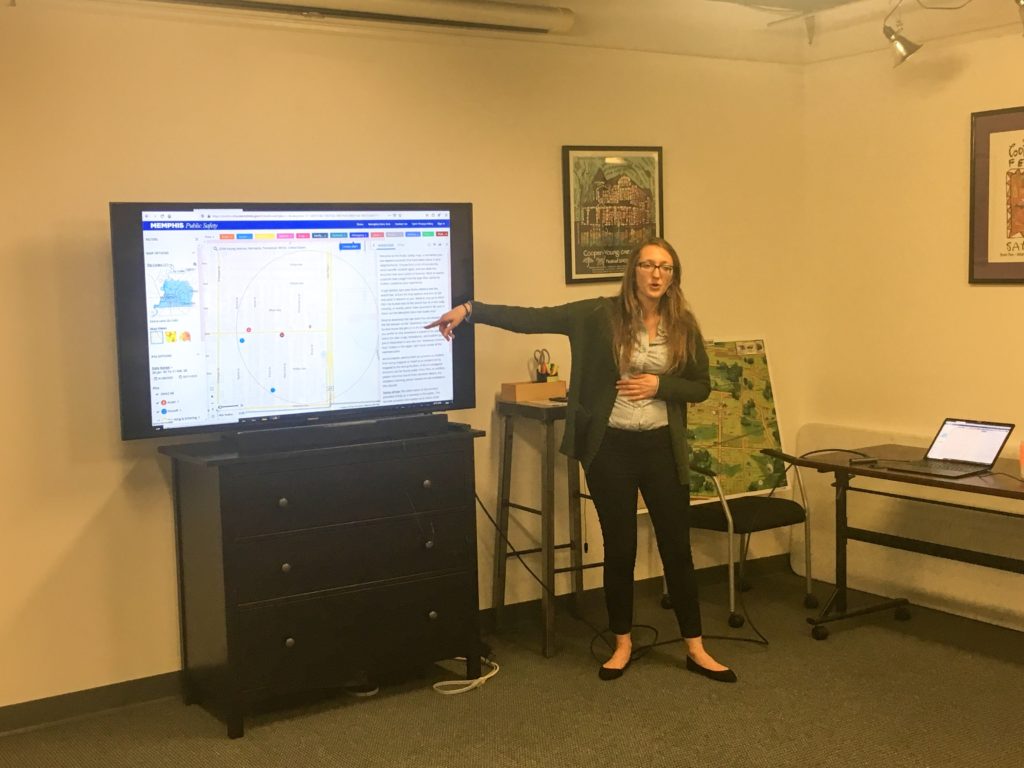 The Cooper-Young Community Association hosted its monthly general meeting on February 11 at the office on Young Ave. The special guest was Ellen Paddock, senior performance analyst from the City of Memphis' office of performance management. Ellen introduced attendees at the meeting to Memphis' new data hub site (https://data.memphistn.gov/), which has a ton of information that reflects the work of the city. Ellen demonstrated the different parts of the website, which can be used to track city programs' performance, public safety, assets such as parks, libraries, community centers, and current projects. "City data" sounds as if it could easily be boring but Ellen's presentation was engaging and those in attendance asked questions and responded positively to the information attained on the site. The data hub also has a series of data stories, which are used to show the data used by the city in making policy decisions. 
Two of those stories, "Memphis Animal Services Save Rate," and "Ending Overdue Library Fines to Support Literacy" are reprinted below with permission.
Please join us for our next general meeting on Tuesday, March 10, at 6 p.m. at the office at 2298 Young. — Amanda Yarbro-Dill
Memphis Animal Services Save Rate
Background: Five years ago, the save rate at Memphis Animals Services (MAS) was just 27%. When Mayor Strickland took office January 2016, the shelter was battling years of mismanagement and poor public perception. The newly-named director, Alexis Pugh, began a complete overhaul of the policies, cultures and programs that governed MAS.
Service Question: How can we achieve the national standard of a 90% save rate? How can we eliminate euthanasia for time and space reasons?
Implementation: MAS employed several strategies to improve their reputation, better communicate with the community, and increase the likelihood of adoption. MAS partnered with Target Zero and Best Friends, two national nonprofits that assist shelters with best practices, including data management and tracking.
National data showed that many surrenders are preventable when owners are given sufficient resources. MAS implemented a comprehensive Owner Surrender Prevention Program that requires people to schedule an appointment before surrendering a pet so that shelter staff can connect them with helpful resources.
Heartworm positive dogs are the least likely to be adopted. Recently, MAS was awarded a grant that will allow them to treat heartworm positives at no cost to the adoptees.
MAS also established a Pet Placement Partners Program to partner with reputable animal rescues locally and in other states. An aspect of this program includes in Wings of Rescue where more than hundreds of animals have been flown to states with low shelter intake.
Data showed that breed identification is unreliable and often leads to breed discrimination so MAS ended breed labelling as well as dog naming and personality profiles (where possible).
To this end, social media and public outreach has been crucial with MAS creating a public Facebook page for the first time and partnering with both Memphis Pets Alive and Friends of the Memphis Animal Shelters for high quality pictures.
Results: For the first time ever, MAS achieved the national goal of a 90% save rate in December 2017 and continues to work to sustain this achievement, hitting an all-time high of 93% in January 2019, despite a 20% increase in intake compared to January 2018. Moreover, MAS reduced euthanasia for time/space from 465 dogs in 2017 to 210 in 2018, a 55% decrease. We can continue to work towards the ultimate goal of zero euthanasia for time/space reasons. You can monitor our continual progress on the MAS goal tile page (https://data.memphistn.gov/stories/s/enw3-bpzb)
Ending Overdue Library Fines to Support Literacy
Background: Memphis Public Libraries (MPL) seeks to serve as a hub for literacy, learning, and access to the economy for all Memphians. Like most library systems, MPL has long charged overdue fines as a way to encourage timely returns, so that books and materials can remain available to everyone. In the past few years, these fines have generated about $82,000 per year, less than 1% of MPL's total budget. However, charging fines also comes with costs. Processing each fine takes time and resources, and (more importantly) national research shows that as fines grow, they can become an obstacle that prevents people from participating in library services. But is this true in Memphis? MPL dug into the data to find out.
Service Question: How do fines affect access to library services for all Memphians?
Analysis: MPL created a "heat map" of overdue library fines and matched it with census data to better understand who was most impacted. This led to an important realization: fines were disproportionately affecting the Memphians who rely on library services most. While households earning under $25,000 make up about 27% of the population, they accounted for 33% of all unpaid bills. Households in these areas were also more likely to have children under age 18, for whom literacy supports are especially important.
At the same time, only 20% of fines ever received any money – more often, people simply stopped checking out books, or the fines were cancelled for policy reasons. A poll of library visitors at outreach events also found that having overdue fines was the number one reason for not having a library card.
Results: Based on these findings, MPL concluded that charging overdue fines is counterproductive to their mission of promoting literacy and learning for everyone, and officially eliminated these fines in November 2019. While patrons must still return old books to check out new ones, they will no longer be charged fines, and old debts are forgiven. The goal of this policy is to encourage people to come back to the library, and ensure everyone – especially children – can check out books.
Learn More: You can learn more about MPL's new fine elimination policy at http://www.memphislibrary.org/eliminating-fines/.