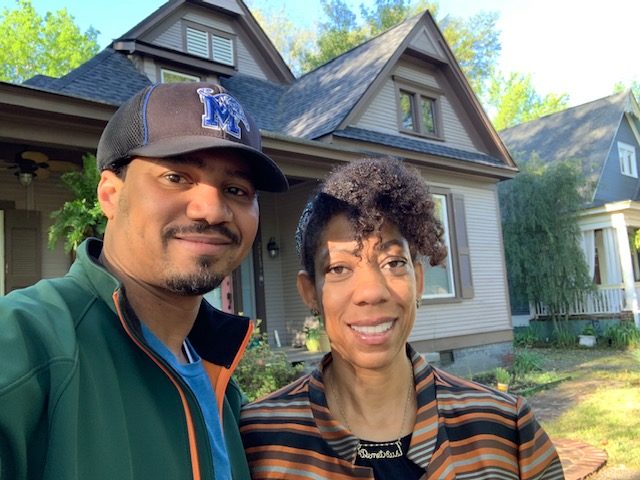 Cooper-Young Community Association wouldn't be what it is without our neighbors. They volunteer. They own businesses. They contribute their ideas and their passion to the Cooper-Young community. Each month, we will highlight a Member of the Month who gives back and embodies the spirit of our hip, historic community.
The Members of the Month for May are Brian and Demetrius Sykes. Demetrius loves to serve the CY community and is a former board member, while Brian enjoys hosting parties. They both enjoy being out and about and attending different events in the neighborhood.
If you would like to be involved in what makes CYCA great or recommend a Member of the Month, email info@cooperyoung.org.
How long have you lived in Cooper-Young?
Demetrius: We have lived in Cooper-Young for 15 years. I moved here from Denver when I saw how affordable the homes were back then, and when I experienced the vibes here I knew I would stay. Then I met Brian when he worked on my car in 2004, and we began dating off and on for a while. We decided to tie the knot in 2015.
What is your favorite thing about CY?
Demetrius: My favorite thing about CY is its walkability. I love walking to restaurants and to visit friends. I really enjoy seeing all my wonderful neighbors during my walks.
Brian: Growing up in Orange Mound, I used to love riding my bike through CY. I knew then I wanted to live here or Central Gardens. I'm happy to say that when I chose to marry Demetrius, I got Cooper-Young in the package. It was a win-win.
Why do you like volunteering in CY?
Demetrius: I love keeping Cooper-Young beautiful. I regularly pick up trash, and I also am in charge of emptying the community trashcan on McLean. We're all in this together, and I hope to encourage others to volunteer as well. The CYCA offers so many opportunities to fit different interests so we can all pay it forward.
What is your favorite CY event of the year and why?
Demetrius: My favorite community event at the moment is the Cooper-Young Garden Walk which is happening May 18 and 19. The garden slows me down and has taught me to be patient, and I really enjoy that. Moving into my home gave me the opportunity to learn so much about gardening, and I have a grown a lot as both a gardener and a person. It has quieted my soul.
Brian: My favorite event is the CY 4 Miler run. I love to throw a Light the Way Party. It's a great opportunity to socialize with my neighbors and have some drinks.
Where can we find you on a Friday or Saturday night in CY?
Demetrius: You can find me on a Friday night walking my dog throughout the neighborhood.
Brian: Normally, I can be found at home barbecuing in our garden or watching TV while drinking craft beer.
Tell us a good CY story.
Demetrius: I have so many great stories. It's hard to pick one. I was persuaded to care for a friend's dog for three months until their apartment was ready. Three months turned into four years. Tigger was sweet as pie but liked to escape and roam the neighborhood. One escape turned into a four days search. To no avail, Tigger was not found. On a daily stroll with my son, he spotted a poster with Tigger's face. This was before Nextdoor. I called the number and my wonderful neighbor returned Tigger. FYI, I found her twice from posted found dog signs.
Brian: Getting to marry the woman of my dreams and move into the neighborhood of my dreams.
What do you want to see happen in CY in the future?
Demetrius: I would like CY to continue its trajectory of progressive thinking, including supporting OutMemphis, local businesses, co-ops, farmers markets, and being environmentally conscious. With all that, I hope the neighborhood stays affordable for middle class homeowners, increases in diversity, and we continue to choose the right businesses for our neighborhood versus the ones with most money.
Brian: More parties! — By Sheree Stubblefield