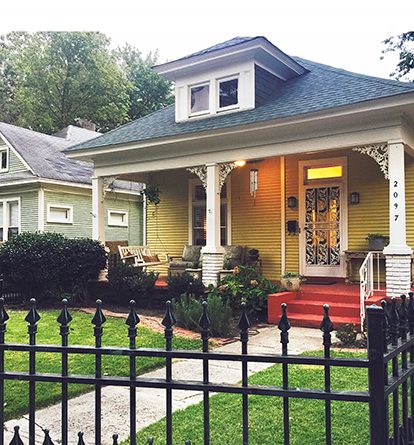 By Sharron Johnson
February is a good time to discuss desires, loves, and lovers. The forlornness stretches through the ages, thus is timeless. Here is a quick rundown. The short days and long nights leaves much to be desired. Caring for a home and garden is a labor of love and a reflection of its inhabitants. Having a lover in tow makes the journey of life seem more worthwhile.
What in the world would make this the beginning of a yard of the month story? Well, I'm going to make sense of this analogy. Let's start with desire. Like a yearning, while being stuck indoors, dreaming of being outside playing with pets, planting flower beds and enjoying nature. We all desire different things, events and people. Desire drives us to seek out pleasure. In my heart of hearts, home, garden, and family are bliss. We all seem to gravitate to a soft place to fall in the arms of our loves and lovers. Makes me wonder how desire is defined in Wikipedia. It states: "The motivational aspect of desire has long been noted by philosophers; Thomas Hobbes (1588–1679) asserted that human desire is the fundamental motivation of all human action." And to top it off, "Desire" is one of my favorite U2 songs.
Hartley Coleridge speaks of love in an 1833 poem, "Sonnet VII":
Is love a fancy, or a feeling? No.
It is immortal as immaculate Truth,
'Tis not a blossom shed as soon as youth,
Drops from the stem of life—for it will grow,
In barren regions, where no waters flow,
Nor rays of promise cheats the pensive gloom.
A darkling fire, faint hovering o'er a tomb,
That but itself and darkness nought doth show,
It is my love's being yet it cannot die,
Nor will it change, though all be changed beside;
Though fairest beauty be no longer fair,
Though vows be false, and faith itself deny,
Though sharp enjoyment be a suicide,
And hope a spectre in a ruin bare.
Now, how in the world can one refute such an explanation. And to finish with a poem that was published in 2015 by John P Read:
L is for 'laughter' we had along the way.
O is for 'optimism' you gave me every day.
V is for 'value' of being my best friend.
E is for 'eternity,' a love that has no end.
The first yard of the month for 2018 belongs to Brantley Davidson and his lovely wife, Katie. Midway down Felix west of Cooper lies house 2097, a sweet, single-story clap board cottage, painted a pale yellow and trimmed in white reminiscent of a New Orleans styled love nest. You can feel the amore. Beginning at the front sidewalk, they have added a new black wrought-iron fence antiqued with a green paint to replicate age. This technique is called verdigris. Verdigris is a green pigment that naturally occurs on metals, such as copper or brass. Four-foot-high and backset about a foot off of the sidewalk, it reminds you of a feeling of a time gone by. Three porch posts atop brick bases are embracing the porches very edge. Wrought iron fretwork details added to the top corner of each post is the finite detail lending to the overall design.
A well maintained front zoysia lawn is a canvas for a solitary one tree in the northeast corner that may be about five years old. On either side of the porch base are planting beds containing mature boxwoods, rosemary, hydrangea, and Japanese maple. These tidy beds are edged with bricks keeping the theme going. The porch and underpinning of the house is terra cotta red. A white wooden porch swing and a cushy settee invite the visitor to sit a spell. A wooden front door with a full glass view is set to the right on the porch. It has its transom window atop to let in lots of light because this is a north facing property. Only one window shares this space with the door. It, too, has a transom, only it has a harlequin leaded glass. Very French. A green shingled roof has a single small dormer with two single windows. Very typical for a cottage style.
A driveway leads us to a courtyard space behind a new clap board fence. Beyond the courtyard is a large carport that was added to this house as cars changed how we lived. I bet this is a great feature, especially if you need to unload groceries or dogs in the bad weather. Of course, the back door of the house is under the carport. Passing through the carport, there is an open back yard. A white wooden fence topped with lattice divides the two spaces and a brown wooden fence surrounds the perimeter. A mature pine tree on the west property line has a few nandina as an under planting in a bed edged with the same brick as out front. A full sun spot invites outdoor actives on a zoysia lawn. A single white wooden chair and a matching table are set to the side creating a spot ideal for contemplation of ones loves. A storage building and a sea foam green painted wrought iron table with seating for four,are nestled in the east of the yard with a single Cherry tree. A clean slate to create whatever your heart desires.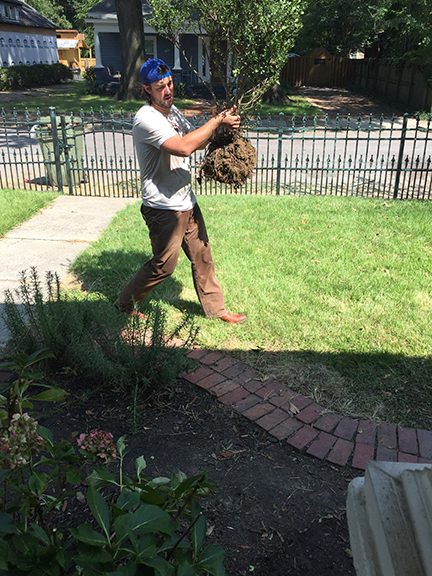 Where did you two meet?
We met in Memphis with some mutual friends playing ultimate Frisbee in 2011. Talking in the parking lot after turned into a 7-hour conversation and dinner. We've been together ever since and got married 2013.
When did you two move to CY?
June of 2017. We lived in High Point for 3 years after getting married. Sold that house in May. Both of us lived in Midtown before getting married and after being back we feel like we'll never leave.
Why CY and this home in particular?
We fell in love with the character of this 100-year-old home immediately after selling our High Point home. Being steps from some of our favorite restaurants is dreamy: (Young Avenue, Stone Soup, Celtic, Next Door, Aldos).
What are your professions?
Katie is a real estate agent and stager at Coldwell Banker Collins-Maury. Brantley s a digital marketing director at Wunderman
Any passions or hobbies?
We both love tennis and are trying to get better. Katie kick boxes at Midtown Memphis and is in a USTA tennis team. Brantley loves basketball and plays multiple times a week and has been doing so before work for almost 5 years with the same group of guys. We love our friends and community from Independent Presbyterian Church and in the neighborhood.
Brantley also has slowly been growing his vinyl collection.
We love hosting, having friends over to play games, and walkingq to CY establishments, and transforming spaces — whether it's improving our own home or staging/improving other people's homes.
We both are very passionate about our jobs and love what we do. We're very thankful to find joy in our work.
Have you two been gardening long?
No, but we hope to grow our skills, filling in our beds and creating a more enjoyable yard space.
How would you describe your gardening style and what inspires you?
We tend to gravitate toward low maintenance perennials. We hope to plant things in the future that complement the 'New Orleans-esque' style.
There are noticeable changes with the wrought iron fence and a new architectural shingle roof. Any other planned changes to the street view?
We've also put up a wooden gate and have potential plans to paint the home (as maintenance requires), the porch, and maybe a new front door. We also will plant in front of the boxwoods and around the Japanese Maple very soon. But we're still unsure of what we should do, and we're still brainstorming.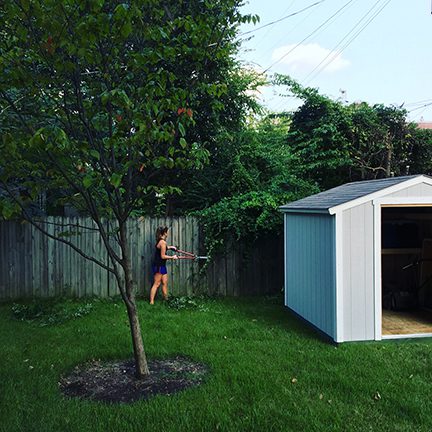 What was the property like when you moved in?
We thought it looked great and was in great condition. The front yard grass was in excellent condition. Some of the front beds had some monkey grass, annuals, and multiple potted plants in the front, which we've taken out/replaced.
The front beds were well defined but had opportunity for enhancement. We transported the 3 boxwoods this fall from our friends who live on Oliver [thanks Langleys]. We also put potted boxwoods on the porch, wind chimes, and ivy.
There was a lot of leftover brick in the backyard, and we lined all the beds in the back, the tree in the front yard, and continued the existing border in the front beds along the concrete walkway.
With the addition of the fence, we really wanted to enjoy the front porch comfortably. So, we decided to put the couch on the porch instead of in the back. We've loved having conversations with friends on the swing and porch. The previous owners used the carport as an entertainment area but we wanted to make it a true carport.
We cleaned up the beds in the back to get ready for future planting.
Your back space is a clean slate, so to speak. What are your hopes for this space?
We are hoping to do a gravel patio / fire pit area and some lights. We've discussed planting a banana tree. We'll likely have more of a tropical feel in the back yard.
Tell us about your fur babies.
Timber is a 4-year-old Bernese Mountain Dog who is a little over 110 lbs. He loves barking at passersby and being protective and loves making new friends.
After our beloved Tank ran away, we brought Stax into the family. Currently, he is 8 weeks old, weighs a little over 2 lbs and is a French Bulldog. We love having a big and small dog, and they get along pretty swell."
If you could change anything in our community, what would it be?
We'd love to see this neighborhood continue to thrive, with people rehabilitating and caring/investing for older homes.
A couple of quick reminders: The Cooper Young Garden Club presents the 2018 Garden Walk 9 a.m.-5 p.m., May 19-20. Be watching for posts on social media and in the Lamplighter. Check out the website, www.cooperyounggardenclub.org
Also, Join the Garden Club the 3rd Wednesday of each month to discuss garden issues, listen to seasonal speakers or just enjoy the company of a energetic group.