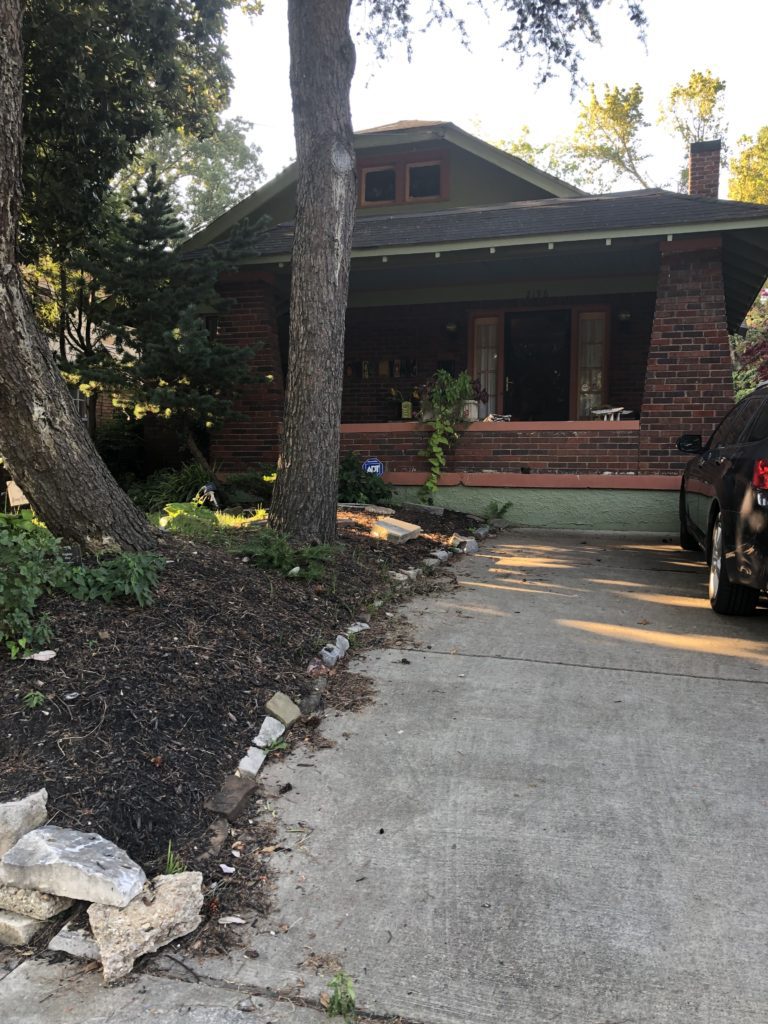 By Sharron Johnson
Living in Cooper-Young is a highlight to my life. I wonder if most people in the community feel the same? If it weren't for dear ole CY I may have never became the community volunteer, restauranteur, or consummate gardener that I have become. A colorful life here in CY — filled with diversity of housing, people and plants — has become my incubator. What has CY brought to your life? CY is definitely not a cookie cutter community, and for that I'm grateful.
Cooper-Young has been dubbed "COYO" for short, a term that alludes to such likewise hip and unconventional communities as SOHO in New York City and London and BOHO, which is short for Bohemian.
Nancy Beard is the owner of our September "Yard of the Month." Her home is located at 2196 Nelson, a red brick bungalow built in 1922. Beard has painted the underpinnings and trim a sage/sea foam green with a peach toned terra cotta highlights. The first thing that the passerby is struck by is three large Virginia pine trees. They are on the Cooper-Young Garden Club Arboretum list of trees, which is a level 3 Arboretum. At street level there is a short retaining wall built with stacked stone that is limestone in tone. Well defined beds create intent and order for planting of hosta, azaleas and a lace cap hydrangea that has the exact color bloom as the peachy terra cotta house paint.
A tall modern planter is a center piece to the front space. It is accompanied by a modern iron bird bath that seems to appear from an outcropping of random stones. Clusters of planters add pops of color at key points of entries. The porch is furnished with white painted furniture, some wicker and some wood. A rocker with chippy white paint is right at home in this arrangement. Greens of various shades adorn the tables and accents. The pillow's fabric is the glue visually. Vignettes of planters, props, and colorful kitsch align the driveway that welcomes all that enter.

We stroll to the back garden. It's an open floor plan, so to speak. There are "rooms" defined by furniture placement. A metal patio cover is a refuge from the hot Southern summer days and pop up summer storms. Seating in this area is piled high with pillows, cushions, and flowing fabric adorning a metal daybed. Miss matched furniture gives it that BOHO feel. The open space of the garden is set up with a dining table and a stainless steel table as a bar setup. An informal parlor is adjacent to a cutout in a concrete pad that is brimming with plants and collected pieces.
I do adore this yard's easy-going style. Nancy was a secret garden at the 2019 Cooper-Young Garden Walk. What a treat for the visitors of COYO? In the brochure, her garden is described as a "cool and peaceful retreat." So as a hip acronym, this place would be COPERE.
Nancy, where are you from?
I was born and reared in Paducah, Kentucky. I went to grade school through high school, graduating from Paducah Tilghman High School — Go Tilghman Tonadoes! Later, I went to University of Tennessee-Martin, and transferred to Murray State, graduating with a degree in music education.
Are you from a big family?
My immediate family is large, I guess, for most people. I have three brothers, one of whom taught in Shelby County until this past year when he retired, and one sister who is still a music educator with the Shelby County Schools and is also a resident of Cooper-Young. My brother was the first to move here after teaching in Kentucky, followed by me to teach Orff Music with Memphis City and then Shelby County, and my sister who moved here to teach orchestra. My 95-year-old Mother is now here. My sister and I tag team taking care of her. My other two brothers are still in Kentucky.
How long have you been in CY, and what attracted you to this neighborhood?
I moved to Memphis in 1990 and lived several places in Midtown. My last place, before I bought my house, was on Barksdale near Huey's. I bought my house in June, 2001.
I always had my heart set on Cooper-Young, as I would come here to eat at Midtown Cafe/ Maxwell's, In Limbo, Cafe Ole, and Young Avenue Deli. Loved to go there in the early days and play pool. I really liked the feel and loved the houses — not too big, not too small, but just right for my tastes. I love the bungalow style, hardwood floors, and the idea of community. This neighborhood had/has it all!
What is your profession?
I chose teaching as my profession. I was a musician, a flautist. I knew I didn't have the discipline to play with the New York Philharmonic (a childhood dream), so I decided to get a degree in music. I started teaching band, then got my masters with an emphasis in elementary music at Eastern Kentucky University. That brought me to Memphis, due to Memphis City Schools, and later, Shelby County Schools having such a strong music program. I now teach English as a Second Language (ESL), but I get my music fix by teaching class piano after school. Memphis/Shelby County Schools has the longest running class piano program in the nation. A great program for the students of Shelby County to be involved.
Are you from a family of gardeners?
I come from family in western Kentucky, some of whom are farmers. My maternal grandmother was a gardener. My mom says she would spend a lot of time in the yard. She had a big yard, with beautiful flowers and a fish pond that my Mom filled in when we were small. We grew up in the house in which my mom did.
How would describe your garden style to the reader?
That's a tough question. I'm not sure I really have a style. I would like to have a style, you know, something like English garden-esque. I love the cool, calm feel of the English gardens. My garden is shabby, funky, chic, with a blend of whatever I see I like. Kind of hodgepodge, I would think. I love yard art. My favorite piece is an arbor that is very Mediterranean looking to me. I have a mixture of plants and trees, some native, and some not. I love herbs; therefore, I have a section for herbs. My garden is comfortable and private. I have set up various seating areas, little vignettes, so that it is easy to entertain when I have the opportunity to do so. I have tried to keep it as low maintenance as possible. My friends, who water for me when I'm gone, may not think so!
Any favorite plants in your garden or any on a wish list?
The plants in my yard have pretty much all come from friends and family. My sister, Francie, had a house outside Nashville with gorgeous peonies. She gave me some, and I planted them at Barksdale and now at my home, here. They are beautiful white and pink colors. I got some of the deep pink to go with them. I have daffodils from our yard in Kentucky. My mom's house had tons of them. I transplanted some here. I planted a Japanese maple when I first moved in — my daddy tree in remembrance of my father, who died in 1999. It's a favorite of mine, as well.
There were beautiful lilies already here, although, they have not come back as much as they used to. I am fortunate that people have given me plants through the years. Recently, my friend Jimmy Thompson, who is a realtor with InCity, sold a condo to a friend who is moving back to Memphis. His friend had had a shade garden, but, after having trees cut down, had lots of sun. She offered me lots of shade plants as I have quite a bit of shade. She had tons of different hostas, ferns, etc. I went to her house in High Point, and we dug up, and I planted these in my yard this spring. Beautiful addition! My friend Jim Wilson has also given me wonderful birthday plants through the years. I have several hydrangeas that he has given me. My friend Ann gave me some gorgeous yellow red canna. My friend Brenda gives me great plants every time she thins out her gorgeous yard. Wonderful elephant ears came from her yard.
As I don't have many planted flowers of color, I accent with pots of annuals, for color. I bought most of my plants from Palladio this year. A great assortment of nice plants. John Jennings also came by and gave me his opinion on things to put in my front yard. He had great advice for low maintenance plants and bushes. I added a rhus aromatic (Grow Low Fragrant Sumac), a hydrangea macrophylla, a Japanese spreading plum yew, and various plants — chocolate chip carpet bugle and ajuga.
My wish list would include continuing with the suggestions from John at Palladio — more yews, sumacs, and hydrangeas.
Any pass along plants that hold a special place in your garden and heart?
As I mentioned in the last question, that's basically what my yard is all about: plantings from friends and family, which, of course, mean a lot to me. The planting that means the most is, of course, the Japanese maple I planted in memory of my dad. There are several plants I still have from my dad's funeral. I keep these in pots and bring them inside in the winter. The daffodils from my childhood home in KY, hold a special place in my heart, as well.
What was your garden like when you moved in?
I loved the yard when I looked at the house. That's the reason I bought the house. There was a fish pond and bamboo! Unfortunately, it hadn't been contained in any way. Beautiful pines and bushes were here, also. There had obviously been someone who knew a lot about plants. I found out a horticulturalist had lived here. But by the time I moved in, the yard was an overgrown mess. Beautiful trees, plants, and shrubs covered up with weeds and vines.
My yard has taken on several changes since this. First, my friend Jim – this is how we met; I hired him to clean up the mess, after I realized I couldn't, cleaned it up. I lived with it for several years. Loved the Zen feel of the yard — a rectangular square paver lined fish pond, bamboo, etc.
The fish pond eventually got to be the best of me as did the bamboo. Jim and I covered the entire yard with mulch. That cut down on the bamboo. Its life source was diminished and it didn't do as well. I later filled in the fish pond. That's now where I have my herb garden.
I have now gone back to grass, or what I can, with so much shade. I think this suits my tastes better. Of course, that can always change!
Are you wanting to make any changes?
Yes, I want to make changes, but I am going to keep the overall footprint the same. The way I have the yard now suits me. One issue is grass. I had zoysia sod put down several years ago. This hasn't worked well, due to too much shade. There were very helpful suggestions given to me by people who came through my yard on the Cooper-Young Garden Walk. Several people suggested fescue. I am going to try this and see if it does better than zoysia. I had to have a tree cut down. Sad, but had to go. I now have more sun. Maybe now grass will grow better. John suggested dwarf mondo grass for the shady spots. He said this would fill in nicely with the grass, and give a year-round green to my yard.
Off the top of your head, can you give us quick list of your plantings?
I will do my best to list some of the plantings. Hostas, all different kinds. Every time I see one I like that I don't have I get it. They have some great varieties at Palladio. I got a few that I didn't have, with short, stubby leaves. Very cute. Cannas, red and orange/red, lilies, Mexican petunias, peonies, ferns, hydrangeas, crepe Myrtles, nandina, pines, yews, sumac, sedum, azalea, French salvia. There are some I'm not sure what they are. I have a great bush in my front yard. It used to have the tag on it, so I knew the name. It doesn't have the tag, so I forgot the name! Anyone comes by and knows what it is, please let me know.
Were there any happy accidents in the garden?
I have had several happy accidents, and some not so happy. I had a new sewer put in several years ago; that still is difficult to think about. It turned into a fiasco. Bad weather and unreliable workers. I almost lost my pines in the front due to mounds of dirt covering them for several months. After the dust all cleared, so to speak, I hired Ceylon Mooney, a CY resident, to landscape my yard. I loved what he did, but I, unfortunately, didn't water the way I should have, and lost some of the plantings. My irrigation system was compromised when the sewer was done, and I didn't water by hand as I should have. I added a bed of hostas instead. That's also where John gave me guidance, which I am adding a bit at a time. I have ended up with a pretty low maintenance front yard that, when properly mowed and manicured, I love!
A happy accident: I bought a fountain, several years ago. The pump went out, and I haven't replaced. It is a beautiful fountai, but not real pretty setting there full of water and dead leaves. For the garden walk, I tried to do something that would make it look better. It didn't look good all one piece with a plant in it, so I took it apart and put it at different levels with plants in it. I got quite a few compliments on it. I may just leave it this way and get another fountain!
Another happy accident: During the CY Garden Walk a limb fell from the now gone tree. I heard a child cry, after a loud crash. His parents assured me he was ok. Going to my backyard, my glass table wasn't ok. The limb had fallen and broken it. Renee, of Rolling Along Farms, who was here with her husband, Adam, to do presentations for micro greens, and the docent helped pick up the pieces to the table. I hated not to have the table there, so I found a long piece of wood to place on the table, and covered it with a tablecloth. I like how it looks better, and I'm going to have a farm table built to go there.
How about a funny gardening story to share?
A funny gardening story would start with me actually gardening. I have always loved plants and always have container plants but didn't necessarily see myself as a gardener. I still don't consider myself to be one. I just like looking at beautiful things — people, places, plants, art. That's what plants are to me, art, and the way you can express yourself, artistically, with plants and yard displays.
Any advice for a beginner gardener?
As I said befoe, I never have seen myself as a gardener. Start there. You may not see yourself as a gardener, but you can do something with dirt and a plant. Get good quality plants. Also, plants that aren't treated with chemicals that are harmful to bees, etc.
Get plants from family and friends. I love plants that I grew up with, that have meant things to my friends, and friends of friends. I feel like I've got a piece of all these people who have all added something to my home and who will always remain a part of my life because of it.
I have always said I want to have a party and have everyone bring a cutting from their yard to share with me. Do this. A great way, on a budget too, to get plants that will always mean something to you."
If you could change anything about CY, what would it be, and what is your favorite thing about cy?
Another difficult question. Is there anything that needs to be changed about Cooper-Young? I love it here. I love the neighborhood feel, but right up the street, you can eat, drink, and be merry, and then walk home.
I love the diversity. Diverse people. Diverse food. Diverse places that offer just about anything you want or need. I love the fact that you see young, old, funky, chic, artistic, business types, everywhere you go. There is a richness of spirit that I think CY captures. I am very glad to be a part of it.
Friends and neighbors are my favorite part of CY. I can walk to my friend's houses. My dogs can play in Doris' yard, and she gives them their treats, three each. This is community. This is the reason you live somewhere.
Your garden was on the garden walk this year and thank you for helping the Cooper-Young Garden Club showcase our slice of heaven with the visitors.
You are most welcome. It is always great fun to participate in this neighborhood endeavor. I love to showcase what CY has to offer.