By Sharron Johnson
It has been said you can't go home again. I'm not inclined to side with that statement. Even if you are home, home is ever changing through time and events. So, it would be better to say, you are always home.
In Cooper-Young, home has a special meaning. We choose to make this a hip and desired community. We play the game better than most, not to brag. Unlike any in the city thus far. Often imitated but never duplicated. Time, people, and buildings change constantly, and especially the gardens.
The 2018 Cooper-Young Garden Walk is behind us now, and I feel that there are old and new gardeners in CY that will be adding to their sliver of landscape. I may have stated this before, so excuse my redundancy, but I count the years in gardening seasons. We need to get into the game. You should be constantly thinking of upping the beauty ante. A sense of pride in your space is down-right infectious. Neighbors who have never been inclined to beautify have been bitten by the beauty bug. I hope the garden tour hosts had a chance to get out and peek into the space/lives of our fellow neighbors. I was only able to hit two spaces, mine not included. Beauty is in the eyes of the beholder. Beauty defiantly grows here in Cooper-Young even if it isn't beautiful to you. So, be kind to each other and consider what we all bring to the table. The garden is like a card game. We are dealt the hand and it's up to us to make the decisions on when to hold, fold, and when to lay out all of our cards.
June reminds me of a blushing bride and so does the June Yard of the Month. Located at 1034 Blythe, this circa 1910 Queen Anne is another from garden tour home. Painted to a tee, she is a sweet lady: A sea foam colored green clapboard with a warm beige trim and sawtooth shingle gable in apricot. This house is close set to the street with two postage-stamp sized gardens on either side the front entrance. The front gets more sun in the later part of the day because it faces west and all the mature trees reside in the back yard. An arboretum sign is posted on the one tree in the south garden, a sugar maple. This part of CY has a road verge between the sidewalk and the street. The home owner has added a new concrete retaining wall, a brick entrance, driveway, and paths leading from the drive to the side yard to the north. A concrete inset tile is set in the brick path like a stepping stone. The tile has a flower pattern molded into it. All the brick is set in a staggered pattern. All of the bed spaces are created by the brick hardscape. Reminds me of a parterre. A parterre is a French parted garden. Arkansas field stones create a path through the parted areas. There is much use of symmetry in the plant layout. Very relaxing to the eye. A statue of a lovely lady acts as the focal point on the north side with an arch of mature azaleas and a white picket fence as backdrop. There are coleus annuals scattered at the lady's feet. Amongst the parted areas are Asian jasmine, boxwoods, camellias, spreading yew, and a peppering of shade tolerate begonias. On the north side, leading to the back gate, is where nandina and hydrangea mingle on the continuing brick path.
On the south side off the driveway is a bed that travels all the way to the other gate to the back yard. This bed is chocked full of fairy rose, iris, daffodils, boxwoods, and hosta. The backdrop for these plantings is a brick underpinning that has a brick capped topper. Cast iron arch topped vent grates were added to continue the Victorian design. A wood fence surrounding the blank slate back yard houses a huge Oak tree. It acts as a canopy to a delightful solitary shed that matches the house quite nicely.
Let's meet the homeowners, Sasha and Brad Scott: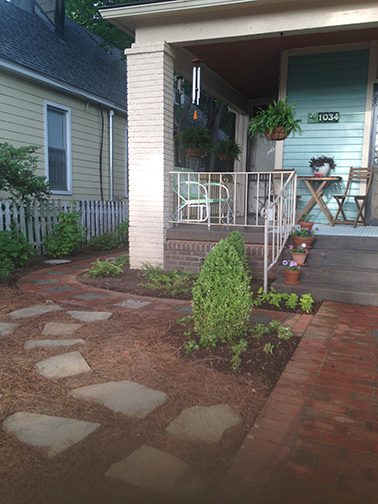 Sasha, when did you move into 1034 Blythe?
August of 2006
Why did you choose this house?
When I was looking for a home to buy, I could not find one in my price range that fit my aesthetics. I have a passion for the older homes with all their charm, especially when their original features have not been removed or updated. It took a few months of looking, but when I saw the Blythe house for the first time I knew it was the one.
Are you and Brad from Memphis?
Yes, we are both from Memphis. I actually lived in Cooper-Young as a child and attended Peabody Elementary School from 1st through 6th grade. My husband, Brad grew up in East Memphis.
Are you two from big families?
I would say that we are both from average sized families.
Where did you meet and how long have you two been married?
For our first blind date, we met at Alchemy. We dated for two years before getting married at the Woodruff Fontaine House on October 18, 2014.
Children?
Our daughter Rosalie was born March 7, 2016. She is now 2 and so much fun! We love that we have Peabody Park, coffee/bake shops, and a bookstore in walking distance. Those are weekly excursions for us. We have a stray husky/shepherd mix, Dylan. I rescued him from the school where I was teaching about nine years ago. We also have two cats, Owen Meany and Atticus Finch.
What are your professions?
I taught English as a second language for 18 years at Bruce Elementary School. I resigned when our daughter was born so that I could enjoy staying at home with her. Brad has taken on a new venture as VP of Operations at Mainsail Medical after being with Smith & Nephew for 27 years. This is an exciting opportunity for him to work with a medical distributorship.
Have you both been gardeners long?
Brad is not a gardener. I've always been interested in gardening and enjoyed reading articles about it, but it wasn't until I moved into this house that I actually started gardening.
Any pass along plants from family or friends?
Sadly, no. But, I do love the whole notion of pass along plants from family and friends! One of our neighbors did pass along some hellebores from his yard. I planted them in the front yard around the statue. Unfortunately, the hellebores were some of the plants that I lost during our landscaping project.
What was the garden like when you moved in?
At one point in time, this house had an owner who loved to garden, and their favorite color must have been purple because all of the irises, Spanish bluebells, hydrangeas, hyacinth, etc. When I moved in, the front and back yards appeared as though they had been neglected for a very long time. Fortunately, the yards still had a lot of thriving perennials like the azaleas, hydrangeas, irises, Spanish bluebells, a fairy rose bush, hostas, and daffodils. The driveway was made of gravel and most of it was washing away to the street leaving dusty dirt during dry times and a muddy mess during wet times. The front yard had only one walkway from the sidewalk to the porch steps. Stepping-stones led from the driveway to the main walkway. The front yard had a lot of bare patches from all the shade.
How would you describe your gardening style?
I do enjoy gardening, but I don't want to commit a lot of time to the maintenance of it, especially since having a baby. I love planting perennials that I can count on to return season after season. My gardening style leans more toward English cottage garden but with plants that are native to the South.
What are your favorite things about your garden?
I am a sentimental person, and when we consulted with our landscape designer, I stressed that I didn't want to lose the plants that were originally here when I bought the house — the azaleas, hydrangeas, irises, Spanish bluebells, tea rose bush, daffodils, and hostas. So, I wanted them to be incorporated into the design. What I love about our new garden: low maintenance, the brick driveway, and the brick walkway, which has casts of a stepping-stone that I found buried in the backyard intermittently placed.
What is your least favorite?
I love having all the old trees surrounding our house, but after every storm both yards are covered with limbs and sticks. We are constantly picking them up.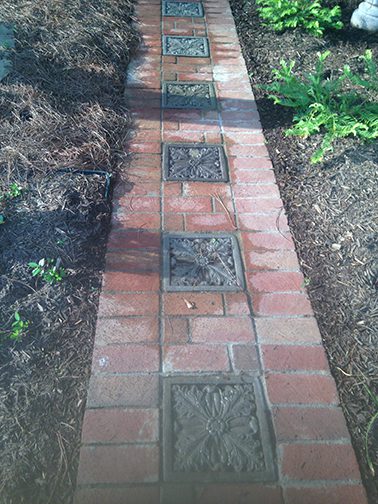 What advice would you give to a fellow gardener?
Definitely get to know your light conditions before transplanting or planting new plants. At first, it was hard for me to accept that both the front and back yards were predominantly shade for most of the day. But once I embraced this, educated myself about shade plants/gardens, and noticed what existing plants did well, I had a better vision for both yards.
What are your future plans for the property?
The front yard is in phase one. At a later date, we will complete [landscape design firm] South House's original design plan for the front yard. Our inspirations were drawn from the gardens of Savannah and New Orleans. We went for this look mostly because of the classical statue in the front yard that is from my mom's garden who passed away some years ago. It was her favorite. As for the back yard, right now it is pretty much a blank slate. We want it to have a rustic, cottage garden vibe with native shade plants that only bloom white, a moon garden, to create more light. We also want to make it an inviting and fun place for us to spend time as a family. Like I said, the backyard is pretty much a blank slate that has a ton of potential. We have a really cute, quaint shed that we would like to make a focal point as well.
How are you feeling about Cooper-Young?
I've heard of a few families that have chosen to leave CY because of the crime. This is so unfortunate and totally preventable. I recall some years ago seeing police on horseback and bicycles. That type of police presence was so perfect for our neighborhood. It would be nice to see that again. I love that there are so many restaurants, coffee shops, bakeries, retail shops, and a park, all in walking distance. I also love all the old houses that have so much character and charm.
This is phase two of our front yard. Or, our goal. This is the original garden plan that Ray Sater (South House) designed.