By Stephanie Gonzalez
This year's Cooper-Young Beerfest, on Oct. 20, from 1-5 p.m., will feature a whopping 37 regional breweries, plus two home-brew clubs, making it the biggest Beerfest we've had to date. That is a huge jump from eight breweries and two home-brew clubs for the inaugural Cooper-Young Beerfest, at the Galloway United Methodist Church parking lot in 2010.
So why is this festival so popular with attendees and breweries alike?
Beerfest requires each brewery to send a representative from the actual brewery. At many festivals, brewery booths are manned by volunteers or representatives from the distributors. Ensuring someone from the brewery itself is present means you're able to learn more about the beer you're drinking, maybe even from the brewer himself.
The number of tickets are limited. I don't know about you, but I have certainly attended events where I spent more time in line than I did actually sampling beer. By capping tickets at about 1,050, Beerfest allows attendees to not only get to taste almost everything (yes, that's a dare) but also take the time to talk to the folks pouring your beer. No assembly line here.
Every cent of the profit goes to the Cooper-Young Community Association. That's right, you're drinking for a cause. Beerfest is one of the biggest fundraisers of the year for the CYCA, and it's staffed completely by volunteers, many of whom are members. If you're not a member yet, consider signing up at cooperyoung.org.
Beerfest only features craft breweries within a day's drive of Memphis. This ensures we're getting smaller, independent breweries rather than the ones with the largest marketing budgets. It also means you might discover breweries you had no idea existed and can only taste in their home markets or at Beerfest.
And all of these reasons also make it enjoyable for the brewers to attend. They have the chance to actually talk to the folks sampling their beer, as well as to each other about brewing techniques. We don't overwork the brewers, and we shower them with perks with the hope that if they have a good time, the attendees will have a good time as well. Several brewers have told organizers that the CY Beerfest is one of their favorite events.
If you've been before, get ready to sample your old favorites and try some new ones. If you've never been, find out what you've been missing. Get tickets online at cybeerfest.org. As always, this event will sell out in advance.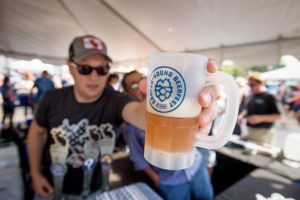 2018 Breweries
2nd Shift, St. Louis, MO
Augusta, Augusta, MO
Black Abbey, Nashville, TN
Blackstone, Nashville, TN
Bluff City Brewers and Connoisseurs, Memphis, TN
Boscos, Memphis, TN
Charleville, St. Louis, MO
Crosstown, Memphis, TN
Diamond Bear, Little Rock, AR
Earthbound, St. Louis, MO
Exit 6, St. Charles, MO
Fanatic, Knoxville, TN
Fairhope, Fairhope, AL
Ferus, Trussville, AL
Ghost River, Memphis, TN
Goodwood, Louisville, KY
Heavy Riff, St. Louis, MO
Hi-Wire, Asheville, NC
High Cotton, Memphis, TN
Jackalope, Nashville, TN
Long Road Cider, Memphis, TN
Meddlesome, Memphis, TN
Memphis Brewers Association, Memphis, TN
Memphis Made, Memphis, TN
Mother's, Springfield, MO
Old Bakery, Alton, IL
Rebel Kettle, Little Rock, AR
Rock n Dough, Memphis, TN
Schulz Bräu, Knoxville, TN
Singin' River, Florence, AL
Six Mile Bridge, Maryland Heights, MO
Stone's Throw, Little Rock, AR
Straight to Ale, Huntsville, AL
Trim Tab, Birmingham, AL
Urban Chestnut, St. Louis, MO
Urban South, New Orleans, LA
Vino's, Little Rock, AR
Wiseacre, Memphis, TN
Yazoo, Nashville, TN