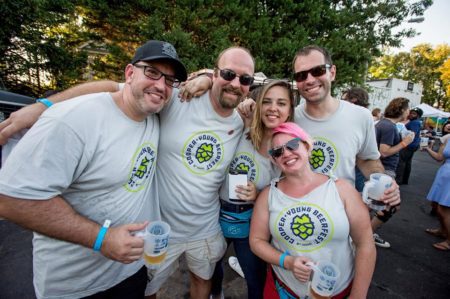 By Stephanie Gonzalez
The end of May is also the end of my time as executive director of the Cooper-Young Community Association. It's been a great run and I've learned a lot. I was given an opportunity I can't pass up, but I'm looking forward to continuing to serve on the Beerfest Committee and as a volunteer for the association.
I'm leaving the CYCA in the capable hands of the board and its two new part-time employees, Sheree Stubblefield, our new communications coordinator, and Amanda Yarbro-Dill, our new office coordinator. I think breaking this job into two will give the community double the expertise and provide each employee with an additional level of backup and support.
I thought I'd leave you with a few things I'm thankful for:
That in a city with a high crime rate, our neighborhood is lucky enough to have minimal crime.

That in a city with a high poverty rate, most of our neighbors don't want for much.

That in a city with neighborhoods some are afraid to even drive through, ours is one that attracts regular fundraisers, races and parties throughout the year.

That our neighborhood has the variety brought by both renters and owners, the old and the young, the classic and the modern, the staid and the funky.  

That regardless of what gets said on Nextdoor, our neighbors are kind to each other in real life.

That Cooper-Young is the kind of neighborhood others want to live in and visit.
I love my neighborhood and can't wait to see what my next level of involvement here will bring. Stay kind, y'all!